| | |
| --- | --- |
| Gilmore gets Clemson offer, ready to make hard work pay off | |
---
| | |
| --- | --- |
| Friday, July 1, 2011 11:19 AM | |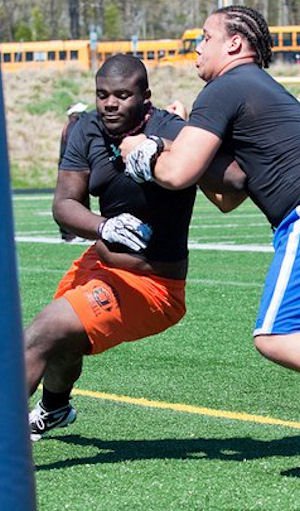 Greg Gilmore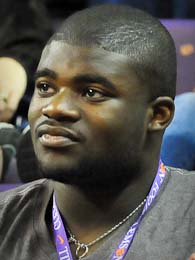 Greg Gilmore
Defensive Tackle
6-4, 290
Hope Mills, NC
View Full Profile loves to watch film, especially film of Dallas Cowboy DeMarcus Ware and Indianapolis Colt Dwight Freeney.
The Hope Mills (NC) South View defensive tackle says he loves watching big defensive players who can flat out run for a reason – he wants to be like them when he plays.
The 2013 prospect recently received offers from both Clemson and South Carolina, and says it is his size (6-4,290) and quickness (4.97 40-yard dash) that are beginning to stand out to college coaches – as well as his work ethic.
"There are a lot of big sophomores out there," Gilmore told TigerNet. "But they aren't out playing football every day just for fun like I am. There are some big guys, but they aren't really that quick. I think I stand out in my performance because I work hard. They have all been out to the combines and the camps, and they see the potential I have and the structure I already have. I have been coached very well in high school, they get all the credit. And I have put in a lot of hard work."
Clemson defensive coordinator Kevin Steele went by South View to see Gilmore earlier this spring, and defensive line coach Dan Brooks went by his school a few weeks ago to watch him work out. It was after Brooks came by that Gilmore decided to pick up the phone and call Steele to see what the Tigers were thinking.
"For me, having these coaches come by is a big transition, because I am not a well-known defensive tackle yet," he said. "You can't prepare for those visits. The coaches couldn't talk to me when they came to the school, and when I got home I thought I would call Coach Steele. We didn't exactly know each other, but he told me they want me, and that he sees the potential in me.
"That means a lot coming from someone like Coach Steele. He knows what he is talking about, and he has a lot of experience under his belt. We already know he can produce some NFL players, and I think he knows what is best for his players. He is doing something right, and it means a lot to me because it lets me know I am doing something right. It keeps me motivated and makes me work harder."
Gilmore says he has learned a lot about Clemson and wants to take a visit in the fall.
"I want to make it down there for a football game," he said. "I love going to college football games, and I want to see the atmosphere. I have done a lot of research on Clemson, and I love the location. I don't want to be too close to home, but I don't want to be too far way, either."
In the meantime, he said he is going to continue to work and emulate his idols.
"I love to watch DeMarcus and Dwight," he said. "They get off the ball so quick. Nobody sees that stuff, because they are watching the quarterback and the drop back, the throw and the run. But I love to see the defensive linemen get off the ball quick and up the field.
"DeMarcus reminds me of myself in some ways. I am not all that aggressive off the field, and I try to talk in a manner that is well-spoken and I try to show some intellect. He is the same way. But when he gets on the field, he turns into a man that doesn't care. He gives everything he has. Even when he was hurt last year, he was out there still playing."