| | |
| --- | --- |
| Game Week: Swinney excited for start of season | |
---
| | |
| --- | --- |
| Tuesday, September 1, 2015 12:24 PM | |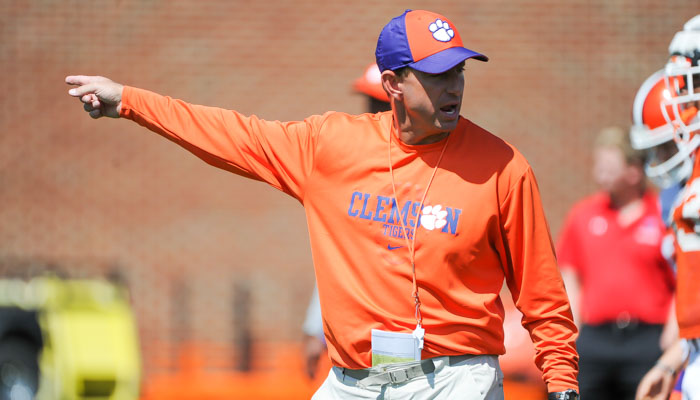 CLEMSON – Clemson football is just around the corner and there is no one more excited than Dabo Swinney

Dabo Swinney
Head Coach
View Full Profile .
Swinney met with the media Tuesday morning in the WestZone, and he said he's eager to begin his seventh season as Clemson's head coach.
"I don't think I've ever been as excited to see you guys [the media] as I am today. I mean that with all sincerity," Swinney said with a laugh. "It means it's finally Tuesday press conference, and it's finally game week, and that's exciting for everybody. We all love what we do, especially in the sports realm, and that's why we got into this business. Obviously everybody has different roles, but it's good to finally get this thing going and kick it off. I'm excited to see our team play somebody other than ourselves and further the evaluation of our team. There's only so much you can do in practice against each other with the amount familiarity you have with each other. It's hard to get a true evaluation when you don't have another opponent."
Swinney said that in his mind the opener is always the most difficult game to prepare for, and the veteran-laden Wofford will be a challenge.
"I really can't tell you how much respect I have for Coach Ayers. He's a great football, coach. He's a great man," Swinney said of Wofford's head coach Mike Ayers. "I just think the world of him. He would win anywhere – Clemson and Alabama. He wins at Wofford. I really think he's as good of a coach as there is in college football. He's an outstanding person that I think is the epitome of what a coach should be – loves the game and loves his players. He's just a class act in every regard.
"Openers are always the toughest game to get ready for because you've got more time than you ever have. You haven't played a game since December, so you have all spring, summer, and camp. There are a lot of unknowns. You study everything from last year, but there are always wrinkles and adjustments that have to be made. There is new personnel every year. I think it's especially tough when you're playing a veteran team like Wofford. They've got ten starters back on offense. They list eight starters back on defense, but technically they have 15 players who have started a game on defense. This is a very veteran football team and a different team than us. It's going to be a challenge. It's a tough team and a veteran team. They're going to pride themselves on the precision in which they do things, and we have to match that at every level."
Despite Wofford not being a big name opponent, Swinney said his team isn't looking past the Terriers.
"They're all the biggest game of the year. That's our mentality in the program," Swinney said. "You don't think a game is big? Lose it and you'll find out just how big a game is. When you're at a place like Clemson and the expectations are high, and you're supposed to win, there is no next game. Every game is the biggest game of the year. It's one of 12. It's our first goal – win the opener."
Other notes
Injuries
"As far as injuries, we're fairly healthy. Kaleb Bevelle

Kaleb Bevelle
RS So. Defensive End
#61 6-4, 255
Apopka, FL
View Full Profile who transferred in this summer, came in with a fractured hand. He's ineligible. Tucker Israel

Tucker Israel
Fr. Quarterback
#10 5-11, 192
Orlando, FL
View Full Profile , he's getting closer every day. He's going through practice and drills, but he's not quite 100 percent. It's good to have him back out there. The biggest loss that we've had is Korrin Wiggins

Korrin Wiggins
Jr. Defensive Back
#12 5-11, 202
Durham, NC
View Full Profile . That's the only season-ending loss we had during fall camp. He had surgery this past Friday, and his spirits are good. He'll redshirt this year and have a whole year to get back. Chris Register

Chris Register
RS Fr. Outside Linebacker
#45 6-2, 248
Browns Summit, NC
View Full Profile , we're going to hold him out this week. He's had a couple of stingers and nerve irritation. We've put him on the shelf the last couple of days and we're going to hold him out this week and reevaluate him next week.
"The only other guy that probably could play but we're going to try to hold this week is Stanton Seckinger

Stanton Seckinger
Gr. Tight End
#81 6-5, 238
Isle of Palms, SC
View Full Profile . He's had a great camp and has done a nice job for us. There's a little bit of scar tissue irritation. He could've played, but we did a minor scar tissue cleanup on a small area. He probably could play, but we're going to hold him. I'm really proud of Stanton because people don't realize the magnitude of his injury. He tore every single ligament in his knee. I expect him to be ready to go next week."
Linebacker depth
"I really like our roster but we've got a lot of really inexperienced players. We've got a lot of really talented guys, but none of them have played out side of Ben Boulware

Ben Boulware
Jr. Outside Linebacker
#10 6-0, 241
Anderson, SC
View Full Profile and B.J. Goodson

B.J. Goodson
RS Sr. Linebacker
#44 6-0, 245
Lamar, SC
View Full Profile . Jalen Williams

Jalen Williams
Fr. Linebacker
#30 6-0, 224
Columbia, SC
View Full Profile is a true freshman. Kendall Joseph

Kendall Joseph
RS Fr. Linebacker
#34 5-11, 230
Belton, SC
View Full Profile is a redshirt freshman who came really close to playing last year. We like what we've seen from them in practice. J.D. Davis

J.D. Davis
Fr. Linebacker
#33 6-2, 225
Clemson, SC
View Full Profile and Judah Davis

Judah Davis
Fr. Linebacker
#36 6-2, 229
Clemson, SC
View Full Profile are smart guys and they've picked things up well. That's what we've got. That's our depth right now. We felt like Korie Rogers

Korie Rogers
RS Fr. Outside Linebacker
#43 6-2, 244
Buford, GA
View Full Profile could help us and then he left. That was unexpected, but we thought Jalen was going to win one of those jobs. I've been very impressed with that young man."
D.J. Reader

D.J. Reader
Defensive Tackle (2012 - 2015)
#48 6-2, 321
Greensboro, NC
View Full Profile 's return
"Certainly [he could return], but that's not anything I have any control over. If he makes it back, great. That would be great for him. We're moving on."
Backup quarterback
"It's pretty big right now. Nick is clearly ahead. Every year we have a quarterback controversy. Right now, it's who is the number two guy? Nobody wants to give Nick any credit. Nick has earned the respect of the team and he did that this past spring. It was tremendous for him. Nick can run. He ran a 4.6 this summer. He has some quick twitch to him and his arm is stronger than it's ever been. He's bigger and stronger than he's ever been. He's a very cerebral player who has really bought in to what he has to do to make himself the best player possible. He's clearly our number two and it's not eve close.
"Having said that, I can't brag on Kelly Bryant

Kelly Bryant
Fr. Quarterback
#2 6-4, 213
Calhoun Falls, SC
View Full Profile enough. From where he was in the spring to where he his now at the end of camp, he's in a different hemisphere. He's now made himself relevant as far as we can win with this guy. He's sincere and genuine and has a great work ethic. He's a physically impressive guy – size, strength, speed. Right now he's clearly third, but he's going to play. We have to create some experience and depth at that position."

Tags:
Stanton Seckinger
,
B.J. Goodson
,
D.J. Reader
,
Ben Boulware
,
Korrin Wiggins
,
Chris Register
,
Korie Rogers
,
Kendall Joseph
,
Judah Davis
,
J.D. Davis
,
Jalen Williams
,
Kelly Bryant
,
Tucker Israel
,
Kaleb Bevelle