| | |
| --- | --- |
| Furman vs Clemson Prediction | |
---
| | |
| --- | --- |
| Friday, September 14, 2012 10:43 AM | |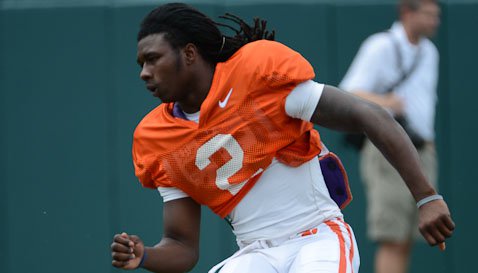 Congratulations Furman.
The Deuce is Loose, and the Paladins get to be the first team that wide receiver Sammy Watkins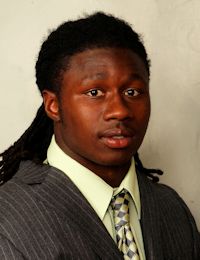 Sammy Watkins
So. Wide Receiver
#2 6-1, 205
Fort Myers, FL
View Full Profile plays against this season.
Clemson quarterback Tajh Boyd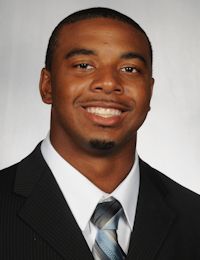 Tajh Boyd
RS Jr. Quarterback
#10 6-1, 225
Hampton, VA
View Full Profile told me this week that Watkins is stronger, seems faster, and knows even more of the playbook this season, and that he has been itching to get out on the field and put the off-season turmoil behind him.
The Paladins might – just might – have history on their side in this one.
The Tigers have a 29-game winning streak against Furman heading into this week. It is the second 29-game winning streak for the Clemson program against any opponent. The other 29-game streak took place against Virginia from 1955-89. That streak ended in 1990, a 20-7 loss in Charlottesville.
However, the number 29 is unusual in Clemson history because there are some other streaks that reached 29, and then ended.
•Clemson won 29 in a row against Virginia in its football series from 1955-89,
•The Clemson record for consecutive home men's basketball victories is 29 set between Jan. 8 1989 and Dec. 8, 1991. The last win in the streak was against Wisconsin-Green Bay, whose starting point guard was current Virginia head coach Tony Bennett.
•The Clemson record for consecutive men's singles wins by a men's tennis player is 29 by Pender Murphy in 1980.
•Clemson beat Furman 29 straight times in baseball from 1984-2002, then Furman ended the streak with a 10-8 victory at Furman in 2003.
However, the return of Sammy doesn't bode well for the Paladins, who are coming off two close losses, the latest a downer to Coastal Carolina in triple overtime that dropped them to 0-2 on the season.
This week, the Paladins travel up 123 to take on the Tigers and witness first-hand the return of Mr. Watkins. Lucky them.
FURMAN AT NO. 11 CLEMSON
WHEN FURMAN HAS THE BALL
Furman quarterback Reese Hannon – a Greer High School graduate where he played for the Yellow Jackets under former Tiger Will Young – makes his first career start Saturday. Hannon grew up a Tiger fan, and he will have plenty of family in the stand cheering him on. Hannon came off the bench late in the second quarter following an injury to starting quarterback Dakota Derrick and proceeded to pass for 255 yards and four touchdowns — all in the second half and in the overtime frames. He completed 22-of-35 passes and threw scoring strikes covering 10, 21, 22, and 25 yards while directing Furman to touchdowns on its final six possessions. He will be looking for receiving targets Colin Anderson, Will King and Ryan Culbreath. However, look for the Paladins to try and establish the running game, running away from Stephone Anthony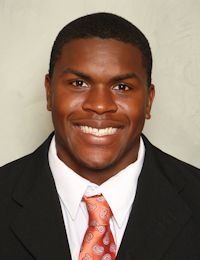 Stephone Anthony
So. Linebacker
#12 6-3, 235
Polkton, NC
View Full Profile whenever possible. This could be the week we see even more of freshman Travis Blanks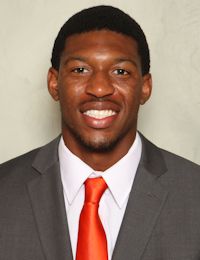 Travis Blanks
Fr. Defensive Back
#11 6-1, 190
Tallahassee, FL
View Full Profile , who seemed to be all of the field last week. Clemson head coach Dabo Swinney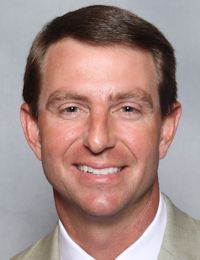 Dabo Swinney
Head Coach
View Full Profile has also said that Tony Steward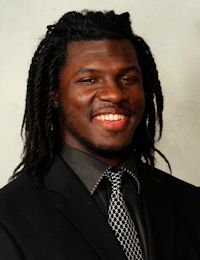 Tony Steward
So. Linebacker
#7 6-1, 235
Hastings, FL
View Full Profile could see plenty of snaps at the WILL spot. They will all be tasked with stopping Jerodis Williams, who rushed for 1,055 yards last season. The key, however, could be how much pressure the defensive line gets on Hannon – the Paladins have allowed five sacks through the first two games. Look for plenty of Blanks and Anthony, and maybe even a little Steward mixed in.
ADVANTAGE – CLEMSON
WHEN CLEMSON HAS THE BALL
Running back Andre Ellington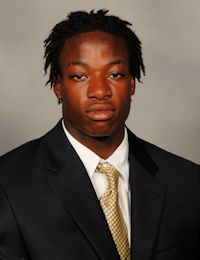 Andre Ellington
RS Sr. Running Back
#23 5-10, 195
Moncks Corner, SC
View Full Profile didn't get a ton of work last week, and quarterback Tajh Boyd was out just over midway through the second quarter. Add Watkins into the mix, and the Tigers have a need to get some key players in a rhythm before next week's trip to Tallahassee. The Clemson offense was explosive in Watkins' absence, but it was noticeable that the offensive playbook was limited. Gone were the wide receiver sweeps, and the option of wideouts carrying the football, even though there was an attempt with Adam Humphries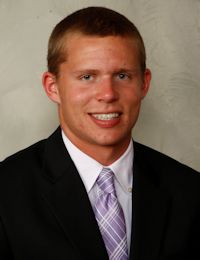 Adam Humphries
So. Wide Receiver
#16 5-11, 190
Spartanburg, SC
View Full Profile last week. The big question in my mind is how much offensive coordinator Chad Morris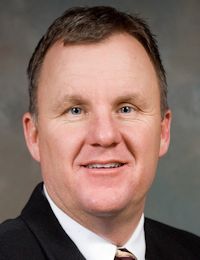 Chad Morris
Offensive Coordinator / QBs
View Full Profile opens up the playbook, and how much he wants to spring on Florida St. Furman's pass defense has struggled so far this season, and they might think about dropping an extra linebacker back in coverage to defend the pass and defend against Watkins. If they do that, it opens up the running game for Andre Ellington and Clemson's running backs. I look for Morris to establish the run, but work Watkins into the game plan early as well. Ellington, Watkins, Hopkins and company should all get plenty of touches in the first half and in the third quarter.
ADVANTAGE - CLEMSON
SPECIAL TEAMS
Clemson missed an extra point following the first touchdown last week, but that was really the only negative in a performance that saw Spencer Benton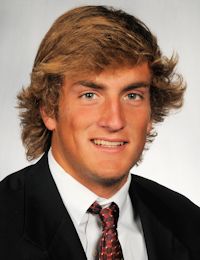 Spencer Benton
RS Sr. Punter / Kicker
#13 6-1, 195
Myrtle Beach, SC
View Full Profile – who kicks field goals, handles kickoffs, punts and holds for field goals – kicked and ACC-record 61-yard field goal on the last play of the first half. Benton was solid in the punting game, but freshman Bradley Pinion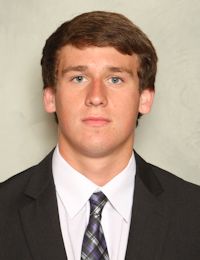 Bradley Pinion
Fr. Punter
#92 6-6, 230
Concord, NC
View Full Profile came in and was solid in his first action as a Tiger. The Tigers also get to add Watkins into the mix at both punt return and kick return this week. The Paladins' Ray Early handles the field goals, kickoffs and shares the punting duties with Ben Granger.
ADVANTAGE – CLEMSON
WHAT WILL HAPPEN
The Paladins have always been known as one of those FCS teams that give the big boys fits, and anyone who has ever been around the program knows about the wins over Georgia Tech, North Carolina St., North Carolina and South Carolina in the 80's and 90's. However, these aren't your father's Paladins, and head coach Bruce Fowler is in the process of trying to re-shape the program, and defensively they just don't have the horses to stay with the Tigers. Dabo Swinney says that Furman's defense may be more athletic than what the Tigers saw in Ball St. last week, but that isn't say much because the Tigers could have scored 80 if Swinney had left the starters in. This one will see some excitement in the return of Watkins, and maybe even a big play or two before the starters once again give way to the reserves.
FINAL SCORE – CLEMSON 52, FURMAN 17
---
GUEST PREDICTIONS
---
Mickey Plyler - 6AM-9M on WCCP 104.9FM EST - 52-17 Clemson
Dan Scott - Charter TV on Wed at 9:00pm EST - Abstain
El Swann - TigerNet Talk - 55-13 Clemson
Pigskin Prophet - 46-13 Clemson
PREDICTION TRACKER
| Game | Actual | David Hood | Mickey Plyler | Dan Scott | El Swann | Pigskin Prophet |
| --- | --- | --- | --- | --- | --- | --- |
| Auburn | 26-19 CU | 30-23 CU | 31-17 CU | 30-21 CU | 27-14 CU | 27-12 CU |
| Ball St | 52-27 CU | 47-20 CU | 44-21 CU | 52-21 CU | 49-10 CU | 48-23 CU |
| Points | - | 4 | 2 | 4 | 2 | 2 |
* Points: 3 pts for best prediction of the week, 1pt for picking the correct winner

Tags:
Adam Humphries
,
Andre Ellington
,
Bradley Pinion
,
Chad Morris
,
Dabo Swinney
,
Sammy Watkins
,
Spencer Benton
,
Stephone Anthony
,
Tajh Boyd
,
Tony Steward
,
Travis Blanks