| | |
| --- | --- |
| Frustrated Kelly sits second half of Clemson spring game | |
---
| | |
| --- | --- |
| Saturday, April 12, 2014 8:15 PM | |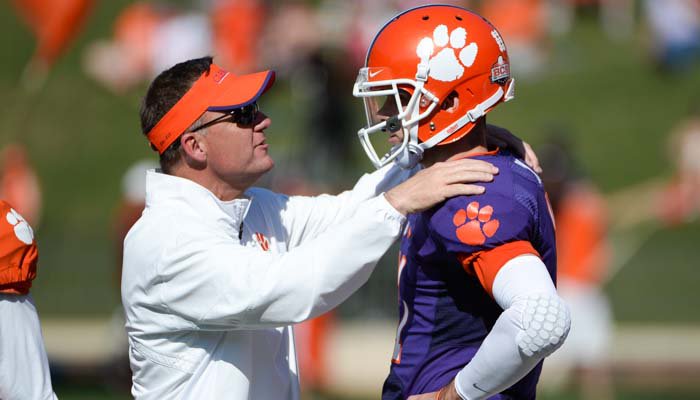 CLEMSON - Growing up is hard to do, a lesson that Chad Kelly
Chad Kelly
RS So. Quarterback
#11 6-2, 210
Buffalo, NY
View Full Profile learned Saturday afternoon.
Kelly, the talented quarterback out of New York, has been battling senior Cole Stoudt

Cole Stoudt
Sr. Quarterback
#18 6-4, 205
Dublin, OH
View Full Profile for the starting quarterback job all spring, and Saturday's spring game was a chance for him to show off his skills in front of 30,000-plus Clemson fans. Last year, Kelly's hot start in the spring game ended when he tore his ACL on a running play, so Saturday was another chance for the Clemson faithful to get an extended look at the competitive Kelly.
That competitive nature, however, got him in trouble with the coaches. Kelly, quarterbacking the Orange team, threw two first half interceptions –both into double coverage – and it was obvious that his frustration was beginning to mount.
Late in the second quarter, the Orange drove down to the White 40-yard line, but the drive stalled when Kelly's third-and-three pass to Jay Jay McCullough

Jay Jay McCullough
RS So. Tight End
#89 6-3, 230
Fort Mill, SC
View Full Profile fell incomplete. With just under two minutes remaining in the half, Kelly wanted the Clemson coaches to go for it instead of punting, letting his competitive nature shine through.
Actually, that's what you want in your quarterback. You want a player who is invested in every play, you want a guy who is going to battle throughout the entire game. You also want a guy who has the kind of confidence that says he can make a play when the chips are down.
Kelly, however, took the argument a little too far, his gestures and complaints a little too loud and a little too obvious for the coaches, who decided that the verbal altercation provided one of life's teaching moments. As a result, Kelly didn't play in the second half. He could be seen on a few drives, pleading his case with both offensive coordinator Chad Morris

Chad Morris
Offensive Coordinator / QBs
View Full Profile and head coach Dabo Swinney

Dabo Swinney
Head Coach
View Full Profile . His protests fell on deaf ears.
"Just coach's decision. Just didn't like how he responded to Coach Morris and Coach (Jeff) Scott, so they came to me with their decision and I said yes," Swinney said after the game. "It was just coach's decision. That's it."
Stoudt finished 15-of-23 for 158 yards and two touchdowns while leading three scoring drives. Kelly was 10-of-18 for 113 yards with the two interceptions.
"Today, he [Cole] definitely had the better day. It has been one of those things where it has been up and down every day," Swinney said. "If we had kept practicing, tomorrow might be a different story. There is no question that Cole Stoudt had the better day, was the better leader, was more poised and handled the situation that was in front of him better. Chad Kelly is an awfully talented young man. He made a couple of impulse decisions today that are really out of character for him. The biggest thing is that he got frustrated. You've got to understand that he's still a young player. A big part of this position is maturity and leadership and those are two things that he's got to continue to work on."
Swinney said that for those who might think that the coaches will overlook the incident because it was in the spring game, think again.
"It doesn't help because everything does count. Maturity and leadership – that's a huge part of that position," he said. "It's a lot more than just the skills. Chad has been great, but he didn't have a good day today and he got frustrated and reacted the way your leader can't react. It's just that simple. The other guy deserved to play and that's how we roll with it. We're not going to have guys crossing the lines with the coaches just because they are frustrated with whatever. It is what is – coach's decision. He's a great player. We'll evaluate the tape. We've got a lot of things to look at it and we'll go from there."
Morris said that Kelly needs to learn to harness his competitive nature.
"I think Chad is a great competitor and sometimes that works against him," Morris said. "He's so competitive and he wants to win at everything he does. You love that. That's what makes him special. He got a little frustrated today. I hated that. He's had a good spring. I didn't like the way he handled some adversity with the situation on fourth down – whether or not to punt. Just the frustration level with the coaches on the sidelines – we're just not going to do that."
Morris called the moment a chance for Kelly to deal with adversity.
"I'm sure he wishes he had that moment back, but it was a spring game," he said. "It was an opportunity to deal with some adversity. That's part of splitting this thing up so that we know there's going to be some adversity. Sometimes you're going to have some twos and threes in there and you have to deal with it. How do you respond to your leadership. "
He then said that he didn't remember pleading for the chance to play in the second half.
"There was no pleading to nothing. The pleading was done at halftime," Morris said. "I don't know what all was going on, I was back and forth across the field. We made the decision that this was what we were going to do. This doesn't need to overshadow the entire spring because he has had a good spring and done a lot of good things. We've had a great battle all spring long. It's just unfortunate that it came to this, but it is what it is."