| | |
| --- | --- |
| Friday was all about the defense | |
---
| | |
| --- | --- |
| Friday, April 4, 2014 6:59 PM | |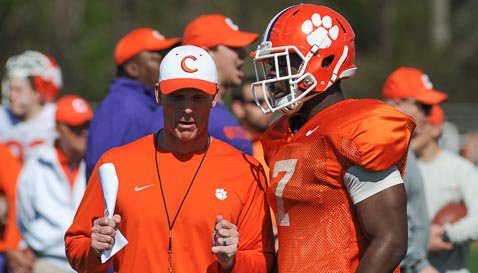 CLEMSON – Friday was all about the defense.
The Clemson football team ran through several scrimmage situations during Friday's practice, and the media's postgame availability had a defensive flair as defensive coordinator Brent Venables

Brent Venables
Defensive Coordinator / Linebackers
View Full Profile , defensive tackle D.J. Reader
D.J. Reader
Jr. Defensive Tackle
#48 6-2, 335
Greensboro, NC
View Full Profile and defensive end Vic Beasley

Vic Beasley
RS Sr. Defensive End
#3 6-3, 225
Adairsville, GA
View Full Profile were allowed to speak with reporters, along with center Jay Guillermo

Jay Guillermo
RS So. Center
#57 6-2, 290
Maryville, TN
View Full Profile .
Venables said that there haven't been any real surprises during camp, but he has liked what he has seen with several position battles.
"I've been pleased with the battle going on between Tony Steward

Tony Steward
Sr. Linebacker
#7 6-0, 235
Hastings, FL
View Full Profile and Ben Boulware

Ben Boulware
So. Outside Linebacker
#10 6-1, 230
Anderson, SC
View Full Profile ," he said. " T.J. Burrell

T.J. Burrell
RS So. Linebacker
#41 5-11, 215
Goose Creek, SC
View Full Profile is playing better than he has – he's more consistent. Robert (Smith) and Jadar (Johnson) have been pretty solid. And then those guys up front have been solid and consistent. I haven't really seen any real surprises, but we have a lot of work to do in solidifying our two-deep and secondary."
Venables said that while he feels like has a solid four players at the tackle and end spots, he is still looking for another player to emerge at those positions.
"Who is going to be that fifth guy at end and at tackle? Hopefully they want to be the first guy," Venables said. "Who is going to play opposite Vic (Beasley) in that first game? I don't know who that is going to be. So there is competition and jockeying going on at defensive tackle and end going on, and I want to build a solid two-deep at linebacker. I have a couple of young guys coming in this fall that I want to see if they can beat somebody out."
DeShawn Williams

DeShawn Williams
Sr. Defensive Tackle
#99 6-1, 285
Central, SC
View Full Profile
"He has pushed the pocket better. Put more pressure on the quarterback. Deshawn Williams has been a player who has done well on the front line."
Nickel/SAM
Defensive back Korrin Wiggins

Korrin Wiggins
So. Defensive Back
#12 6-1, 185
Durham, NC
View Full Profile hasn't been healthy all spring, according to Venables. Venables said that if the season started today, T.J. Burrell and Dorian O'Daniel would comprise the two-deep at the nickel/SAM spot.
On the decision to move Travis Blanks

Travis Blanks
Jr. Defensive Back
#11 6-0, 190
Tallahassee, FL
View Full Profile back to nickel
"He is coming off an ACL, and we lost a starter at that position. We have some young guys and experience coming back, and we have four safeties we can definitely win with. That is a position that he played at really high level for us. There isn't much of a learning curve, but that's the best move for our defense."
T.J. Green

T.J. Green
So. Athlete
#82 6-2, 189
Sylacauga, AL
View Full Profile
"He is strong. He can tackle, and he has some good speed. We offered him as a safety, and fall camp came and he was a receiver. But we put our name on it. We already had evaluated him out of high school, when he was committed to UAB."
Ben Boulware
"He has been real active. He had a couple of bad days early – some bad plays and some bad drives – but he is very hard on himself. In the last week or so, he has had a lot of clean practices and made some good plays. He has work to do still, but learning two positions isn't easy."
Defensive line props
Venables was asked if this defensive line compares to what he had at Oklahoma, and he said yes.
"I am not sure we have the dominant 3-technique, but sure."
Chris Register

Chris Register
Fr. Outside Linebacker
#45 6-4, 210
Greensboro, NC
View Full Profile
"He is going just fine, had nice pick-six today. He needed that. He is chipping away and he is doing fine."
T.J. Burrell
"T.J. Burrell is playing more consistent than he has been at linebacker. I think we will have a solid 2 deep at linebacker.
D.J. Reader
Defensive tackle D.J. Reader told us that he misses baseball – he played both sports when he first arrived at Clemson – and that he sometimes goes out to the baseball games and sits in the bleachers just so he can watch.
Concussion sensor
We talked to offensive lineman Jay Guillermo for a while following Friday's practice (story to follow) and he said that he has been playing more and more at guard as the spring has progressed. However, I noticed that the cover on his helmet) which is supposed to reduce concussion chances had a big rip in the fabric. I then noticed that he had a white square on the front of the helmet, and he told me that it was a sensor that several of the players are wearing. If he – or any player wearing that sensor – gets hit too hard, it sends a signal to the sideline. One of the trainers will be holding a handheld device that will alarm, and the player will be pulled off the field for concussion testing.

Tags:
Ben Boulware
,
Brent Venables
,
Chris Register
,
D.J. Reader
,
DeShawn Williams
,
Jay Guillermo
,
Korrin Wiggins
,
T.J. Burrell
,
T.J. Green
,
Tony Steward
,
Travis Blanks
,
Vic Beasley