| | |
| --- | --- |
| Freshmen filling up defensive depth chart | |
---
| | |
| --- | --- |
| Friday, August 7, 2015 10:44 AM | |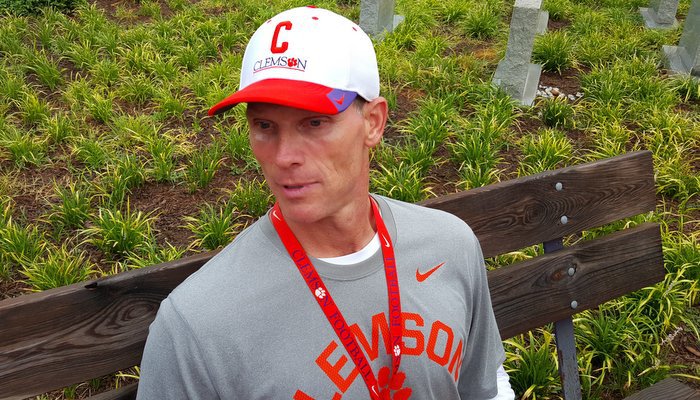 CLEMSON – Clemson head coach Dabo Swinney

Dabo Swinney
Head Coach
View Full Profile opened up practices to the media this week so we could get a better look at the 40 freshmen and redshirt freshmen that now dot the roster.
With so many younger players needing to fill spots – especially on defense – the competition has been fierce early in camp as each player endeavors to impress the coaches. Defensive coordinator Brent Venables

Brent Venables
Def. Coordinator / Linebackers
View Full Profile met with the media after Thursday's third practice, and he said he isn't in a rush to say that any one player has claimed a spot on the depth chart.
"I would say probably after a few weeks we will have a better understanding, a better track record and we will know one way or the other over time," Venables said. "They will have a good day and a bad day, so it's who is the most consistent. But we've got almost three weeks to figure it out, and you don't want to rush to judgment."
B.J. Goodson

B.J. Goodson
RS Sr. Linebacker
#44 6-0, 240
Lamar, SC
View Full Profile (MIKE) and Ben Boulware

Ben Boulware
Jr. Outside Linebacker
#10 6-0, 235
Anderson, SC
View Full Profile (WILL) appear to have two of the starting linebacker jobs nailed, but there is still a scramble at the SAM spot and for second and third team spots. Venables said none of the backups have really stood out to this point in camp.
"I don't know if I'm ready to talk about anybody there yet. I think there is kind of an ongoing battle with a group of guys there," he said. "There is some good and some not so good. We are going to have to have some depth there. There are the same guys from the spring we are choosing from - Kore Rogers, Kendall Joseph

Kendall Joseph
RS Fr. Linebacker
#34 5-11, 225
Belton, SC
View Full Profile , Chad Smith

Chad Smith
Fr. Linebacker
#35 6-3, 215
Sterling, VA
View Full Profile and Jalen Williams

Jalen Williams
Fr. Linebacker
#30 6-0, 215
Columbia, SC
View Full Profile . We are looking at Dorian O'Daniel

Dorian O'Daniel
RS So. Linebacker
#6 6-2, 215
Olney, MD
View Full Profile and Travis Blanks

Travis Blanks
Safety (2012 - 2015)
#11 6-0, 210
Tallahassee, FL
View Full Profile and T.J. Burrell

T.J. Burrell
RS Jr. Linebacker
#41 5-11, 215
Goose Creek, SC
View Full Profile and Korrin Wiggins

Korrin Wiggins
Jr. Defensive Back
#12 5-11, 195
Durham, NC
View Full Profile – they are all working out at the strong side. Whoever it is, we won't have a lot of experience but we have guys who all have good skill sets and in that group we will have what we need there."
Perhaps the most intriguing out of that group is Blanks, who hasn't taken a snap in a game since November of 2013 when he tore his ACL against The Citadel. Blanks missed all of last season recovering from the injury but jumped a passing route for an interception Thursday.
"He has not really had any lingering effects," Venables said. "He is within 5-to-10 pounds on all of his lifts from two years ago, so that's quite remarkable. They've done a great job rehabbing him and getting him ready. He's retained the mental aspect and he's done really well."
A lot of eyes are on the defensive end spots, where Clemson must replace stalwarts like Vic Beasley

Vic Beasley
Defensive End (2010 - 2014)
#3 6-2, 236
Adairsville, GA
View Full Profile , Corey Crawford

Corey Crawford
Defensive End (2011 - 2014)
#93 6-5, 275
Columbus, GA
View Full Profile , and Tavaris Barnes

Tavaris Barnes
Defensive End (2010 - 2014)
#9 6-3, 275
Jacksonville, FL
View Full Profile . Redshirt freshman Richard Yeargin

Richard Yeargin
RS Fr. Defensive End
#49 6-4, 225
Lauderdale Lakes, FL
View Full Profile has shown explosiveness early in camp while redshirt freshman Chris Register

Chris Register
RS Fr. Outside Linebacker
#45 6-2, 245
Browns Summit, NC
View Full Profile is still learning on the job after making the transition from linebacker late in the spring.
"Yeargin is more functional because he's bigger and a little more confident. Register - in fairness to him - this is really his first full week of being a defensive end. He's done some good things," Venables said. "Clelin (Ferrell) and Austin (Bryant) are both long and can move their feet and bend. They are intelligent, and they are competitive kids. They take coaching, and they come from two really good programs and two sets of good mommas who got their boys tough. They are humble and hard-working."
Mackensie Alexander

Mackensie Alexander
RS So. Cornerback
#2 5-10, 190
Immokalee, FL
View Full Profile has one of the corner spots nailed down, but competition has been heavy at the boundary corner spot as Cordrea Tankersley

Cordrea Tankersley
Jr. Defensive Back
#25 6-1, 195
Beech Island, SC
View Full Profile , Ryan Carter

Ryan Carter
RS So. Cornerback
#31 5-9, 180
Grayson, GA
View Full Profile , and others battle it out.
"They are going against some good receivers and had some nice plays and some plays where they've gotten beat. They have to be more consistent," Venables said. "They are very competitive, and Cordrea is ready for this opportunity. Ryan is ready. Ryan is a tough, competitive kid with good instincts and top-end speed. He's trying to learn the intricacies and the feel of the game. That comes from repetition. And they have to have some failure along the way to grow and learn. And while you hate in the moment failure is a great teaching opportunity. Then you hope they get it out of their tank right now."
Venables said he likes what he's seen to this point from the freshmen.
" Mark Fields

Mark Fields
Fr. Cornerback
#24 5-10, 185
Cornelius, NC
View Full Profile comes in and he's physically matured. Van Smith

Van Smith
Fr. Defensive Back
#23 6-2, 170
Cornelius, NC
View Full Profile comes in, and he's in football condition," he said. "You can tell his dad is a coach who has been around the game a long time. He doesn't get overwhelmed with the speed or variety of schemes that you're in. Jalen Williams has done some nice things. He's very instinctual and plays hard. And those linemen, there are a few of them that will probably redshirt which is good for them, but they are physically mature. They are physical."
He then said that the coaching staff feels like they hit on all of the recruits, something that can't often be said.
"I think we hit it. You don't obviously always feel that way, but we feel like we hit it with all those guys," he said. "Sometimes you think it's just coach-speak, but they all like to work, and they are all coachable and they handle adversity ad failure well. Again, that's through three days but that is also through a month of conditioning and workouts. Again, just not being jerks and studying the playbook. You can tell when a guy has put in some work when they get into the meeting room or the football field. They all have. They have a good chemistry, and it shows. They have respect for the game and how you compete."

Tags:
Tavaris Barnes
,
Vic Beasley
,
B.J. Goodson
,
Corey Crawford
,
Travis Blanks
,
Cordrea Tankersley
,
T.J. Burrell
,
Ben Boulware
,
Mackensie Alexander
,
Dorian O'Daniel
,
Korrin Wiggins
,
Ryan Carter
,
Chris Register
,
Richard Yeargin
,
Kendall Joseph
,
Jalen Williams
,
Mark Fields
,
Van Smith
,
Chad Smith
,
Brent Venables