| | |
| --- | --- |
| Free throws, McDaniels carry Tigers over Gamecocks 71-57 | |
---
| | |
| --- | --- |
| Sunday, November 17, 2013 8:19 PM | |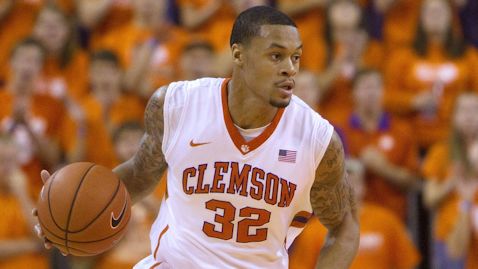 CLEMSON – Clemson head coach Brad Brownell

Brad Brownell
Head Coach
View Full Profile walked out of his postgame press conference and said that when his team doesn't shoot well from the free throw line, the assistant coaches are in charge of free throws, but that he claimed the credit for Sunday's effort.
And well he should, because Clemson won a game from the free throw line.
Those words haven't been uttered very often when describing Clemson basketball, but the Tigers hit 24-of-26 free throws and had 12 blocks as they defeated rival South Carolina 71-57 Sunday afternoon in Littlejohn Coliseum.
K.J. McDaniels

K.J. McDaniels
Jr. Forward
#32 6-6, 200
Birmingham, AL
View Full Profile had 21 points, 10 rebounds and seven blocks for Clemson (3-0), which defeated South Carolina for the second straight season. The Tigers snapped a two-game losing streak to the Gamecocks last season in Columbia with a 64-55 victory.
Jordan Roper

Jordan Roper
So. Guard
#20 5-11, 165
Columbia, SC
View Full Profile added 15 points and Rod Hall

Rod Hall
Jr. Guard
#4 6-1, 210
Augusta, GA
View Full Profile chipped in 14 for the Tigers, who also got eight points from first year big man Ibrahim Djambo

Ibrahim Djambo
Jr. Forward
#42 6-10, 215
Poplar Bluff, MO
View Full Profile .
" I am really proud of our team, and I thought we executed well in different areas," Brownell said in his postgame press conference. "Guys stepped up and made some big free throws, and K.J. was a difference out there on the floor, and that was probably the difference in the game. And that was good to see, because we really worked hard the last three days in practice."
Brownell said that the Tigers have to get similar performances from McDaniels in order to be successful.
"He has to play well for us," Brownell said. "This is a time in his career for him to be a high level player, and he performed that way tonight. But he still has work to do. He is a guy that has room to grow, and that is exciting."
The teams traded baskets early, with Clemson taking an early 9-8 lead, but the Tigers then went on a 17-4 run that included a couple of put-back dunks by McDaniels and 3-pointers by Adonis Filer

Adonis Filer
So. Guard
#3 6-2, 190
Chicago, IL
View Full Profile and Jordan Roper that pushed Clemson's largest lead of the half to 26-13 with just over six minutes remaining.
At one point, the Gamecocks missed 13 consecutive shots and went almost seven minutes without a point, but Sindarius Thornwell broke the streak with a 3-pointer and a runner in the lane that made it 26-18 with just over three minutes remaining in the half.
The Tigers led 35-26 at intermission, largely on the basis of the scoring drought and hitting 12-of-14 free throws.
The Gamecocks scored the first six points out of the break, cutting even further into the Clemson lead, but a McDaniels drive and lay-in followed by a free throw pushed the Tigers back in front by six at 38-32.
The Tigers eventually led 40-32, but the Gamecocks went on a 7-0 run that was punctuated by a steal and layup by Michael Carrera that cut the Tiger lead to 40-39. Carrera was fouled on the play, and threw his arms in the air in jubilation and in an effort to fire up his teammates even more.
It simply fired up the Tigers, who followed his missed free throw with a beautiful alley-oop from Hall to McDaniels, and a defensive stand and block by McDaniels led to a three-point play by Hall as Clemson extended the lead back out to six at 45-39 with just over 11 minutes remaining in the game.
"He (Carrera) is a guy that is a very emotional player, and that is what he does for their team," McDaniels said of the play. "Once that happened, we knew we had to match their intensity. That was kind of a wake-up call for us. We knew we had to match them up and down the court and on each play. That was a big spot for us."
The Tigers continued to play hard on the defensive end, and McDaniels continued to make the Gamecocks pay on the offensive end. McDaniels – again assisted by Hall – completed a three-point play that made it 48-40, and then a turnover led to a back-and-forth passing clinic between McDaniels and Jordan Roper that led to another McDaniels bucket as Clemson led 50-40 at the 10:02 mark.
A 3-pointer by Ibrahim Djambo gave Clemson its biggest lead at 61-47 with just under six minutes remaining, and McDaniels added two more free throws at the 4:18 mark that made it 63-49, and a Roper breakaway dunk after a McDaniels block at the 3:27 mark made it 65-52 – part of 25-13 run - and added a punctuation mark that South Carolina would never recover from.
Djambo added a 3-point play that made it 68-52 with just over two minutes remaining, and Filer hit a 3-pointer that gave Clemson its biggest lead at 71-52.
Brownell said he was proud of his team's effort in beating South Carolina.
"We want to beat them as much as they want to beat us," he said. "This game is more big in June and July and April and May and in recruiting circles, and the fans talk about it around the water cooler."
He also said he was proud of his specialty of the day – free throw shooting.
"They fouled the right guys, apparently," Brownell said. "K.J., Roper and Rod. "I think my first year here we shot great, and everybody thought I was a great coach because how I can teach foul shooting. And the last two years we've stunk at it, and I was back to being a bad coach. We shoot free throws every day, and I've tried to make more games out of it this year. We have tweaked some shots with some guys.
"It was funny – during the game one of the referees came over to me and said, 'Hey, if you had shot free throws like this last year you would have won five or six more games.' And he was right. That is the difference between winning and losing and that is a pretty significant thing."
The Tigers return to action Thursday in the Charleston Classic, where they will face Temple at 8 p.m.