| | |
| --- | --- |
| Four star lineman visits and sees Clemson as a perfect fit | |
---
| | |
| --- | --- |
| Friday, May 27, 2011 7:11 PM | |
CLEMSON – Joe Harris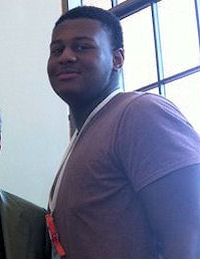 Joe Harris
Offensive Line
6-4, 320
Lithonia, GA
View Full Profile decided to get a little more out of his family reunion than just food.
The 4-star offensive lineman out of Lithonia (GA) made the trip to the Upstate with his family for a family reunion in Spartanburg – where he used to live – and he decided to make a stop on the way.
Harris, his mother and step-father stopped in Clemson on Thursday.
"We had to come up here for the family reunion," Harris told TigerNet Friday. "So we made a plan to stop by so I could show my family what Clemson had to offer and what it is like. I have been to Clemson a lot, for the different camps and things, so I have seen everything. But I wanted them to see Clemson."
Harris said the trip still made an impression on him.
"We stayed there for three or four hours, and they loved it," he said of his parents. "But Clemson is home to me. I love the environment. It is peaceful, and it is definitely a place I see myself living and playing football. I have no problems with Clemson at all, and I can see myself playing there."
Clemson head coach Dabo Swinney is out of town, but former coach Brad Scott made sure Harris and his family got the red carpet treatment.
"Coach Scott and me, we chilled out in his office," he said. "He took the time to talk to my mom and step-dad, and he really bonded with them and he liked them. He took them on a tour of everything, and I think they really like Clemson. I met a couple of the players, and a former player [La'Donte Harris] talked to me. We bonded and talked about a lot of things."
Harris has offers from Clemson, Alabama, Florida St., Georgia Tech, Georgia, Minnesota, Louisville, Minnesota, Miss. St., Purdue, N.C. State, South Carolina and South Florida, and said he wants to make a decision before his football practice starts in August.
"I want to concentrate on my senior season, so I want to make a decision by the end of the summer if not before," he said. "I want to get that out of the way so I can concentrate on playing football."
The 6-4, 290-pounder told TigerNet that most colleges are recruiting him as a guard, but Clemson sees him as a tackle in Chad Morris' offense.
"I think most schools see me as a guard because of my height," he said. "But Clemson has told me that they see me as a tackle. I am going to move to guard this year just so the colleges out there can see that I can play guard. But I don't really care. The more positions the better. I will play center if I have to. But I like the Clemson offense because it is the same one we run down here. It is fast-paced and lets you get off the ball quick. I like that."