| | |
| --- | --- |
| Five-star lineman highlights junior day visitors | |
---
| | |
| --- | --- |
| Thursday, January 30, 2014 6:56 PM | |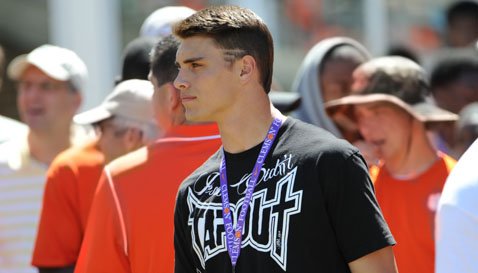 With the 2014 recruiting cycle quickly coming to a close, it's time for the Clemson coaching staff to roll out the red carpet for the 2015 prospects.
Clemson will host the first of its Junior Days and this weekend's will be the smallest group, but have some of the most highly regarded athletes.
Everyone knows the names and positions of the 2014 commits and prospects, but many of the 2015 prospects still remain a mystery, so instead of just releasing a list we are going to break it up into two parts – offense and defense – in order to give a little background on each athlete.
Mitch Hyatt

Mitch Hyatt
Offensive Tackle
6-6, 270
Suwannee, GA
ESPN:


View Full Profile (6-5, 265) - Hyatt headlines the group of elite junior talent. The number one ranked tackle in the country out of Suwanee (GA) North Gwinnett has offers from just about every major program in the country, but many believe the Tigers lead for his services. He shut down his recruitment early last fall in order to focus on his high school season. The trip to Clemson will be the first of many stops on his spring recruitment tour.
Markeyvious Adams (6-3, 174) - The three-star wide receiver prospect out of Greenwood (SC) currently holds offers Appalachian St. and N.C. State. Adams caught 15 passes for 214 yards and score in Greenwood's run-oriented offense.
Zack Bailey

Zack Bailey
Offensive Tackle
6-5, 300
Summerville, SC
View Full Profile (6-5, 300) - The offensive guard out of Summerville (SC) has offers from Auburn, Clemson, Florida, North Carolina and South Carolina. Bailey has been on Clemson's campus twice already, and the battle for his services is widely regarded as an in-state battle between the Tigers and the Gamecocks.
Kelly Bryant

Kelly Bryant
Wide Receiver
6-4, 200
Abbeville, SC
ESPN:


View Full Profile (6-4, 205) - The dual-threat quarterback from Piedmont (SC) Wren, who will make a stop in Clemson Saturday before heading to Raleigh for a visit at N.C. State – the school that many believe is his leader. The Clemson coaches were in to see Bryant recently.
Austin Clark (6-6, 285) - The four-star tackle out of Lexington (VA) Rockbridge holds offers from schools in the ACC, SEC, B1G and Big 12. He picked up an offer from defensive coordinator Brent Venables

Brent Venables
Defensive Coordinator / Linebackers
View Full Profile in early January.
Jake Fruhmorgen (6'5, 256) - The four-star tackle out of Tampa (FL) Plant that holds 29 offers from all over the country. His dad played football at Alabama and also played in the NFL for the Miami Dolphins in the 1980s. This will be Fruhmorgen's first trip to Clemson.
Reggie Gallaspy

Reggie Gallaspy
Running Back
5-11, 205
Greensboro, NC
View Full Profile (5-11, 213) - The four-star running back out of Grensboro (NC) Southern Guiliford. Gallaspy recently named a top-five that included Duke, North Carolina, N.C. State, Virginia, and West Virginia. He doesn't currently have a Clemson offer.
Tucker Israel

Tucker Israel
Quarterback
6-1, 195
Orlando, FL
View Full Profile (6-0, 180) - The three-star quarterback out of Orlando (FL) Lake Nona was recently offered by Clemson and holds offers from Florida, Central Florida, South Florida and Wake Forest. Israel is a three-year starter and was 254-of 385 for 3,979 yards and 40 touchdowns as a junior.
Mikell Lands-Davis

Mikell Lands-Davis
Running Back
6-0, 205
Douglasville, GA
ESPN:


View Full Profile (5-11, 205) - Running back out of Douglassville (GA) Alexander holds a Clemson offer and is receiving interest from Georgia, Marshall, and Tennessee. Davis claims the Tigers as an early leader for his services. As a junior, he carried the ball 317 times for 2,374 yards and 27 touchdowns. He also caught 22 passes for 358 yards.
Lorenzo Nunez

Lorenzo Nunez
Quarterback
6-2, 180
Kennesaw, GA
ESPN:


View Full Profile (6-2, 181) - The dual-threat quarterback out of Harrison (GA) Lassiter caught the eye of offensive coordinator Chad Morris

Chad Morris
Offensive Coordinator / QBs
View Full Profile during Dabo Swinney

Dabo Swinney
Head Coach
View Full Profile 's high school camp last summer. The four-star prospect has offers from Clemson, Ohio St., Tennessee and Texas A&M.
Bailey Sharp (6-5, 284) - The Marietta (GA) Sprayberry offensive lineman has offers from Clemson, Duke, Mississippi St., and South Carolina.
Garrett Williams

Garrett Williams
Tight End
6-4, 215
Orlando, FL
ESPN:


View Full Profile (6-4, 221) - The four-star tight end out of Orlando (FL) First Academy picked up an offer in early 2013 and participated in Swinney's camp last summer. Williams' father Dayne was the upback on the 1988 Florida State team. Dayne Williams took the snap and handed to the ball to LeRoy Butler in the famous "Puntrooskie" play that set up the game-winning field goal against Clemson.
Ty'Son Williams (6-0, 193) - Sumter (SC) Crestwood running back doesn't have a Clemson offer, but does hold offers from Georgia and Appalachian State. If Clemson does decide to offer, it will have a lot of ground to make up as Williams grew up a Georgia fan. As a junior, Williams had 174 carries for 1,516 yards – an average of 8.71 yards per carry.
Clemson commits offensive lineman Noah Green

Noah Green
Offensive Tackle
6-5, 275
Boiling Springs, SC
View Full Profile from Boiling Springs (SC), defensive back Van Smith

Van Smith
Running Back
6-0, 170
Charlotte, NC
View Full Profile from Charlotte (NC) West Mecklenburg and safety/linebacker Tanner Muse

Tanner Muse
Linebacker
6-4, 205
Belmont, NC
ESPN:


View Full Profile from Belmont (NC) South Point.
Clemson will also host a number of 2016 prospects Bryan Edwards

Bryan Edwards
Wide Receiver
6-3, 185
Conway, SC
View Full Profile – wide receiver out of Conway (SC); Tavien Feaster

Tavien Feaster
Running Back
6-0, 180
Spartanburg, SC
View Full Profile – running back out of Spartanburg (SC); and, Austin Kendall - quarterback out of Charlotte (NC) Charlotte Christian.
Tomorrow morning we will release the detailed list of defensive prospects that will attend this weekend's junior day.

Tags:
Brent Venables
,
Bryan Edwards
,
Chad Morris
,
Garrett Williams
,
Kelly Bryant
,
Lorenzo Nunez
,
Mikell Lands-Davis
,
Mitch Hyatt
,
Noah Green
,
Reggie Gallaspy
,
Tanner Muse
,
Tavien Feaster
,
Tucker Israel
,
Van Smith
,
Zack Bailey