| | |
| --- | --- |
| Final fall camp nuggets, including the emergence of Boulware and Choice | |
---
| | |
| --- | --- |
| Friday, August 22, 2014 11:36 AM | |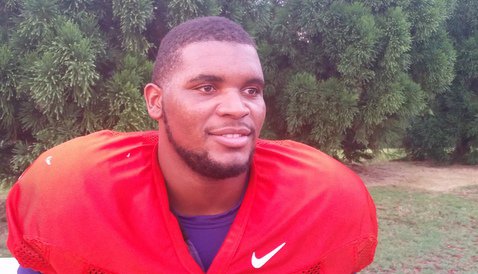 Fall camp is over and the full attention of the Clemson football team will turn to the opener against the Georgia Bulldogs on August 30th. In other words, spot the ball.
Clemson's fall camp was boring – not a lot of breaking news and most of the starters were already in place – but boring can be a good thing, especially when it comes to injuries. It looked like the Tigers were going to escape the session pretty much unscathed until the news of running back Zac Brooks

Zac Brooks
Jr. Running Back
#24 6-1, 199
Jonesboro, AR
View Full Profile hit late Tuesday and the news of Shaq Anthony's transfer surfaced Thursday.
Before we get into all of the Georgia preparation, however, there are still a few nuggets from camp that didn't quite fit into some of the stories but I wanted to make sure you got to read. Some of these are my own observations, and some of them are from people who got to see practice on a daily basis. As you know, the media isn't allowed to watch any of scrimmages and really none of the practice sessions (except for stretching), so a lot of what we hear has to come from those who do get to see.
Let's start with the defense:
Stephone Anthony

Stephone Anthony
Sr. Linebacker
#42 6-2, 244
Polkton, NC
View Full Profile
Not a lot has come out in camp about Clemson's senior linebacker, and a lot of that has to do with the fact that Anthony is quiet and doesn't do a lot of talking to the media. That's ok, because he has done a lot of talking with his play on the field.
If you go back and watch the Orange Bowl, Anthony was everywhere, and he carried that momentum over into the spring and the fall. Defensive coordinator Brent Venables

Brent Venables
Def. Coordinator / Linebackers
View Full Profile has raved about him. Head coach Dabo Swinney

Dabo Swinney
Head Coach
View Full Profile has raved about him. Following last Saturday's scrimmage in Death Valley, Antony met with the media and was laughing, joking and having a good time, and even told the media, "I'm just messing with ya'll."
I had one person tell me that Anthony looks different on the practice field as well. In the past, he would sometimes overrun plays, but now he's using his speed to get to the ball and then taking the proper angles to make a play. Anthony told me that having players like Grady Jarrett

Grady Jarrett
Sr. Defensive Tackle
#50 6-1, 290
Conyers, GA
View Full Profile and Josh Watson

Josh Watson
RS Sr. Defensive Tackle
#91 6-4, 292
Wilmington, DE
View Full Profile and D.J. Reader
D.J. Reader
Jr. Defensive Tackle
#48 6-2, 322
Greensboro, NC
View Full Profile in front of him – taking on blockers – helps him make plays.
This is a defense in which Vic Beasley

Vic Beasley
RS Sr. Defensive End
#3 6-2, 236
Adairsville, GA
View Full Profile gets all of the attention, but Anthony could put up some monster tackle numbers and propel himself into the top of the NFL Draft.
Grady Jarrett
In talking with a few media members the other day – sometimes practice runs way over and we have too much time to just stand around – I posed the question of who they thought was the best player on Clemson's defense. Anthony got votes. Beasley got votes. But it's hard to argue with Jarrett.
Whenever we would talk to opposing coaches or players last season, Jarrett was invariably the first player they would mention on Clemson's defense. I asked Jarrett the other day if he thought the Orange Bowl was his best outing, and he said no, that he thought his effort against South Carolina was his best.
I went back and looked, and he is probably right. Jarrett had a game-high 15 tackles and two tackles for loss in 58 snaps against the Gamecocks, and their offensive line and coaches are probably still trying to figure out a way to block Jarrett. His play up the middle was a big reason that South Carolina's vaunted rushing attack averaged just three yards per rush, and starter Mike Davis had just 43 yards on 12 carries.
I was watching the NFL Network the other day, and a former All-Pro safety said that a great defense starts up the middle – defensive tackles, middle linebacker and strong safety – and Clemson has all of those ingredients.
Ben Boulware

Ben Boulware
So. Outside Linebacker
#10 5-11, 235
Anderson, SC
View Full Profile
One parent came off the field and into the tunnel following the scrimmage shaking his head and laughing. I asked what had gotten his attention, and he said that linebacker Ben Boulware is an absolute wrecking ball on defense.
He said that Boulware is almost frightening to watch, simply from the fact that he throws his body all over the field and creates the kinds of collisions that leave you wondering if he will be able to get up and make it back to the huddle.
Now that Boulware is more comfortable with the defense, he can play faster, and he will be fun to watch. Venables said the other day that Boulware and Tony Steward

Tony Steward
Sr. Linebacker
#7 6-1, 236
Hastings, FL
View Full Profile have both had great camps, but Steward has been just a tad more consistent.
Jadar Johnson

Jadar Johnson
So. Defensive Back
#18 6-1, 207
Orangeburg, SC
View Full Profile
Jayron Kearse

Jayron Kearse
So. Safety
#20 6-4, 215
Fort Myers, FL
View Full Profile took over for Travis Blanks

Travis Blanks
Jr. Safety
#11 6-0, 210
Tallahassee, FL
View Full Profile last season, and did a nice job for a freshman. The prevailing thought was that Kearse would then step easily into the starter's role at safety this season. However, don't be surprised if Jadar Johnson gets a ton of snaps or even starts over Kearse. By all accounts, the Orangeburg native has had an outstanding spring and impresses every time he takes the field.
Offense
Tyrone Crowder

Tyrone Crowder
RS Fr. Offensive Guard
#55 6-2, 322
Marston, NC
View Full Profile
I am not sure what is going to happen with Clemson's offensive line, at least when it comes to the depth chart. My guess would be Isaiah Battle

Isaiah Battle
Jr. Offensive Tackle
#79 6-7, 285
Brooklyn, NY
View Full Profile at left tackle, Eric Mac Lain

Eric Mac Lain
RS Jr. Offensive Tackle
#78 6-4, 306
Hope Mills, NC
View Full Profile left guard in David Beasley

David Beasley
RS Sr. Offensive Guard
#68 6-4, 323
Columbus, GA
View Full Profile 's absence at Georgia, Ryan Norton

Ryan Norton
RS Jr. Offensive Line
#58 6-3, 292
Simpsonville, SC
View Full Profile at center, Kalon Davis

Kalon Davis
RS Sr. Offensive Guard
#67 6-5, 340
Chester, SC
View Full Profile at right guard and Joe Gore

Joe Gore
RS Jr. Offensive Tackle
#73 6-5, 283
Lake Waccamaw, NC
View Full Profile at right tackle.
However, we've heard the freshman guard Tyrone Crowder has had a good camp, and he will be in the mix for playing time. Crowder walked into the hallway outside the Clemson locker room following the scrimmage, and I had to do a double-take – he's just massive. Not overweight like he was when he first arrived on campus – dude is just a mountain of muscle. He could play sooner rather than later, especially if one of the guards struggle.
Joe Gore
Gore has solidified his hold on the right tackle spot, good news for an offensive line that has seen that position really struggle the last few seasons. Gore told me Tuesday that he really wasn't even aware until recently that Shaq Anthony

Shaq Anthony
RS Jr. Offensive Tackle
#76 6-4, 276
Williamston, SC
View Full Profile had been suspended for the opener. Gore has had a great camp. Now let's hope that continues into the season, because Clemson is thin - really thin - at the tackle spots. Right now, Reid Webster would be the main backup, and Eric Mac Lain and Kalon are other options but the coaches need those guys at guard. I asked Swinney about the freshmen - Taylor Hearn and Justin Falcinelli - and he said they "are headed to the farm." Those guys will redshirt.
Running back
Swinney said Thursday evening that freshman running back Adam Choice would avoid and redshirt and play this season, a necessity because of the injury to Brooks. I hate the injury Brooks - he's experienced and has the best hands of any of the running backs - but maybe there is a silver lining in there. If Brooks was healthy, Choice goes to the scout team and really wouldn't have worked with the first or second teams, and the Tigers would have gone into the season with three backs - Brooks, D.J. Howard and C.J. Davidson - who are very similar in body type. Choice is a bowling ball, a tough runner who looks extremely gifted. He presents a different look for the defense, and his emergence might be just what this running game needs, especially if Chad Morris wants to go to more of a power running game.

Tags:
Shaq Anthony
,
David Beasley
,
Vic Beasley
,
Kalon Davis
,
Josh Watson
,
Joe Gore
,
Grady Jarrett
,
Eric Mac Lain
,
Ryan Norton
,
Tony Steward
,
Stephone Anthony
,
Travis Blanks
,
Isaiah Battle
,
Zac Brooks
,
D.J. Reader
,
Ben Boulware
,
Tyrone Crowder
,
Jayron Kearse
,
Jadar Johnson
,
Brent Venables