| | |
| --- | --- |
| Final Thoughts: South Carolina game like a movie script | |
---
| | |
| --- | --- |
| Wednesday, December 3, 2014 2:15 PM | |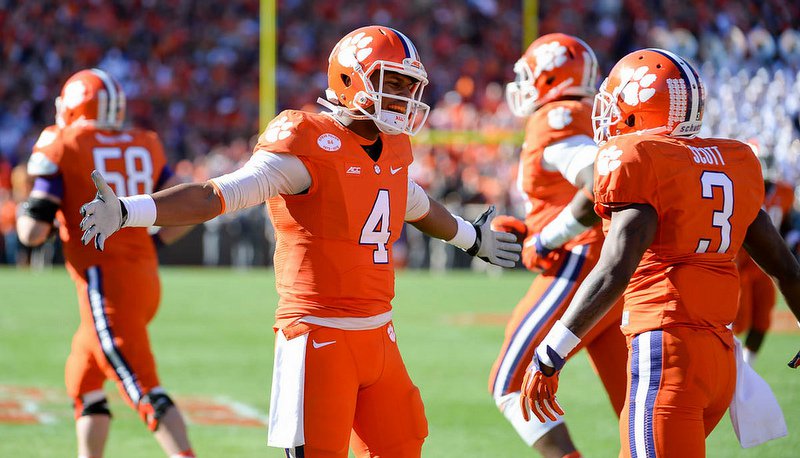 I apologize for the delay in getting this final thoughts piece out…things have been a little busy around Clemson as you well know with all of the coaching moves and injury talk.
Before any more time elapses and my memory – which isn't what it used to be – fails me I wanted to get some of the final thoughts and observations from the game against South Carolina.
*We watched TigerWalk with a few friends, and for whatever reason (at least to me) it wasn't electric or really all that exciting. Sure, there were a few good moments when players saw family members and hugs were exchanged, but it didn't have the usual pop. The lone exception – defensive coordinator Brent Venables

Brent Venables
Def. Coordinator / Linebackers
View Full Profile . Venables had a huge smile on his face, and he was almost jogging while he slapped hands with adults and kids alike. He was in a really good mood, and I thought to myself that I would be in a good mood, too, if I had Vic Beasley

Vic Beasley
RS Sr. Defensive End
#3 6-2, 236
Adairsville, GA
View Full Profile and Grady Jarrett

Grady Jarrett
Sr. Defensive Tackle
#50 6-1, 290
Conyers, GA
View Full Profile and Robert Smith

Robert Smith
Sr. Safety
#27 5-11, 211
St. George, SC
View Full Profile and Stephone Anthony

Stephone Anthony
Sr. Linebacker
#42 6-2, 244
Polkton, NC
View Full Profile and some of those other guys.
*Pregame turned out to be fun to watch – former Baltimore Raven All-Pro Ray Lewis was there to watch Grady Jarrett, and former NFL wide receiver Keyshawn Johnson was on the sidelines (rocking his purple Clemson sweatshirt) while on a visit with his son, wide receiver prospect Keyshawn Johnson, Jr. There were plenty of former Clemson players in attendance, and I was kind of enjoying just "hanging out" when Crump handed me a big camera and put me to work, telling me to watch out for the pregame handshake between Dabo Swinney

Dabo Swinney
Head Coach
View Full Profile and Steve Spurrier.
I walked into the middle of the field – with the other photographers – and began my usual pregame observations. How does the team look? Focused? Excited? Flat? The truth was, they reminded me of how they appeared before the game at Florida St. – businesslike and focused. I know the fans sometimes want the players crazy enough to run through a wall, but you could tell it was all business.
Swinney wasn't taking the time for anybody – no eye contact with anyone but the players, and he was moving from position group to position group giving words of encouragement. In other words, he was in full on coach mode. And then one of those special moments happened, and I was lucky enough to be there with a camera.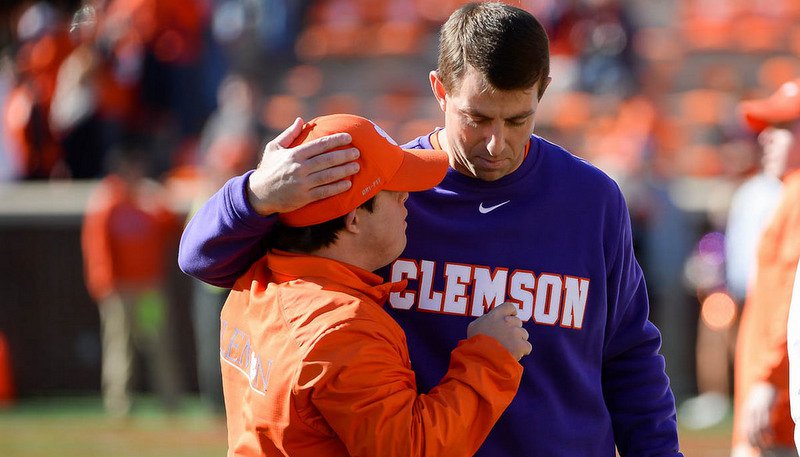 Student equipment manager David Saville is known to most people who follow the Clemson program – Saville is part of the ClemsonLIFE program, and videos of David's time at Clemson have received huge hits. It was during Swinney's focused time that I saw Saville approach the head coach, and as Swinney pulled Saville in to hear what he was saying it was obvious that Saville was giving Swinney a pregame pep talk. I tried to capture the moment (I'm worse at photography than I am writing, which isn't saying much), and it gave me probably my biggest smile of the day.
Saville then jogged over to quarterback Deshaun Watson

Deshaun Watson
Fr. Quarterback
#4 6-3, 204
Gainesville, GA
View Full Profile , gave another pep talk to the freshman and got a huge hug in return.
*The game started, and after South Carolina's first touchdown two things were obvious – the Gamecocks were soft on the perimeter and would have a hard time stopping runs to the outside, and Clemson's defense made the necessary adjustments to stop the South Carolina offense.
Once the game got late in the first quarter, the general feeling I had – and most of the press box – was that this one was Clemson's to lose. The uncertainty surrounding Watson's health didn't help matters, and the interception thrown by Cole Stoudt

Cole Stoudt
Sr. Quarterback
#18 6-4, 231
Dublin, OH
View Full Profile just before the half made matters a little worse. Still, with the way Clemson's defense was playing I just didn't feel like the outcome was in doubt.
I've heard since last season that Clemson's players and coaches felt like they were the better team last season, but the six turnovers doomed the effort. They felt like they won both lines of scrimmage in the 2013 game, and were confident they were going to win both again.
I was told by one coach before the game that they thought Carolina's offensive tackles were too slow to slow an outside speed rush, and the defensive staff felt like they could handle the interior of the line with the defensive tackles. DeShawn Williams

DeShawn Williams
Sr. Defensive Tackle
#99 6-1, 292
Central, SC
View Full Profile , Grady Jarrett, Carlos Watkins

Carlos Watkins
RS So. Defensive Tackle
#94 6-3, 294
Mooresboro, NC
View Full Profile , Josh Watson

Josh Watson
RS Sr. Defensive Tackle
#91 6-4, 292
Wilmington, DE
View Full Profile and D.J. Reader
D.J. Reader
Jr. Defensive Tackle
#48 6-2, 322
Greensboro, NC
View Full Profile clogged up the middle most of the afternoon and I had a lot of fun watching Williams in his last home game.
Even from the press box, you could tell his motor was running non-stop and he was talking to any and every South Carolina he could find. He told the media earlier in the week that "enough is enough" and he went out on the field and proved it.
*Years from now, when people look back at this game the one thing they will all remembered is how Watson helped stop the streak and he did it with a torn ACL. There are certain moments in the rivalry that stand out - the catch by Jerry Butler, Rod Gardner's catch, Charlie Whitehurst and 1st-and-35 and 63-17.
Watson went out and kept a promise he had made to his high school coach and to the seniors on the Clemson team - he was going to do whatever it took to stop the streak. The images of Watson throwing his body into the end zone on one series of downs and limping back to the sidelines after every series will stick with many Clemson fans for as long as they live.
*Postgame was the usual – too many people in the tunnel outside of the locker room wanting to greet the players as they came off the field. However, one South Carolina fan apparently decided he needed to get in one last shot. Red-faced and looking like he was about to have a stroke, the young man leaned over the railing as the players were filing in, pointed at the Gamecock logo on his chest (anyone who was there will remember it) and started screaming, "SEC!!! SEC!!! SEC!!! SEC!!!" at the top of his lungs and towards the Clemson players. One player caught the young man's eye, pointed back towards the scoreboard and smiled. The young man then walked away.
Once we left the postgame interviews, we had one other surprise in store – several of Clemson's offensive linemen were sitting in the stands, and we were told to hang around for a second. A minute later, senior lineman Reid Webster

Reid Webster
RS Sr. Offensive Tackle
#77 6-3, 300
Woodstock, GA
View Full Profile walked out with his girlfriend, former women's basketball player Lindsey Mason. Webster took her to midfield, dropped down on one knee and proposed. She said yes.
You couldn't have written a movie script for the day any better.

Tags:
Vic Beasley
,
Josh Watson
,
Reid Webster
,
Grady Jarrett
,
Robert Smith
,
DeShawn Williams
,
Stephone Anthony
,
Cole Stoudt
,
Carlos Watkins
,
D.J. Reader
,
Deshaun Watson
,
Brent Venables