| | |
| --- | --- |
| Faster: For Tony Elliott, 2014's offense wasn't fast enough | |
---
| | |
| --- | --- |
| Tuesday, March 10, 2015 12:39 PM | |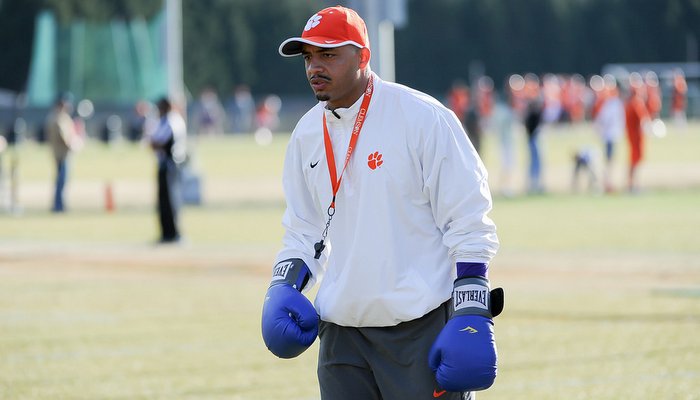 CLEMSON – Tony Elliott

Tony Elliott
Assistant Coach / Running Backs
View Full Profile and the offensive coaching staff did a self-evaluation during the off-season, and prime directive number one didn't concern the young quarterbacks or finding a starter at running back or even getting one of the freshman offensive linemen ready to start. Elliott already knows he has the pieces in place to have a strong offense, but he wants it to go faster than it did in 2014.
When former offensive coordinator Chad Morris

Chad Morris
Offensive Coordinator / QBs
View Full Profile arrived in 2011, he installed a HUNH (Hurry-Up No-Huddle) offense at Clemson and the Tigers' offensive fortunes turned around as record after record fell during Morris' tenure. Morris left to become the head coach at SMU late last year and the reins of the Clemson offense were turned over to Elliott and Jeff Scott

Jeff Scott
Asst. Coach (WR) / Recruiting Coord.
View Full Profile . Head coach Dabo Swinney

Dabo Swinney
Head Coach
View Full Profile made it clear, however, that the offense wasn't going to change just because Morris was in Texas.
Elliott said that is why this spring holds extra meaning as the coaching staff finds its way.
"Of course, it's very important not just for Jeff and me but for the entire staff. Like I've said before, this is the Clemson offense," Elliott told TigerNet after Monday's practice. "It's not just Coach Elliott or Coach Scott's offense - it's everybody's. Like I said in the bowl game, I needed those guys on the sideline to help me in the box. It's big for all of us to just build that cohesion and make sure we are all on the same page. Like I told the guys after practice, in offensive football all 11 have to execute and everybody has to be on the same page. It's the same with the coaching staff, we all have to be on the same page and complement each other well so we can put these young men in a position to be successful. Everybody has a voice and everybody has an opinion and there are no egos involved. Because at the end of the day the objective is to put the young men in the best position to be successful."
Putting those players in that best position means going faster, but Clemson fell under the thousand-snap mark for the first time in Morris' tenure in 2014. Clemson snapped the ball 886 times for 5,073 yards in 2009 and 865 times for 4,349 yards in 2011 – both under Billy Napier.
Morris arrived in 2011 and the Tigers snapped the ball 1,055 times for 6,171 yards in 2011, 1,062 times for 6,665 yards in 2012 and 1,037 snaps for 6,611 yards in 2013. In 2014, however, the offense snapped the ball 990 times and wound up with just 5,308 yards.
Elliott wants to go faster in 2015.
"When you believe in the no-huddle, fast pace you always believe your offense can go faster," he said. "But when we started self-evaluating we noticed our snap count wasn't as high as it has been in the past. So that is something we have addressed and made it a point of emphasis with the guys. You know, when you look at the success the offense has had over the last four years, it's been when we are driving that snap count up and being the aggressor and making the defense play on their heels. They not only have to defend the whole field but they have to defend the pace we play at. We are trying to drive that snap count up."
A freshman quarterback in Deshaun Watson

Deshaun Watson
So. Quarterback
#4 6-2, 205
Gainesville, GA
View Full Profile and a fluctuating game plan based off injuries led to a lower snap total in 2014.
"I don't know if it was as much Deshaun as it was the fact we had a lot of injuries and you are playing guys out of position and constantly mixing and matching in the course of the game," Elliott said. "I think there was one situation where Reid Webster

Reid Webster
Offensive Tackle (2010 - 2014)
#77 6-3, 300
Woodstock, GA
View Full Profile played all five positions on the offensive line. So when you have a guy doing that you obviously have to slow the offense down just to help him out just a little bit. But I think injuries had more of an impact on the tempo than Deshaun."
Elliott then said that, like Morris, he is preaching tempo at every opportunity.
"It's just us getting back to the foundation that we believe in as an offense at all positions," he said. "I told them at practice today that we all have to take ownership of the offense. Not just the quarterback or the offensive line - it's everybody taking ownership of the tempo."