| | |
| --- | --- |
| Family man Diehl still a nightmare for defenders | |
---
| | |
| --- | --- |
| Friday, August 19, 2011 9:42 PM | |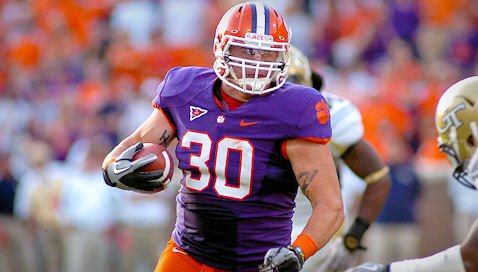 CLEMSON – Chad Diehl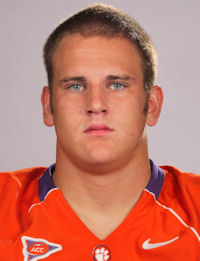 Chad Diehl
Fullback
#30 6-2, 265
Lyman, SC
View Full Profile is known for splitting helmets and crushing, bruising blocks that knock defenders off their feet.
Now, however, the big senior fullback has found his gentle side, a marriage last year and the recent birth of a daughter turning the bullish Byrnes product into a family man, and he told TigerNet Friday after practice that having that kind of responsibility has changed him.
"It definitely does. Having a wife and then a newborn daughter, you really start to think about the future," he said. "You have to make sure that even when you are out here, you are at full speed and you focus on the little things that the scouts look for."
The 6-2, 260-pounder is listed by some internet sites as being the No. 1 fullback eligible for the 2012 NFL draft, but Diehl said he doesn't pay attention to those kind of things, and definitely wasn't considering leaving Clemson for the NFL following last season.
"I know it's on the internet, but there's a lot of garbage on the internet," he said. "It is not something that makes me feel special by any means. I am just going to go out and do what I have been doing. As far as leaving, I don't know where that rumor got started. It's tough to get drafted as a fullback, especially as a redshirt junior. I think one fullback got drafted last year. That is definitely not something I would have even considered."
New offensive coordinator Chad Morris' offense isn't exactly tailored for a fullback, but Diehl said that there are still the regular I-formation plays in the playbook.
"There are some true fullback formations and personnel groups," he said. "There are still some I-formation packages. But, the main focus of the offense is the spread and speed and making sure we get these fast receivers out on the field to make plays."
With that in mind, Diehl said he put in extra work over the summer so he could still be a force.
"In this offense, I feel like footwork in the backfield is very important," he said. "You have to overemphasize getting across the line and cutting someone off. You have a guy who runs a 4.3 second 40-yard dash who is going in motion, and then you have a running back that hits it really fast and you have to emphasize that footwork. I guess the main thing about this offense is speed. Coach Morris is going to take shots, and we are going to be an offense that uses all of the personnel we have available."
Of course, if there is a 4th-and-goal at the two, or a third-and-short at midfield, you can bet that Diehl will be right in the middle of the pile.
"I think my main calling this year is short yardage and the goal line," he said. "Kind of a combination of both. I can be in the backfield or on the line as a tight end."