| | |
| --- | --- |
| FBI takes over the Shrine Bowl? | |
---
| | |
| --- | --- |
| Wednesday, December 17, 2014 1:57 PM | |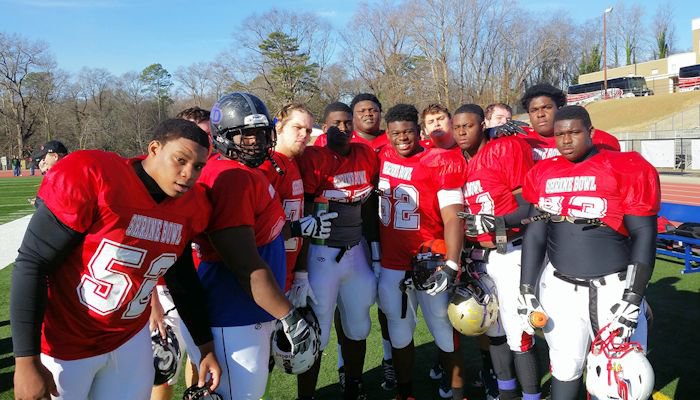 SPARTANBURG – Anytime someone shouts "FBI" it is bound to get your attention, and it was no different Wednesday when someone associated with the South Carolina Shrine Bowl squad uttered the initials several times at the top of their lungs.
That someone was Clemson commit Albert Huggins

Albert Huggins
Defensive End
6-3, 280
Orangeburg, SC
ESPN:


View Full Profile , who continues to be a leader on and off the field. Both squads completed another practice for the 2014 Shrine Bowl of the Carolinas, which will be held this Saturday at Wofford, and Huggins was once again in the middle of everything.
I've compiled a list of "Huggins stories" that are fantastic, and we will run them at some point in the next few days. However, I will tell you about the FBI. About midway through the morning session, Huggins gathered the offensive and defensive linemen together in a huddle and began screaming, "Who are we? FBI!! Who are we? FBI!!"
The offensive skill players were at the other end of the field, and one of them barked back in the direction of the linemen and said, "Who is making all of that unnecessary noise?"
Huggins responded within a second, "That was us, the FBI! Fat Boys, Incorporated."
Defensive line coach Justin Gentry said the linemen have taken to Big Bert's description of the group as the FBI.
"He came to me and said, 'Coach, do you know about the FBI?' And I told him I knew about THE FBI but I wasn't sure what he was talking about," Gentry told TigerNet Wednesday. "He told me that FBI was Fat Boys Incorporated, and he was shocked that I had never heard of it. But he wanted to break all of our huddles that way, and the players love it."
Tanner Muse

Tanner Muse
Linebacker
6-4, 205
Belmont, NC
ESPN:


View Full Profile
I know there has been some discussion about the Clemson commit going early in the next MLB draft, and I asked Muse this morning what he was hearing. He told me that he has heard anywhere from the 5th round to the 8th round, and will go to camps during the spring in an effort to get a better feel for where he might fall. A centerfielder, he said his favorite player is Mike Trout, but also denied that baseball is his favorite sport. He said his favorite sport is whichever one is in season.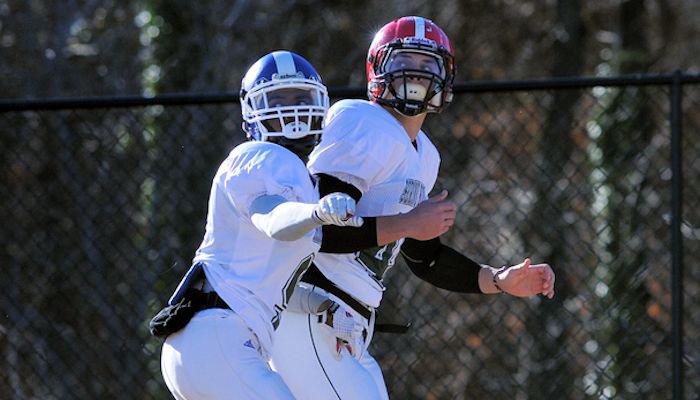 I spoke with North Carolina coach Tom Eanes – who coaches the defensive backs – and he said that Muse could play a certain superhero in a movie.
"He has got all of the tools. He has the height and the speed," Eanes said. "If they were making a Superman movie, I think he would find a role in that spot. He is a good football player."
Eanes said that Muse reminds him of one Clemson player in particular.
"When you talk about Clemson, I remember back in the 80's they would take those guys that were quarterbacks that were fairly tall and they would beef them up and they would be great football players as outside linebackers," Eanes said. "I think of Andy Headen from back in my day. He has the ability to be able to do that. It just depends on what plan they have for him."
Daniel Thompson on Noah Green

Noah Green
Offensive Tackle
6-5, 275
Boiling Springs, SC
ESPN:


View Full Profile
Boiling Springs quarterback Daniel Thompson is no stranger to football. He is the younger brother of South Carolina quarterback Dylan Thompson, and he is also the best friend of Clemson offensive line commit Noah Green.
Thompson, who is headed to Elon, told TigerNet what makes Green special.
"He is just a big old goofball," Thompson said. "He is big and he can run and he is really strong and he will only get better. You don't mess with Noah in the mornings or during a game. He is intense and can't stand anything but perfection. If he thinks he should pancake a guy and only drove him five yards downfield he gets mad. I don't even mess with Noah during the games, because he is a different animal. And what makes him so good is he so big, but he is athletic and fast."
Rudy
He isn't headed to Clemson, but Christ Church wide receiver Rudy Johnstone is already a favorite of his teammates. He is listed at 5-9 – and that might be a little generous – but one of the players told me that Johnstone has caught everything thrown his way and has been one of the best players on the field. Every time he catches a ball, the team chants, "Ru-dee, Ru-dee, Ru-dee" like they did in the movie of the same name. Huggins led the morning calisthenics, and they were to the Rudy chants.
Wednesday work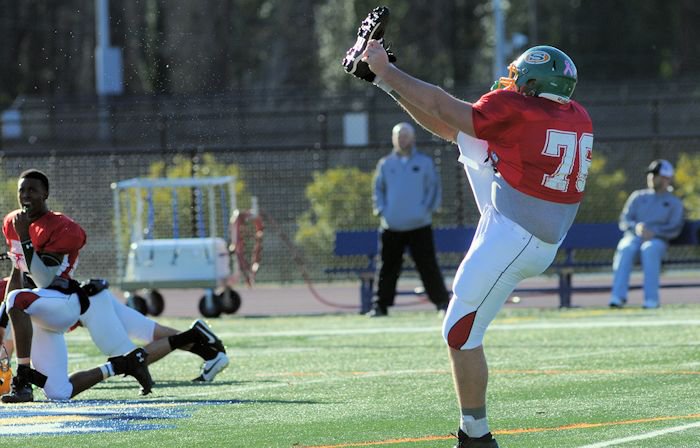 Wednesday morning's practice was more about play repetition and installs, so there wasn't a lot to look at from a workout standpoint. However, there were a couple of observations.
*Clemson commits Kelly Bryant

Kelly Bryant
Quarterback
6-4, 205
Piedmont, SC
ESPN:


View Full Profile , Huggins and Green all take turns mentioning Clemson in some form or fashion to Summerville OL Zack Bailey

Zack Bailey
Offensive Tackle
6-5, 300
Summerville, SC
ESPN:


View Full Profile . Bailey is a South Carolina commit, and it doesn't take long to realize he has every tool in the book. The coaches may not be able to watch, but the players are doing their part to see if they can flip Bailey.
During the early part of the session, the teams were practicing punt coverage and Bailey was the punter. One observer noted that "he is the biggest punter I've ever seen."
*Bryant was more accurate Tuesday and Wednesday. Head coach Ben Freeman said that Bryant used the first day or so to shake off the rust and has been on point the last few practices.