| | |
| --- | --- |
| Elite recruits flocking to Death Valley to take in Clemson-FSU | |
---
| | |
| --- | --- |
| Friday, November 6, 2015 9:36 AM | |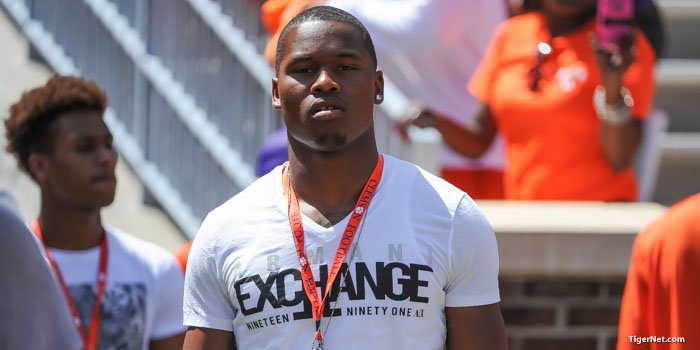 History will be made Saturday afternoon as the Clemson Tigers will play in Death Valley for the first time as the No. 1 ranked team in the country, and there will be plenty of recruits on hand.
The first opportunity for the Clemson coaching staff to impress recruits was a rain-soaked thrilling win over Notre Dame in October, but Saturday's game against Florida State for the Atlantic Division title could have as much or more talent on hand.
Headlining the list of visitors will be 5-star Bradenton (FL) IMG linebacker Rahshaun Smith, the former Clemson commit. Smith, who was supposed to be at the Notre Dame game, but the hurricane-like conditions prevented his travel, will make the trip with fellow linebacker and teammate Jordan Anthony, a 4-star in the 2017 recruiting cycle.
2016 commits
J.C. Chalk, tight end, Argyle (TX)
T.J. Chase, wide receiver, Plant City (FL) Plant
Zerrick Cooper, quarterback, Jonesboro (GA)
Tavien Feaster, running back, Spartanburg (SC)
Xavier Kelly, defensive end, Wichita (KS) East
Tre Lamar, linebacker, Roswell (GA)
Nyles Pinckney, defensive tackle, Seabrook (SC) Whale Branch
Sean Pollard, offensive line, Southern Pines (NC) Pinecrest
Cornell Powell, wide receiver, Greenville (NC) Rose
Jamie Skalski, linebacker, Newnan (GA) Northgate
Chandler Reeves, offensive line, McDonough (GA) Eagle's Landing
2016 prospects
Tremayne Anchrum, offensive line, Powder Springs (GA) McEachern
Myles Dorn, defensive back, Cornelius (NC) Vance
J.J. Givens, defensive back, South Carolina commit, Mechanicsville (VA) Atlee
Dexter Lawrence, defensive tackle, Wake Forest (NC)
Diondre Overton, wide receiver, Greensboro (NC) Page
John Simpson, offensive line, North Charleston (SC) Fort Dorchester
Rahshaun Smith, linebacker, Bradenton (FL), IMG Academy
2017 commit
Baylon Spector, linebacker, Calhoun (GA)
2017 prospects
Jordan Anthony, linebacker, Bradenton (FL) IMG
Malcolm Askew, athlete, McCalla (AL) McAdory
Trajan Bandy, cornerback, Miami (FL) Columbus
Chase Brice, quarterback, Loganville (GA) Grayson
A.J. Davis, running back, Lakeland (FL)
Eric Douglas, offensive line, Charlotte (NC) Mallard Creek
Tyler Fanin, offensive lineman, Hoschton (GA) Mill Creek
Justin Foster, linebacker, Shelby (NC) Crest
Stuart Head, safety, Woodstock (GA) Etowah
Tee Higgins, Oak Ridge (TN)
Devon Hunter, defensive back, Chesapeake (VA) Indian River
Davondre Robinson, defensive back, Santee (SC) Lake Marion
J.J. Robinson, wide receiver, Lakeland (FL)
OrTre Smith, wide receiver, Mount Pleasant (SC) Wando
Trey Smith, offensive line, Jackson (TN) University School
Andrew Thomas, offensive line, Atlanta (GA) Pace Academy
Jamyest Williams, defensive back, Lawrenceville (GA) Archer
LeAnthony Williams, cornerback, Roswell (GA)
Grant Walker, athlete, Decatur (GA)
Chandler Wooten, linebacker, Kennesaw (GA) North Cobb
Malik Cunningham, quarterback, Montgomery (AL) Park Crossing
Darrian Felix, wide receiver, Fort Myers (FL) Fort Myers
2018 prospects
Dax Hollifield, linebacker, Shelby (NC)
Dakereon Joyner, athlete, North Charleston (SC) Fort Dorchester
Derion Kendrick, wide receiver, Rock Hill (SC) South Pointe
Jamaree Salyer, offensive lineman, Atlanta (GA) Pace Academy
Ricky Slade, running back, Woodbridge (VA) C.D. Hylton
Xavier Thomas, defensive end, Florence (SC) Wilson

Tags:
Nyles Pinckney
,
Dexter Lawrence
,
Tavien Feaster
,
Tre Lamar
,
Jamyest Williams
,
T.J. Chase
,
J.C. Chalk
,
Sean Pollard
,
Zerrick Cooper
,
Tee Higgins
,
Jordan Anthony
,
Diondre Overton
,
Justin Foster
,
Dax Hollifield
,
Jamie Skalski
,
Cornell Powell
,
John Simpson
,
Malcolm Askew
,
Xavier Kelly
,
Chandler Wooten
,
Tremayne Anchrum
,
Stuart Head
,
Dakereon Joyner
,
Derion Kendrick
,
Jamaree Salyer
,
Chandler Reeves
,
Chase Brice
,
Eric Douglas
,
Trajan Bandy
,
LeAnthony Williams
,
J.J. Givens
,
Baylon Spector
,
Myles Dorn
,
OrTre Smith