| | |
| --- | --- |
| Elite lineman follows his gut and chooses the Tigers | |
---
| | |
| --- | --- |
| Monday, August 17, 2015 9:19 PM | |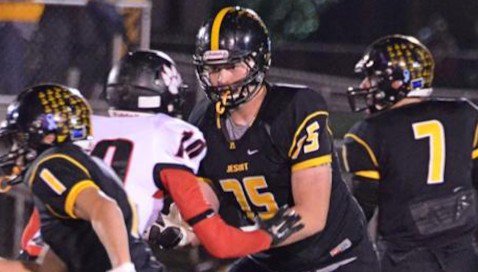 There's a lot that goes into a recruit deciding where to play his college career – the coaching staff, the atmosphere and academics – but sometimes trusting your gut instinct is the most important.
Four-star offensive lineman Noah DeHond

Noah DeHond
Offensive Tackle
6-7, 325
Hightstown, NJ
ESPN:


View Full Profile spent several days last week touring the campuses of North Carolina, Alabama and Clemson. At the end of the day his gut told him that Clemson was where he needed to be, leading to a Tuesday night commitment – the Tigers second commit for the 2017 recruiting cycle, joining Baylon Spector

Baylon Spector
Safety
6-2, 205
Calhoun, GA
View Full Profile .
DeHond also had offers from Arkansas, Kentucky, Louisville, Miami, Pittsburgh, Purdue, Rutgers, South Carolina, Virginia, Virginia Tech and Wisconsin, among others, but his final decision came down to his intuition.
"I kind of took to my gut on this one. I didn't just trust my gut to pick a school for me, and obviously I looked at other things in deciding," DeHond told TigerNet shortly after announcing his commitment. "I kind of let my gut take the lead on this one, and it usually doesn't do me any wrong. It was just the place for me."
After touring the campuses of his three finalists last week, it was Clemson – the last stop on the trip - that made the biggest impression on the 6-7, 325-pound prospect.
"Clemson is everything I need and everything I could ever want – the family atmosphere, the way the coaches and players conduct themselves, the way they develop their athletes as men," DeHond said. "The academic side is fantastic. It's a wonderful place and a place for me. Coach Swinney is a great coach. They play great football. There's no other school out there that can provide me with what Clemson has to offer."
Clemson will have as few as three scholarship offensive tackles on the 2016 roster – Mitch Hyatt, Jake Fruhmorgen and Taylor Hearn – meaning the opportunity for early playing, something that appealed to DeHond.
"They see me as a tackle, and there is a good chance for early playing time," DeHond said. "They are in need of tackles, and that was definitely a big part of it."
During the visit, DeHond spent time with his recruiter of record and his future position coach.
"I spent a lot of time with (defensive coordinator) Brent Venables

Brent Venables
Def. Coordinator / Linebackers
View Full Profile and (offensive line coach) Robbie Caldwell

Robbie Caldwell
Assistant Coach / Offensive Line
View Full Profile and talking with them really cleared up any doubts that I had. Coach Venables is such an energetic guy. I have a good relationship with him. Obviously, he won't be coaching me directly, but he'll be around the program. He's one of those coaches that brings that atmosphere that I love to the Clemson program."
Despite having over a year and a half before being able to sign his National Letter of Intent, DeHond said that no other school can come close to what Clemson has to offer.
"I'm very comfortable with this decision, because when I look at everything I need and everything I want in a school, Clemson has that," he said. "I don't see any other school providing me with a great education, a great family and great football."
Here it is. Thank you to all but my recruitment is over. pic.twitter.com/xA4NdVFsgw

— Noah DeHond (@NDeHond) August 18, 2015