| | |
| --- | --- |
| Eighteen minutes with Jeff Scott | |
---
| | |
| --- | --- |
| Saturday, August 29, 2015 2:57 PM | |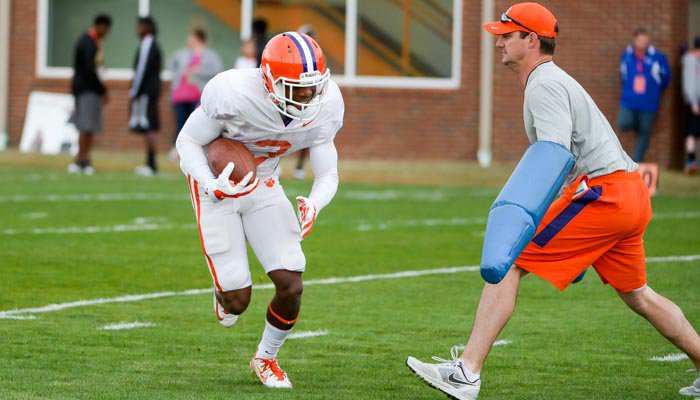 CLEMSON – The Clemson sports information department does a great job of making players and coaches available to the media for interview sessions during game week and after practice. However, it's not every day that the offensive coordinator spends 18 minutes breaking down where the Tigers stand heading into game weeks, but Jeff Scott

Jeff Scott
Co-Offensive Coordinator / WR
View Full Profile did just that Thursday evening.
The first year co-offensive coordinator addressed everything from wide receiver depth to the mentality heading in the first game to offensive philosophy. While we have a few specialized stories from Thursday's post practice interview, here are some quick hits, news and notes.
Run first or pass first?
Former offensive coordinator Chad Morris

Chad Morris
Offensive Coordinator / QBs
View Full Profile always talked about wanting Clemson's offense to be a "smash mouth spread" – a physical running game with a high-octane passing attack – but because of the Tigers' personnel the offense was usually a pass first.
What will we see out the 2015 offense under Scott and Tony Elliott

Tony Elliott
Co-OC / Running Backs
View Full Profile ?
"I don't think we're approaching it any different than we have. I think a lot of it comes from the team that you have," Scott said. "I think we're in a position where we feel really good about our running backs and really good about our wide receivers and our tight ends are improving. I would expect to see improvement in all of the areas. Our expectation is to improve in all of the areas and rushing offense is definitely one of those. There are also the speed sweeps and those type of things - you could take 100 yards away from passing and give it to rushing and it will change everybody's perception because we decided to flip it instead of hand it off. A big part of our offense is to be able to hit it downhill. Some games it's more zone and some games it's more power counter. It just depends on what the defensive scheme is that week and what we think is in our best interest to win."
Tempo, tempo, tempo
Scott said when the temperatures rise, so will Clemson's offensive tempo – something that has been a focus during all of fall camp.
"It's something we put a lot of focus on. It's something that we're really focused on during these first two games," he said. "It's been hot out here these last two weeks, so that's something we've talked to our guys about - the hotter it is, the faster we need to go to really have a chance to wear down the defense. We want to play fast and keep it simple. That's really our thoughts as we start the season."
Field General
Eric Mac Lain

Eric Mac Lain
RS Sr. Offensive Tackle
#78 6-4, 305
Hope Mills, NC
View Full Profile and Deshaun Watson

Deshaun Watson
So. Quarterback
#4 6-2, 205
Gainesville, GA
View Full Profile both discussed Watson's ability to read defenses and change plays at the line of scrimmage, and Scott echoed those sentiments Thursday evening.
Scott said that the sophomore signal caller has a better grasp of the offense, allowing him a little more freedom at the line of scrimmage.
"Deshaun has a very high capacity for knowledge and learning. Last year he went out just learning the offense and did a lot of things naturally," Scott said. "Now this year, he understands the offense even better than he did last year, and he's becoming a master of the offense and a coach on the field. He's able to go up and check plays at the line and get us in the right protections. A lot of that has to do with the meeting room and Coach Streeter - the communication they have. That's where we really challenged Deshaun to take it to the next level is really be that voice and that coach on the field and know when he can change things and get us in the right call. That's something he has a really high capacity to do."
Ten on the offensive line
Clemson's offensive line depth has been lacking in recent history, with guys like Kalon Davis

Kalon Davis
Offensive Guard (2010 - 2014)
#67 6-5, 340
Chester, SC
View Full Profile and Reid Webster

Reid Webster
Offensive Tackle (2010 - 2014)
#77 6-4, 300
Woodstock, GA
View Full Profile having to play multiple positions during a given game. However, this year Scott said they have 10 guys they feel like can play.
"I think we feel very good with the starting group. I think the best thing is that we haven't noticed them as we've gone through the last week or so," he said. "I think the guys have a good chemistry. I think everyone knows where they are and what their job is, so we fully expect that first group to be able to go out and execute. What we're excited about is we think we have five guys behind them. We think we have 10 guys who can go play. I don't know how many years you'd have to go back, but of recent I don't think we've felt like going into the season that we had 10 guys that could go in and operate and be able to play. We're pleased with the progress of where we've come since the spring, and where we've come since fall camp."
Wide Receiver depth
Clemson battled with Tennessee during the offseason for the right to call itself 'Wide Receiver U,' and while the Tigers have had superstars at the position, Scott said he's never had this much depth in his unit.
"I think the potential is we could have seven to eight guys that we could roll and play. In the past we've had some very talented guys, but I don't think we've had seven guys that really could go out there and roll and not have that big of a drop off," he said. "A lot of it is going to depend on the freshmen and how they do. It's different in practice and games. We're going to throw them out there and see how they react. If they come on like we think they will and if Hunter Renfrow

Hunter Renfrow
RS Fr. Wide Receiver
#13 5-10, 170
Myrtle Beach, SC
View Full Profile plays in the game like he's been consistently playing in practice, we feel like we'll have seven or eight guys that can roll and play. That'll just help our depth as the season goes. It will also allow us to play fast because we can substitute guys in and really keep the pressure on the defense."