| | |
| --- | --- |
| Dye is a go, Peake has synovitis and Leggett has surgery | |
---
| | |
| --- | --- |
| Wednesday, October 22, 2014 7:54 PM | |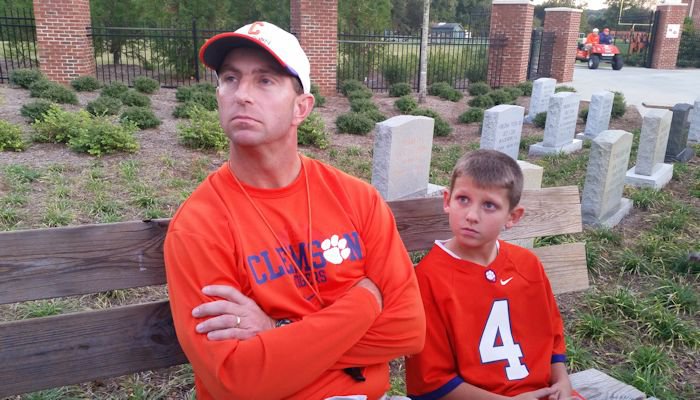 CLEMSON – Three days into practice in preparation for Saturday's Homecoming contest against Syracuse, head coach Dabo Swinney

Dabo Swinney
Head Coach
View Full Profile is ready to pronounce running back Tyshon Dye

Tyshon Dye
RS Fr. Running Back
#23 5-11, 214
Elberton, GA
View Full Profile "a go."
The freshman running back out of Elberton, Ga., has battled injuries since arriving on Clemson in the summer of 2013, but has recently been cleared to practice and Swinney said after Wednesday's practice that he expects Dye to play Saturday.
How much will Dye play? Swinney said it will depend on the game.
"We'll see how the game goes. He's done everything he needs to do as far as practice and being really attentive to the details," Swinney said. "He's demonstrated that he has a good enough grasp that he could play. We'll see where we are. I'm really pleased with how he's done Monday, Tuesday and then today. Right now, he's a go. Whether he plays no plays, one play or 50 plays, who knows. We'll see how the game goes and if we get the right opportunity he'll play."
Dye was rated as the No. 123 player nationally by ESPN coming out of high school, and he had 817 yards on 95 carries and 12 touchdowns in just seven games as a senior before an ankle injury ended his high school career. As a junior, he had 1,561 yards on 212 carries and 21 touchdowns in earning All-State honors.
Swinney said that fans shouldn't expect too much of Dye right off the bat.
"You guys have to understand that he's not going to be perfect day one," he said. "He hasn't played in a while and he doesn't quite have his sea legs just yet. He's practiced really well and that's all you can go on. At some point you have to go play and then you keep progressing. I'm really excited to have him out there and see him practicing, to see him engaged in what's going on from a reps standpoint. Offensively, he can really help us. We can't expect too much too soon from a guy who hasn't played football in over a year and a half."
The addition of Dye adds depth to a running back rotation that includes Wayne Gallman

Wayne Gallman
RS Fr. Running Back
#9 6-1, 209
Loganville, GA
View Full Profile , C.J. Davidson

C.J. Davidson
RS Jr. Running Back
#32 5-10, 203
Clemson, SC
View Full Profile and D.J. Howard

D.J. Howard
RS Sr. Running Back
#22 6-0, 205
Lincoln, AL
View Full Profile . Swinney was asked if Gallman or Davidson would start Saturday and he said that decision will be made on Thursday.
"They've both done very well," he said. "As far as who runs out there first, we'll discuss that tomorrow but they've both done very good."
Other notes
Tyrone Crowder

Tyrone Crowder
RS Fr. Offensive Guard
#55 6-2, 322
Marston, NC
View Full Profile and pass blocking
"He's getting better. It wasn't something that he made his living doing in high school. That's been the part of his game that he's having to develop the most. He's very physical. He can do it but mastering the technique and that kind of stuff has been the biggest part of his development. He's doing good. He's on track. He's going to be a great player. He's going to play a lot this week. I expect that he'll get a little more time so we'll see. We've got to continue to bring him along and challenge him. I think he has a very bright future ahead as his confidence continues to grow."
Injury news
"No injuries. Everybody has been back in practice this weekend outside of those guys that hurt last week – the new guys (Jordan) Leggett and (adam) Choice. Everybody is good to go. We're going to probably wait a couple of weeks [on Choice's surgery] to allow the swelling to go down. Leggett had his already. He's out there on the bike already. I've been really pleased with Leggett. He's really had a good mentality and getting into his rehab. He'll be back at some point but I have no idea when. Everybody responds differently. Some guys respond and boom they're back and some guys take a little bit longer. He's doing hat he's got to do."
Charone Peake

Charone Peake
RS Jr. Wide Receiver
#19 6-3, 204
Moore, SC
View Full Profile
"Same thing. He's a little bit better today. He's progressing. I'm hoping that we get him back sooner rather than later. We're bringing him along. He had that scope and he's recovering from that. We may have to drain his knee one more time tomorrow night. This synovitis or whatever – the bleeding has stopped but there's still a little bit of blood in there that they can take out. He's good. He's getting better and improving. It's just unfortunate that he's had to deal with that setback. I was talking to him today and he's had some tough breaks but he just keeps coming. He's a great talent and he'll have his time. It will be special for sure. He'll be back at some point this year. Hopefully it's the next game or two. He's had some good moments already this year and there will be some more."