| | |
| --- | --- |
| Double overtime kick lifts Orange Over White in Spring Game | |
---
| | |
| --- | --- |
| Saturday, April 14, 2012 10:20 PM | |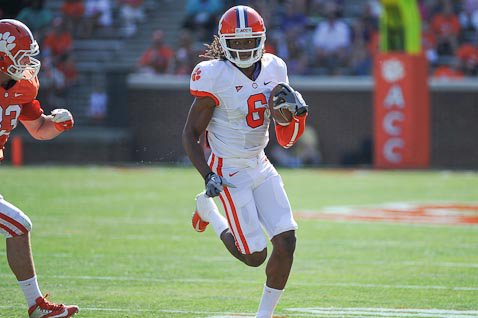 CLEMSON, SC - Until Saturday's Orange and White game, Clemson Head Coach Dabo Swinney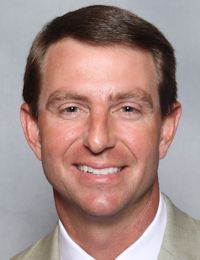 Dabo Swinney
Head Coach
View Full Profile had never seen a double overtime spring game, much less coached in one. But at Death Valley Saturday, he might have become the first head football coach to decide to play one.
Chandler Catanzaro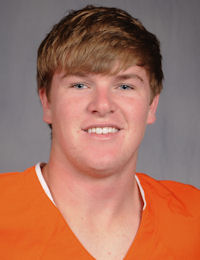 Chandler Catanzaro
RS So. Punter / Kicker
#39 6-2, 200
Greenville, SC
View Full Profile , who made a last second field goal against Wake Forest in Clemson's final home game at Memorial Stadium last fall, made a 45-yard field goal in the second overtime to lift the Orange team to a 23-20 victory.
"It was one of those deals where I really didn't want to play more, but I certainly did not want to walk off the field with a tie," Swinney said.
So Swinney decided to let his placekickers break the tie. In the first overtime, he had Catanzaro and freshman kicker Ammon Lakip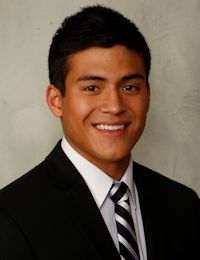 Ammon Lakip
RS Fr. Punter / Kicker
#36 5-11, 185
Alpharetta, GA
View Full Profile , the White team kicker, attempt field goals of 50 yards, which both missed wide left. In the second overtime, Catanzaro made his attempt from 45 yards, while Lakip pushed his wide left again, ending the game.
"It was good to put a little pressure on the kickers there and finish it that way," Swinney said. "The game was kind of indicative of our spring, it has been very competitive. It's been very balanced. What I mean by that is that there is a lot of competitive depth right now."
That was very evident on Saturday in front of a record crowd of 28,000 people. With the Clemson squad mixed between the Orange and the White teams, the two combined for 653 yards - 348 Orange and 305 White - on 141 plays.
The White team even rallied from a 17-3 deficit at the 14:14 mark of the second quarter to tie the game, 20-20, with 11:50 left in the third quarter.
"It was a lot of fun," wide receiver DeAndre Hopkins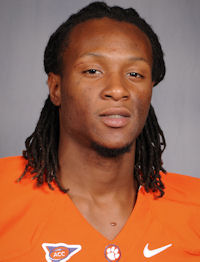 DeAndre Hopkins
So. Wide Receiver
#6 6-1, 200
Central, SC
View Full Profile said. "If you are not out there having fun, then what are you doing it for? It was basically for the fans. We did not want to show too much, but we had fun and I feel like we played a good game."
No one played better than Hopkins, who Swinney said was the Most Valuable Player of the spring. Hopkins caught seven passes for 120 yards, including a nine-yard touchdown pass from White team quarterback Tajh Boyd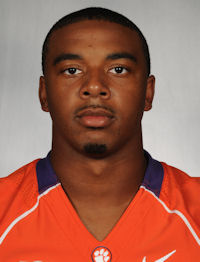 Tajh Boyd
RS So. Quarterback
#10 6-1, 225
Hampton, VA
View Full Profile in the second quarter. Hopkins also hauled in a 62-yard pass from Boyd on the game's first possession to set up Lakip's 25-yard field goal.
"It felt great being the go-to receiver," Hopkins said. "I want to be a guy that can be counted on when my number is called, and I was today."
Boyd finished the afternoon 20 of 26 for 229 yards to lead all quarterbacks. And though his numbers overall were pretty good, it was not a complete day for the junior. He also threw two interceptions, which he says are unacceptable mistakes.
"I did okay, but again, I can't turn the ball over," he said. "That was the story of the day. Other than that, I felt like I did pretty well. We have to operate within the system. Whenever we operate within the system, we are pretty good.
"When we are doing that, I feel like I'm at the top of my game, but when I get away from that, I make mistakes. That is something I'm going to have to work on."
Clemson is also working on the backup quarterback position, which is one competition that has been too close to call all spring. It was again close on Saturday. Cole Stoudt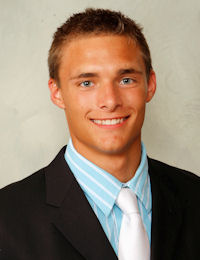 Cole Stoudt
Fr. Quarterback
#8 6-4, 200
Dublin, OH
View Full Profile , last year's backup, completed 14 of 23 passes for 99 yards with a touchdown and an interception, while Morgan Roberts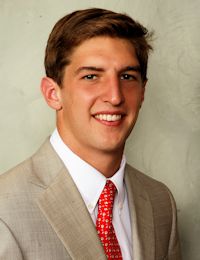 Morgan Roberts
RS Fr. Quarterback
#16 6-2, 200
Charlotte, NC
View Full Profile completed 14 of 24 passes with a touchdown and an interception as well.
"We have a healthy battle going into fall camp at No. 2," Clemson offensive coordinator Chad Morris said. "In my opinion, I would say Cole has Morgan by a whisker and I don't know if either one of them has whiskers."
Stoudt and Roberts both played on the Orange squad and staked themselves out to a 17-3 lead before Boyd and Hopkins brought the White team back.
Jonathan Meeks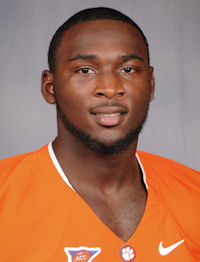 Jonathan Meeks
Jr. Safety
#5 6-1, 210
Rock Hill, SC
View Full Profile was the star of the defense, picking off two passes, including one he returned 49 yards to set up Roderick McDowell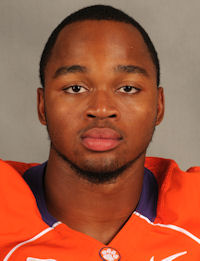 Roderick McDowell
RS So. Running Back
#25 5-9, 190
Sumter, SC
View Full Profile 's game tying touchdown in the third quarter. He later had a diving interception in the fourth quarter that ended a potential scoring drive for the Orange team.
Robert Smith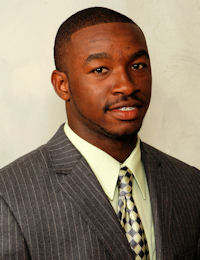 Robert Smith
Fr. Defensive Back
#27 5-11, 210
St. George, SC
View Full Profile led the White team with 10 tackles, while linebacker Spencer Shuey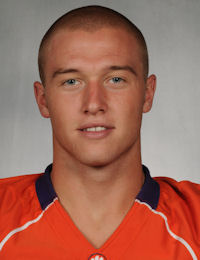 Spencer Shuey
RS So. Linebacker
#33 6-3, 250
Charlotte, NC
View Full Profile led the Orange with eight.
After the White team took a 3-0 lead on a 25-yard field goal, Stoudt led the Orange on an 11-play, 65-yard drive that was capped off with a three-yard touchdown pass to Brandon Ford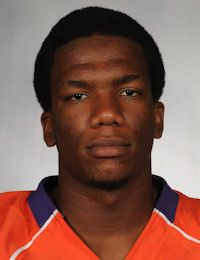 Brandon Ford
RS Jr. Tight End
#80 6-4, 235
Wando, SC
View Full Profile , with 9:16 to play in the first quarter.
Catanzaro then drilled a 40-yard field goal on the Orange's next offensive possession for a 10-3 lead. Following a Garry Peters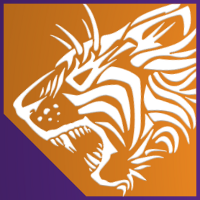 Garry Peters
RS Fr. Defensive Back
#38 5-11, 190
Conyers, GA
View Full Profile interception, the Orange team upped its lead to 17-3, when Roberts hit Martavis Bryant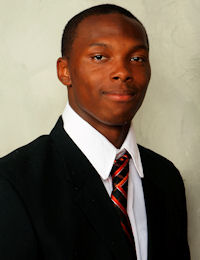 Martavis Bryant
Fr. Wide Receiver
#1 6-5, 205
Calhoun Falls, SC
View Full Profile with a 17-yard touchdown pass with 14:14 to play in the first half.
The White team slowly made its comeback when Boyd found Hopkins in the right corner of the end zone for a nine-yard touchdown. Following a Mike Bellamy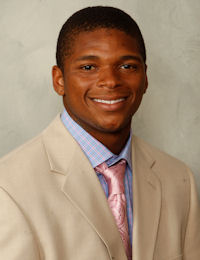 Mike Bellamy
Fr. Running Back
#5 5-10, 175
Nocatee, FL
View Full Profile fumble, the White team pulled within four points, 17-13, on a Lakip 27-yard field goal.
Catanzaro added a 20-yard field goal with seven seconds left in the half to give the Orange team a 20-13 halftime lead, but Meeks took a Roberts pass up the seam 49 yards to the one-yard line, setting up McDowell's one-yard plunge to tie the game with 11:50 to play in the third quarter.

Clemson Spring Game Statistical Summary

Scoring Summary

Team 1st 2nd 3rd 4th OT Total

White 3 10 7 0 0 20

Orange 10 1 0 0 3 23


White: Lakip 25 FG, 7-67, 12:50 (1st)

Orange: Ford 4 pass from Stoudt (Catanzaro Kick), 11-65, 9:16 (1st)

Orange: Catanzaro 40 FG, 7-31, 0:34 (1st)

Orange: Bryant 17 pass from Roberts (Catanzaro Kick) 3-34, 14:14 (2nd)

White: Hopkins 9 pass from Boyd (Lakip Kick), 7-52, 5:32 (2nd)

White: Lakip 27 FG, 9-53, 1:52 (2nd)

Orange: Catanzaro 20 FG, 10-73, 0:07 (2nd)

White: McDowell, 2 rush (Symmes Kick), 2-1, 11:50 (3rd)

Orange: Catanzaro 45 FG (Overtime)

Attendance: 28,000

Time: 2:30

Weather: Sunny and 73 degrees

Rushing:

Orange: Bellamy 8-55, Howard 12-31, Roberts 6-35, Stoudt (5-21)

White: McDowell 15-36-1, Brooks 9-26, Boyd 7 (-22), McNeal 5- (-17), McElveen (1-4)

Passing

Orange: Roberts 14-24-149- 1-1, Stoudt 14-23-99-1-1

White: Boyd 20-26-229-2-1, McNeal 4-9-49-1-0

Receiving

Orange: Bryant 7-74-1, Watkins 6-66, Ford 6-57-1, Brown 3-36, Mac Lain 2-14, Howard 2-3, Bellamy 1-8, Porter 1-0

White: Hopkins 7-120-1, Peake 5-75, Humphries 5-30, Forbush 2-8, McDowell 1-13, Cooper 1-3, Seckinger 1-2, Maass 1-16, Smith 1-11

Punting

Orange: Benton 6-229-38.2

White: Pinion 8-354-44.3

Interception Returns

Orange: Shuey 1-34, Peters 1-16, Brewer 1-9

White: Meeks 2-49

Tackle Leaders

Orange: Shuey 8, Jarrett 6, Peters 6, Davis 5, Brewer 5, Robinson 4, Hawkins 4, Townsend 3, Beasley 3, Goodman 3, Thomas 3, Christian 3

White: Smith 10, Jenkins 8, Breeland 8, Parker 7, Blanks 7, Willard 6, Williams 6, Watson 5, Crawford 5

Sacks

Orange: Beasley 2-13, Jarrett 2-12, Goodman 1-7, Thomas 1-1, Townsend 0.5-5, Stewart 0.5-5

White: Watson 1-8, Byars 1-9, Crawford 1-2, Williams 1-2

Fumble Recovery: Parker

Caused Fumble: Smith

Tags:
Ammon Lakip
,
Brandon Ford
,
Chandler Catanzaro
,
Cole Stoudt
,
Dabo Swinney
,
DeAndre Hopkins
,
Garry Peters
,
Jonathan Meeks
,
Martavis Bryant
,
Mike Bellamy
,
Morgan Roberts
,
Robert Smith
,
Roderick McDowell
,
Spencer Shuey
,
Tajh Boyd