| | |
| --- | --- |
| Despite personnel losses, don't feel sorry for the Tigers | |
---
| | |
| --- | --- |
| Wednesday, August 26, 2015 11:56 AM | |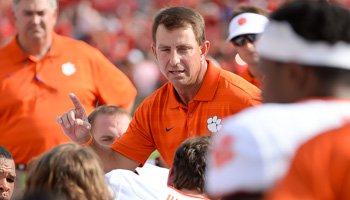 CLEMSON – Don't feel sorry for head coach Dabo Swinney

Dabo Swinney
Head Coach
View Full Profile or the Clemson football program. They are going to be just fine.
That was the message set forth by Swinney and left guard Eric Mac Lain

Eric Mac Lain
RS Sr. Offensive Tackle
#78 6-4, 305
Hope Mills, NC
View Full Profile following Tuesday's practice during a question and answer session dedicated to the news that starting defensive tackle D.J. Reader

D.J. Reader
Defensive Tackle (2012 - 2015)
#48 6-2, 325
Greensboro, NC
View Full Profile wouldn't be with the team for the foreseeable future.
Reader's departure came as a bit of a shock to a program that has dealt with myriad personnel issues since May – reserve defensive end Ebenezer Ogundeko

Ebenezer Ogundeko
RS Fr. Defensive End
#1 6-3, 250
Brooklyn, NY
View Full Profile was arrested and dismissed; starting kicker Ammon Lakip

Ammon Lakip
RS Sr. Punter / Kicker
#36 5-11, 200
Alpharetta, GA
View Full Profile was arrested and will miss three games; starting left tackle Isaiah Battle

Isaiah Battle
Offensive Tackle (2012 - 2014)
#79 6-7, 290
Brooklyn, NY
View Full Profile decided in June he would forego his senior season and enter the NFL's Supplemental Draft; reserve linebacker Korie Rogers

Korie Rogers
RS Fr. Outside Linebacker
#43 6-2, 235
Buford, GA
View Full Profile decided last week his heart wasn't in football and decided to quit the team; starting Nickel/SAM Korrin Wiggins

Korrin Wiggins
Jr. Defensive Back
#12 5-11, 195
Durham, NC
View Full Profile tore his ACL a few weeks ago and will miss the season; add in Reader and the Tigers are struggling to find experienced bodies to put in the field.
Swinney laughed at that notion, however, and said the Tigers have been through this situation before.
"All I know is that we had 42 freshmen in 2011 and won the ACC. That's all I know," Swinney said with an obvious edge. " Grady Jarrett

Grady Jarrett
Defensive Tackle (2011 - 2014)
#50 6-0, 290
Conyers, GA
View Full Profile , DeShawn Williams

DeShawn Williams
Defensive Tackle (2011 - 2014)
#99 6-1, 295
Central, SC
View Full Profile and all of those guys were freshmen. They had to play and played a lot for us. I really could care less. All I know is that we're going to be judged on what we do this year. I'm not worried about that at all. I'm worried about beating Wofford. We'll be ready to play. That I can assure you. We'll be ready to go."
Swinney didn't mention any teams or rivals in particular, but said that having a big number of returning starters isn't a guarantee of success.
"You can have 20 starters back, but they might stink. I'm just telling you the truth," he said "There are some bad teams out there with a lot of starters back, and they're probably not going to be very good again."
He then added that the Tigers won't make excuses for this season because he thinks there is still plenty of talent on the roster.
"Who is taking their place? Okay, Vic Beasley

Vic Beasley
Defensive End (2010 - 2014)
#3 6-2, 236
Adairsville, GA
View Full Profile is gone, so Shaq Lawson

Shaq Lawson
Jr. Defensive End
#90 6-3, 269
Central, SC
View Full Profile steps in. Shaq Lawson has started one game in his career," he said. "All I know is we have good players and we aren't making any excuses. Don't look for any excuses from us at Clemson. We're good enough to win. Is it a challenge when you have inexperience? Absolutely, but that's not an excuse. We've recruited well. Let's coach them up and let's go do the best we can. I don't measure our success based on our record or the scoreboard. Other people do, but I don't. I know what our commitment is.
"I know what our work ethic is. I know the improvement that guys are making. That's what I pay attention to. Whether that's 15-0 or 8-4, I have no idea. Things happen. That's how I evaluate it. It's not as black and white as some people on the outside see things. They just don't know what's going on within our walls and on that practice field. We'll be evaluated in November. We'll look back and see if we had a good year or an average year or great year. My expectation is to be a great football team and have a great year. I love the mentality of our team. I love the chemistry. I like the resolve. I like the focus. This is a team that's going to come ready to play."
Swinney laughed at the notion that defensive tackles coach Dan Brooks

Dan Brooks
Assoc. Head Coach / Def. Tackles
View Full Profile has an empty cupboard.
"Yeah. He's really struggling with Albert Huggins

Albert Huggins
Fr. Defensive Line
#67 6-3, 280
Orangeburg, SC
View Full Profile and [Scott] Pagano and Jabril[Robinson] and Christian Wilkins

Christian Wilkins
Fr. Defensive Tackle
#42 6-5, 305
Longmeadow, CT
View Full Profile and Carlos Watkins

Carlos Watkins
RS Jr. Defensive Tackle
#94 6-3, 295
Mooresboro, NC
View Full Profile . Don't feel sorry for Dan Brooks," he said. "He's got plenty of talent and he's loving every second of it. He'll have them coached up and ready to go. These are good players. We'd be struggling if we had a bunch of guys that were average. We've got good players that will be ready to play. They'll be excited to play."
Mac Lain said the Tigers replace talented players with talented players.
"We have a ton of studs. All we do at Clemson is reload. We've got 5-star defensive tackles all over the place. So that is a position we are going to be ok at," Mac Lain said. "I really think and I have said numerous times that it is going to be just like 2011. We have a bunch of freshmen and redshirt freshman that nobody knows about that are going to take this league by storm - Albert Huggins, Christian Wilkins, Jabril, all these guys."

Tags:
Eric Mac Lain
,
Christian Wilkins
,
Vic Beasley
,
Grady Jarrett
,
DeShawn Williams
,
Ammon Lakip
,
Isaiah Battle
,
Carlos Watkins
,
Shaq Lawson
,
D.J. Reader
,
Korrin Wiggins
,
Ebenezer Ogundeko
,
Korie Rogers
,
Albert Huggins
,
Dan Brooks