| | |
| --- | --- |
| Deshaun Watson and Ulric Jones: Smack talk during a boring May livens up the mood | |
---
| | |
| --- | --- |
| Wednesday, May 13, 2015 8:21 AM | |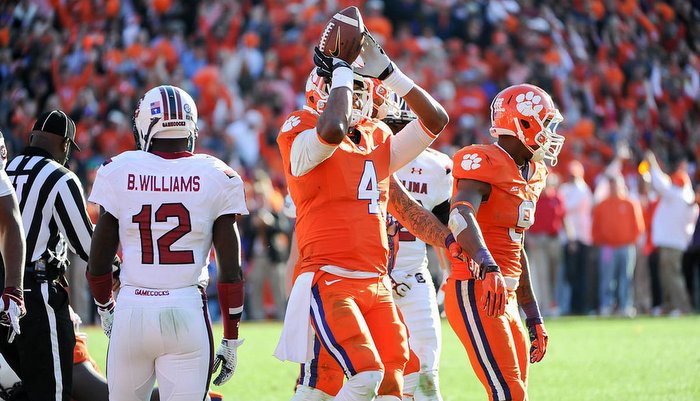 Thank you Deshaun Watson

Deshaun Watson
So. Quarterback
#4 6-2, 205
Gainesville, GA
View Full Profile and Ulric Jones for livening up a boring May.
In case you missed it – and I'm sure you didn't – something that Clemson's talented quarterback said to a reporter from USA Today managed to rile up a junior college defensive end transfer that will be enrolling at the University of South Carolina as soon as his junior college stint is over.
Watson told USA Today's Dan Wolken that he doesn't plan to lose South Carolina during his time at Clemson, and said that the decision to play in the November matchup with a torn ACL was an easy one because of a promise made to a high school coach.
"My high school coach was a big Clemson fan and I told him, as long as I'm the starting quarterback here, I'm not going to lose to South Carolina," Watson told Wolken. "It's a big rivalry. Who wouldn't want to play in that game? It was a family decision. They put it on me, and it's what I wanted to do. Of course people say I have a future down the road (to protect), but I live in the moment and that moment was then and I wanted to play."
TigerNet told you about that promise back in November when we spoke with Watson's coach at Gainesville High School.
Lyn Marsh – one of Watson's high school coaches – said Watson made the promise before he signed with the Tigers.
"Right before he signed with Clemson, I asked him to make me a promise," Marsh told TigerNet following the 35-17 win. "I said, 'You have to promise me that you are going to stop all of this mess.' And he told me, 'Coach, doggone I am going to do it.' And he is the type of kid that if he tells you he is going to do something then he is going to do it come hell or high water."
However, Watson took it a step further with Wolken and Ulric Jones didn't like it – Jones committed to the Gamecocks back in December, but not before taking the long route to Columbia. He verbally committed to Mississippi State out of high school but ended up going the junior college route and enrolled at Butler Community College in Kansas. He then committed to Maryland in November before finally deciding on South Carolina in December.
He makes his feelings known on facebook, and for a while it got both fan bases talking about the rivalry and football. And that's a good thing.
I remarked to someone Tuesday morning that this has been the most boring May – at least in terms of Clemson sports – that I can remember. Last year we had the FFRF and Dabo Swinney

Dabo Swinney
Head Coach
View Full Profile going head to head, a Brad Brownell

Brad Brownell
Head Coach
View Full Profile contract extension, commits coming in from all over the place and Clemson baseball trying to make a run at the NCAA Tournament. Add in the NFL Draft (which started on May 8th last year) and the middle part of May was exciting.
This year – not so much. Until Tuesday. And while the fireworks weren't all that explosive and probably didn't generate too much buzz outside of the Palmetto State, it didn't hurt things and was a nice last hurrah for spring.
Jones even went as far as to say that if he got only one sack next season, he would make sure it was against Watson. Perhaps that fired up his fan base even more. Maybe it will help the fans cheer a little louder next November. Maybe it will give Jones a little extra spark when the game starts.
But every time I read or see something like this – and Watson's quote – or anything that fans like to say is locker room material, I think about former Clemson defensive tackle Miguel Chavis

Miguel Chavis
Sr. Defensive Tackle
#89 6-5, 285
Fayetteville, NC
View Full Profile . Prior to one of Clemson's games back in 2010, I talked to Chavis about bulletin board quotes and if that gets players fired up and makes them play harder. He actually laughed at me, and said that it's fun to get fired up and maybe something an opponent says will make you practice a little harder during the week or make you pay a little more attention in the meeting room.
He then said that all of the rah-rah stuff, all of the pregame speeches and talk, goes right out the window once you run that first play.
"You can be as fired up as you want, but after you get hit in the mouth the first time, then it's just football," Chavis said that day. "And then the better team usually wins."
Enjoy the smack talk. It makes the rivalry better. But all of the smack talk in the world won't change the outcome next November, whether some have that date circled or not. The better team will probably win, and right now the easy money says the team that is trending upward. But I will leave it for you to decide which team that is – can't start a war in May. Even if it is exciting in what has been a boring month.
Ulric Jones.....we really like this guy ???????? pic.twitter.com/D0Gt8z9dBk

— GamecockNation.Net (@GNationNet) May 12, 2015
Maybe I shoud tweet my phone number so the upset fans can call me and cry like on social media. You Clemson people crack me up ????????????

— Ulric Jones (@ulric_jones) May 12, 2015