| | |
| --- | --- |
| Deon Cain's visit to Clemson postponed | |
---
| | |
| --- | --- |
| Friday, January 16, 2015 4:01 PM | |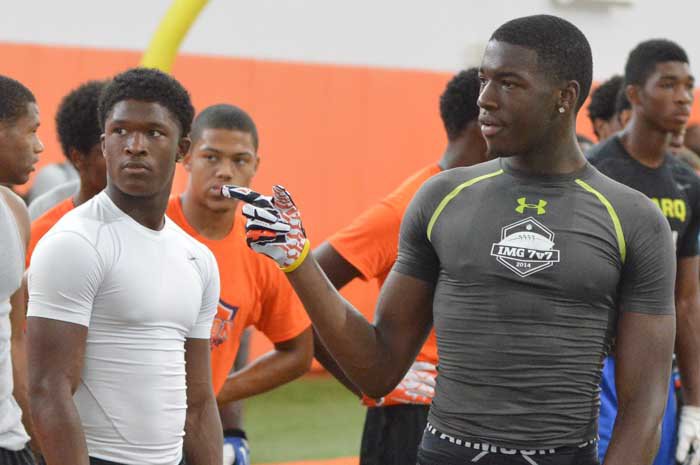 Deon Cain

Deon Cain
Wide Receiver
6-2, 200
Tampa, FL
ESPN:


View Full Profile won't make his expected visit to Clemson this weekend, but not because his recruiting has taken a wrong turn. The culprit is a driver who took a wrong turn.
The 5-star Tampa (FL) Tech receiver and 2015 Clemson commitment was set to take his official visit this weekend, but an accident Thursday night forced Cain and his mother Celia Thompson to postpone their trip to Clemson.
Thompson told TigerNet Friday afternoon that she was disappointed that she had to call offensive coordinator and running backs coach Tony Elliott

Tony Elliott
Assistant Coach / Running Backs
View Full Profile Thursday night to tell him that they wouldn't be able to make the trip, but bad weather and a careless driver put a snag in their plans.
"I had to call Tony [Elliott] last night and tell him that Deon was in an accident and that we couldn't make that trip," Thompson told TigerNet. "I felt pretty bad because he was looking forward to going but we didn't see this coming at all. It was raining last night and he was leaving our storage unit from putting some boxes in and this lady just came out and wasn't paying attention and hit the driver side of the car. I'm just glad he's fine. I talked to Tony because he was here all day yesterday and then I had to call him last night and tell him that we can't come."
The good news, though, is that Cain was not injured and didn't require any medical attention.
"Yes, he was in an accident but he's going to be fine," Thompson said. "Just the car got damaged. He was pretty scared and shaken up last night but I told him that I didn't care about the car. As long as he walked away without a scratch, I was ok. He's doing good. He didn't have a scratch or bump on him."
Thompson said that Cain was looking forward to the visit but he wanted her to come along to experience the visit.
"I offered to fly him up today and he said no that he wanted me to come with him on his visit," she said. "He wanted to leave last night and the wreck happened about eight last night and we were going to be leaving around midnight. It really damaged the car but everybody is alright."
Cain and his mother, and possibly fellow 5-star and Clemson commit Ray Ray McCloud

Ray Ray McCloud
Wide Receiver
5-10, 170
Tampa, FL
ESPN:


View Full Profile III will try again to make their way to South Carolina next week.
"We're going to leave about the same time next Friday night and I've got to talk to Ray Ray's parents because I think he wants to come, too," she said. "He was supposed to come with us but thank goodness he wasn't with us."
Click here to see other visitors to Clemson this weekend