| | |
| --- | --- |
| Defense highlights spring scrimmage | |
---
| | |
| --- | --- |
| Wednesday, April 1, 2015 6:14 PM | |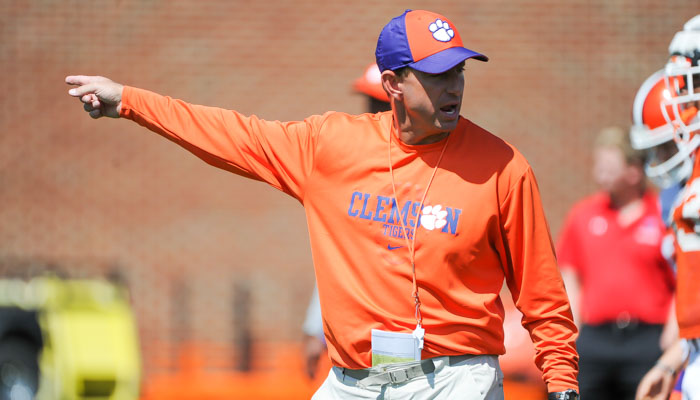 CLEMSON – The Clemson football team conducted its second full scale scrimmage of the spring Wednesday afternoon in Death Valley, but the biggest news concerned the return of tight end Jay Jay McCullough

Jay Jay McCullough
RS Jr. Tight End
#89 6-3, 248
Fort Mill, SC
View Full Profile .
McCullough missed the last three regular season games of 2014 and the Russell Athletic Bowl and had also missed the first part of spring practice as he endeavored to get back in the good graces of head coach Dabo Swinney

Dabo Swinney
Head Coach
View Full Profile .
It worked, and McCullough was back with the team Wednesday.
"Jay Jay is officially back with us, yesterday actually," Swinney said. "He has been reinstated back on the team. He wasn't ready to practice today with the scrimmage going on, but my hope is he will be ready to go on Monday. We got a little blood pressure thing. His blood pressure was a little high today when we tested it. I don't think he has been taking his medication quite right. So hopefully we will get that leveled off and get him back out here on Monday and try to get him reengaged and back going. He is very appreciative. I like how he has responded. He is very appreciative to have an opportunity. I think he is going to take full advantage of it. We are really glad to have Jay Jay back with us."
Swinney said McCullough will get tested early.
"He is going to get thrown in there. I hope he has been running. We will find out quick. He will definitely get a lot of reps early," Swinney said. "He has done everything that has been asked of him. Again, we are moving forward. Hopefully it is a situation that you learn from, grow from and get better. Again, hopefully he has more of an appreciation of the opportunity and privilege that he has, not to just play football, but be a student here at Clemson University."
On the football field, Swinney said it was a successful scrimmage on both sides of the ball.
"It was good to get our second scrimmage behind us. We did some good things on both sides of the ball," Swinney said. "Offensively, the best thing we did was running the football. The bad part was we didn't finish drives. We did a poor job of that all day. Defensively, I thought we were tremendous all day. They blocked field goals and stopped drives and did what they needed to get off the field. The bad part was we gave the offense the ball on the one-yard line and they moved it well past midfield. And in the two minute drill the offense went 65 yards in two plays."
Other notes
*Running back Wayne Gallman

Wayne Gallman
RS So. Running Back
#9 6-1, 205
Loganville, GA
View Full Profile told us that "the light" came on for him at the end of last season, and he feels like the starting job is his to lose.
"Of course I feel that way," Gallman said. "Last year I was playing too fast and I wouldn't let the plays develop. Then as we went on, I was able to slow things down and wait for things to happen. I guess the most comfortable I felt was the South Carolina game. That was when I felt like I could really put it all together. It started with some of the earlier games – Syracuse and Wake Forest – but it all came together for South Carolina."
* Zac Brooks

Zac Brooks
Running Back (2012 - 2015)
#24 6-0, 200
Jonesboro, AR
View Full Profile had a 44-yard run off the one-yard line.
*Gallman said that Grayson head coach Mickey Conn was in town Monday to observe Clemson's offense – Grayson is running more Pistol and spread.
*Quarterback Nick Schuessler

Nick Schuessler
RS Jr. Quarterback
#12 6-3, 195
Grayson, GA
View Full Profile told us he feels like he has a firm grasp on the backup spot, but he has been impressed with freshman quarterbacks Tucker Israel

Tucker Israel
Fr. Quarterback
#10 5-11, 190
Orlando, FL
View Full Profile and Kelly Bryant

Kelly Bryant
Fr. Quarterback
#2 6-4, 205
Calhoun Falls, SC
View Full Profile .
"Tucker probably asks the most questions. Kelly is really quiet," Schuessler said. "But you can tell they are both really, really good and are just beginning to get a grasp on things. They were better today, and you can tell things are slowing down for them, which allows them in turn to go faster."
Schuessler said he is feeling more comfortable.
"There were some things I felt like I could have done better today," he said. "But I think I am showing the kind of urgency the coaches want to see."
"I feel like we went faster today."
*Defensive coordinator Brent Venables

Brent Venables
Def. Coordinator / Linebackers
View Full Profile says Chris Register

Chris Register
RS Fr. Outside Linebacker
#45 6-2, 245
Browns Summit, NC
View Full Profile has done well during his first three practices at defensive end, but still has a lot to learn. Venables mentioned that Register has all the tools to be a dominant defensive end.
"I think that is a position that will suit his skills," Venables said. "He cares. He wants to play. He can tackle and run. He will make a big jump here in fall camp.
Venables also complimented Albert Huggins

Albert Huggins
Fr. Defensive Line
#67 6-3, 280
Orangeburg, SC
View Full Profile , Shaq Lawson

Shaq Lawson
So. Defensive End
#90 6-3, 269
Central, SC
View Full Profile , Ebenezer Ogundeko

Ebenezer Ogundeko
RS So. Defensive End
#1 6-3, 250
Brooklyn, NY
View Full Profile and Kevin Dodd

Kevin Dodd
RS Jr. Defensive End
#98 6-5, 275
Taylors, SC
View Full Profile .
Venables then said that Richard Yeargin

Richard Yeargin
RS Fr. Defensive End
#49 6-4, 225
Lauderdale Lakes, FL
View Full Profile has been the "forgotten guy."
"He is starting to feel more comfortable and play faster," he said.
*Safety Jayron Kearse

Jayron Kearse
Jr. Safety
#20 6-4, 210
Fort Myers, FL
View Full Profile had a big day according to some – including an interception – but Venables wasn't buying it.
"Who said he was a standout? He had a great play in cover-2," Venables said. "The quarterback threw it right to him so he made the play he was supposed to make. He dropped one so he is 50% so that will get you beat. No, he has had a good spring. He has improved in some areas. He still has some things he has to get better at.
*Swinney said Falcinelli was better on the center snaps today, and the offense didn't have any bad snaps.
*Offensive coordinator Tony Elliott

Tony Elliott
Co-OC / Running Backs
View Full Profile said that Shaq Lawson is getting the better of freshman tackle Mitch Hyatt

Mitch Hyatt
Fr. Offensive Line
#75 6-6, 270
Sugar Hill, GA
View Full Profile right now.

Tags:
Nick Schuessler
,
Zac Brooks
,
Kevin Dodd
,
Shaq Lawson
,
Jay Jay McCullough
,
Wayne Gallman
,
Jayron Kearse
,
Ebenezer Ogundeko
,
Chris Register
,
Richard Yeargin
,
Albert Huggins
,
Kelly Bryant
,
Mitch Hyatt
,
Tucker Israel
,
Brent Venables
,
Tony Elliott