| | |
| --- | --- |
| DeStefano takes on the United Nations | |
---
| | |
| --- | --- |
| Thursday, February 27, 2014 8:26 AM | |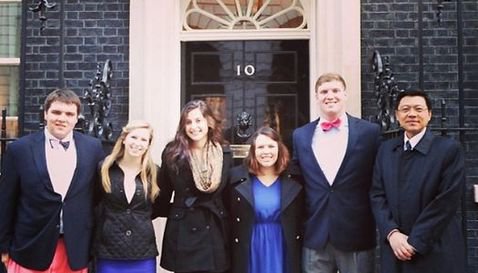 Patrick DeStefano

Patrick DeStefano
Offensive Line (2012 - 2013)
#71 6-5, 275
Spartanburg, SC
View Full Profile is the true definition of a student athlete.
DeStefano got the news last season that a neck injury meant a premature end to his career as an offensive lineman for the Clemson football team, but he was already preparing for life after football and made a seamless transition into the academic world.
His work in Clemson's Political Science department led to a trip to London last week, where he represented Clemson University at the London International Model United Nations. The Model United Nations (MUN) is a simulation of the different United Nations organs and other forums of international relations, and asks young people to take on the role of world leaders.
The London MUN was held February 21s-23rd, and the opening ceremony was held at Central Hall Westminster, while committee sessions were held at Imperial College London. To get there, however, DeStefano had to prove he was worthy of the nomination.
"The MUN takes college kids from around the world, and gives them real world issues to discuss," DeStefano told TigerNet. "The United Nations wants our opinions, because we are the next generation that will be faced with these same issues. For me, it was a lengthy interview process, but it was open to all Clemson students. I wouldn't even begin to know the number that applied, but I am pretty sure it was substantial. I was ecstatic when I learned that I would be chosen."
DeStefano was one of five Clemson students chosen to participate, and the university was the only school from the United States to participate in the London conference.
Once firmly on United Kingdom soil, DeStefano found a whole new world.
"I was there for five days total, it was a very unique process," he said. "I've spent my entire life in the United States and really in the South, so this let me see more of the world. I was a minority, and that gave me a unique perspective and a new point of view. The mornings and afternoons were marked by debates, and my two topics were international security and sovereignty.
"It was pretty formal, and I had a couple of good debates. I showed a couple of kids the American way, or it felt like it. We were done by 6 p.m. every night, and we had a Delegates Ball one night, and one night there was a social gathering. It was a lot of interesting stuff."
The university then allowed the students an extra day to take in the sights of London, where DeStefano got to visit a fairly famous residence – 10 Downing Street.
"Clemson let us stay an extra day to do nothing but sight-seeing," he said. "London was beautiful with all of the architecture. But everything was also so compact. I could never live there – my hotel room was about the size of your average bathroom. But the US Embassy set up a private tour of 10 Downing Street. Not many tourists get in there, and it was incredible. The London bobby who was with us gave us the history of it. It was incredible."
DeStefano then said despite not being able to finish his football career, the university has given him more than he could have ever asked for.
"I have to give a special thanks to Clemson. Despite the injury and everything, I have been blessed countless times over," he said. "They have done so much for me, and this just adds to it."