| | |
| --- | --- |
| Dabo Swinney Sunday teleconference | |
---
| | |
| --- | --- |
| Sunday, November 20, 2011 7:28 PM | |
CLEMSON – Clemson head coach Dabo Swinney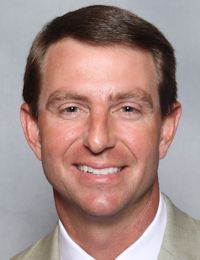 Dabo Swinney
Head Coach
View Full Profile said during his Sunday teleconference that the Tigers, 37-13 losers to North Carolina St. on Saturday, are a team lacking in execution.
The Tigers turned the ball over four times and had several offensive, defensive and special teams breakdowns in the loss to the Wolfpack.
"Obviously really disappointed after watching the tape," Swinney said. "Again, not a lot of rocket science going on. Right now we're a team
finding lots of ways to beat ourselves. We've had 11 turnovers in three
ballgames and we've lost two. It comes down to execution and we have to
get these guys dialed in and back to some basics."
Swinney said the defense was off to a great start, but turnovers put the defensive side in a bad position in a 27-point Pack second quarter.
"I'm really disappointed offensively, obviously, but defensively I felt it
was probably the best first quarter we've played since Virginia Tech," he said. "We
came out ready to go. Then all of a sudden they get the ball on the six, 18
and 11 [yard lines]. We didn't give them much of a chance. But again, I like how they
started the game and disappointed with how we performed offensively and on
special teams."
The Tigers still have a chance at ten wins and the state championship with a win Saturday at South Carolina.
"We have to refocus on our goals," he said. "Whether we were 11-0 or 9-2, none of
that would matter this week. It doesn't have anything to do with these
four quarters we're about to play. We have a lot in front of us. Our goals
are still intact. We want to win them all. We have not played very well.
Fortunately we have a lot of good tape to study where we have played well.
We have to get our guys' confidence back.
"I'm excited about this game, the biggest game of the year. It's a great
opportunity for both teams. We can get a 10th win. Again, we've got
everything right now in front of us. The only thing we know about this
team is that we're not a national championship team. We can still be a
very, very good team. And that's my focus right now."
Injuries
"Several guys are banged up. The biggest question is [left tackle] Phillip Price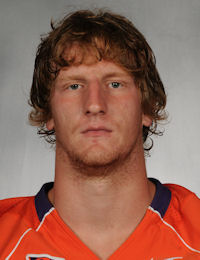 Phillip Price
RS Sr. Offensive Tackle
#79 6-5, 315
Dillon, SC
View Full Profile .
He did run today, so I'm anxious to get the report on that in the morning.
He was doing some running this evening. He's my biggest question mark.
Martavis Bryaant, his neck, that's another question mark. Landon [Walker] looked
good today, Brandon Thomas

Brandon Thomas
RS So. Offensive Line
#63 6-3, 300
Spartanburg, SC
View Full Profile looked pretty good and we've had some other
guys with some maintenance-type injuries. Hopefully we'll get Sammy [Watkins] going
back Tuesday."
On getting running game going
"It's execution. If you came in here and watch the tape with us,
you'd want to just throw up. We've got some guys doing some good things
and some breakdowns in other places. We've got to make better decisions.
We're not making good decisions with the ball. Tajh is doing some things
he has not done. He's got to go back and execute the base things. He's
keeping it when he should give it and giving it when he should keep it.
Again, it's a game that obviously got way out of hand and we could not get
the momentum back. We played poorly, but we're not a 5-6 team. We're a 9-2
team and we have to get our guys focused on doing things the right way. Price is a starter for a reason. He's as good a lineman as we've
had all year. Brandon missed some assignments but came back and did some
good things as well. It definitely was a factor. They have to be ready to
play. We just didn't have quite the attention to detail with a couple of
those guys up front. Brandon is a guy who has not played a lot of tackle.
He knows what he needs to do. He can do it. We just have to have a sense
of urgency. I wish we would have had Phillip in there. We didn't perform
quite as well without him."
On if South Carolina game is critical
"I think they're all critical when you're coaching for a living.
Every game is critical because ultimately you're judged on wins and
losses. This is a big game for our season. It's an opportunity for us to
achieve a goal, it's important to our team and our fans. It's a big, big
game. No doubt."
On if he paid attention to other scores and what a Clemson win could have meant nationally
"No. That's a waste of time. The only thing that we know about this
team is that we're not a national championship team. If we were, we'd have
beaten Georgia Tech and N.C. State. Right now we're a 9-2 team. We're the
Atlantic Division champs and we're deserving of that. As far as everybody
else, college football is a crazy game. That's why if you just keep taking
care of your business and stay focused on your goals, you might have one
of those special years. But you have to stay focused on what you're doing,
and you'll get to where you want. This is a game of focus, intensity and
execution. When you're dealing with young people, anything can happen.
That's why it's a great game to be a part of and be a fan of."
On if winning next two can change the perception of the program
"Absolutely. This is my third year into this thing. It's a great
opportunity to build some momentum for our program. Any time you play for
a championship - a state championship and a conference championship - and
win them, it's positive momentum. That's what we are focused on doing."