| | |
| --- | --- |
| Curtain call for the Cat Man | |
---
| | |
| --- | --- |
| Monday, November 18, 2013 10:33 PM | |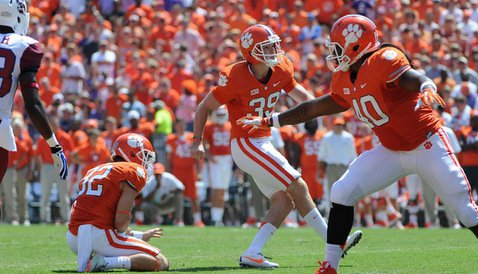 CLEMSON – Clemson head coach Dabo Swinney

Dabo Swinney
Head Coach
View Full Profile has never been shy about heaping praise upon players, resorting to hyperbole when calling a walk-on receiver a future all-conference player or saying his quarterback would make an NFL roster.
Four years ago, people may have laughed when Swinney talked about a walk-on kicker named Chandler Catanzaro

Chandler Catanzaro
Gr. Punter / Kicker
#39 6-2, 195
Greenville, SC
View Full Profile and said that Catanzaro would be one of the best in Clemson history when his time at Clemson was done, and a miss early in Catanzaro's career at Auburn had many wondering if the man they call Cat Man would be one and done.
They aren't laughing anymore, and that former walk-on is now Clemson's all-time scoring leader, and his biography on the school's website is filled with honors…set a school record with 20 consecutive made field goals from 2011-12; it was also the fourth-longest streak in ACC history ... two-time semifinalist for the Lou Groza Award ... two-time All-ACC selection ... two-time Academic All-ACC selection ... three-time ACC Academic Honor Roll member ... Lou Groza Award Watch List member in the preseason ... preseason first-team All-American by Sporting News ... preseason fourth-team All-American by Phil Steele ... #3 placekicker in the nation in the preseason by Lindy's ... preseason first-team All-ACC by Athlon, Lindy's, Sporting News, and USA Today ... preseason second-team All-ACC by Phil Steele.
Catanzaro will rub Howard's Rock and run down The Hill one last time as a Clemson player before the start of Saturday's game against The Citadel, and he said Monday that he can't believe his time as a player is almost over.
"Crazy. Just looking back on these four years, it's been such a special time in my life," Catanzaro said. "My main goal right now is to take every moment in, and not take anything for granted. As everything winds down, just cherish every moment with these guys. Those are the things I am going to remember the most is the relationships I've built along the way."
Starting with the end of the 2011 campaign, Catanzaro has hit an astounding 37-of-39 field goal attempts, and he admitted that he likes it when fans and his teammates take a field goal for granted.
He also took the time to give credit to snapper Michael Sobeski

Michael Sobeski
RS Jr. Long Snapper
#75 6-2, 205
Roebuck, SC
View Full Profile and holder Corbin Jenkins

Corbin Jenkins
RS Jr. Kicker
#32 5-10, 175
Conway, SC
View Full Profile .
"That is something I've tried to develop as I've been here," he said. "I think that's what you want as a kicker. When you run out there, everybody—the crowd, your team—they know it is points. I want everybody to know that it's automatic and it is points for sure. And I think people take for granted the job Michael Sobeski and Corbin Jenkins have done. They make my job easier for sure."
The confident and mature Catanzaro we interviewed Monday was a far cry from the skittish young man we first interviewed back in 2010. During his first season, he showed up for interviews in a bow tie, suit coat and pressed pants, nervous about his time in front of the cameras.
Monday, he sported a t-shirt and tennis shoes and instead of sporting a bow tie, he wore a calm and confident attitude, the kind of attitude that makes him one of the nation's best kickers. Now, he thinks that attitude may help him realize his dream of playing in the NFL.
"All I've been doing pretty much my whole life is just trying to do my best at whatever I've been doing and trying to take every opportunity and make the most of it," Catanzaro said. "It's crazy, looking now, that kicking could take me to the next level. It's definitely been a special road, a cool road."
He said he is taking what he has learned as a four-year starter and is passing that wisdom down to Ammon Lakip

Ammon Lakip
RS So. Kicker
#36 5-10, 185
Alpharetta, GA
View Full Profile , his understudy that figures to have the inside track at being the starter next season.
"That is something I feel like I have been working on this season. I feel like Ammon's time is coming," he said. "I told him that he might be second string right now, but his time is coming. I've told him he needs to work hard, and I've been helping him with his technique. I am trying to help him prepare for his opportunity for sure. "
As his Clemson career draws to a close, Catanzaro can take his final bows in front of the Clemson faithful, knowing that he and Swinney have had the last laugh on all of those who doubted his ability.