| | |
| --- | --- |
| Coveted lineman down to rivals Clemson and Georgia Tech | |
---
| | |
| --- | --- |
| Tuesday, June 16, 2015 3:26 PM | |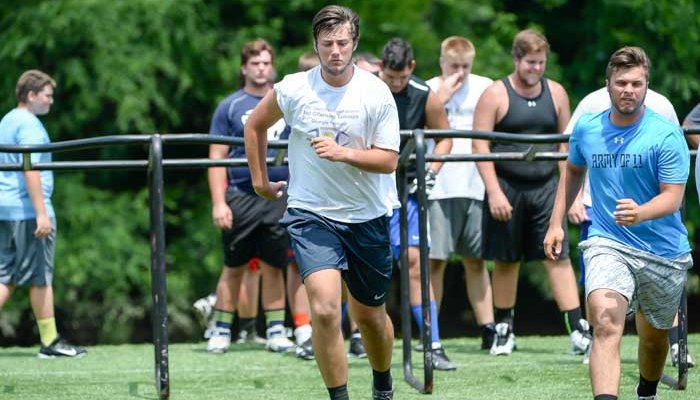 Chandler Reeves

Chandler Reeves
Offensive Tackle
6-6, 255
McDonough, GA
View Full Profile ' recruitment has taken off over the last week, but despite the recent attention he doesn't expect to extend the process more than a couple of more weeks.
After camping at Georgia Tech and Clemson last week, the 6-6 , 255-pound offensive tackle prospect out of McDonough (GA) Eagles Landing Christian picked up offers from the Yellow Jackets and Tigers, and with the camp circuit behind him he and his family have made return visits to both schools.
After attending Clemson head coach Dabo Swinney

Dabo Swinney
Head Coach
View Full Profile 's camp and receiving the offer last last week, Reeves told TigerNet that he couldn't wait to make a return trip with his family to explore Clemson further.
"I really loved that visit. I came up to campus on Wednesday and camped with them and got to work with Coach (Robbie) Caldwell and things like that. Leaving there, I got the offer on Thursday night and basically I wanted to take my family back on Saturday and get them on the same page that I was on and also for me to learn a lot more about the college and the campus and meet all of the coaches and talk with Coach Swinney and do some things like that," Reeves told TigerNet Tuesday.
He and his family made the two-hour drive from Georgia Saturday afternoon and spent much of the afternoon touring campus and getting to know the coaching staff away from the hectic camp setting.
"We went in and had a really nice conversation with Coach Caldwell - my position coach. I loved him. He's a great guy," Reeves said. "He will coach me good and coach me hard and that's what I'm looking for in a coach. Then, we went over to lunch and we ate with two quarterback recruits and the offensive coordinator and Thad Turnipseed and Coach Hobby - my recruiter. We sat down at a big table and ate lunch, which was cool because they didn't try to split us up or anything and we had a good conversation and had fun. From there, we went and toured the campus. Clemson is a beautiful place, especially because it backs up to Lake Hartwell. I love that."
Reeves said he was most impressed with the way everyone around the football program has bought into Swinney's 'All In' mentality.
"We went in and sat down and talked to Coach Swinney for a little bit," he said. "I think he's a great guy and he has something special there at Clemson. They talk about family and culture and I think Coach Swinney really does have a culture built there and the people who work for him and his players believe in him and I think that's the first step to building a family or a culture.
"I think that's the biggest step in winning a championship in football - everyone buying into one person's work ethic, ideas, structure. It's not saying it to their face but it's when they're walking out the weight room at Clemson, they aren't bad mouthing Coach Swinney and the workouts. They trust in Coach Swinney and they believe in Coach Swinney. The fact that everyone has bought in together is a really big deal to me. Obviously, Coach Swinney's faith is a big deal to me and my family for sure. First, he's a great Christian guy who will build us first as men and build us in the classroom and build us spiritually and then football will take care of itself because of all of those things."
On Monday, Reeves and his family spent the day in Atlanta with Georgia Tech head coach Paul Johnson and Reeves said he saw many similarities between the rival ACC coaches.
"Paul Johnson has the respect as an established coach," he said. "I think he has a staff that respects him and wants to work for him. I think he has players that love him. I think he has a great team chaplain in Derrick Moore. I don't think there's a better guy out there that I'd want to be mentored by and be around on a day-to-day basis. I think Coach Johnson does a great job of letting him do his job. I would argue that Coach Derrick Moore is one of their greatest recruiters and I don't even think that's on his job description at all. When Paul Johsnon brings Derrick Moore into the room and let's him talk to us, that guy can get you fired up."
However, Reeves said the opportunity to play in Johnson's triple option offense, sets the Yellow Jackets apart of the Tigers.
"I think he runs a really cool offense for an offensive lineman," he said. "I think the triple option, for me, to get down in that aggressive stance and play smash mouth football and just go after your guy every single play is one of the more fun things in the world. His offense is really exhilarating and fun, so I love that. I think there are a lot of opportunities there for an offensive lineman to have fun if they want to run block and get after it, which they'll do at Clemson, too. I love the spread and that's what we run at my high school."
Despite being close to making a decision, Reeves said he's still torn between Clemson and Georgia Tech.
"It's probably 50-50 right now, but in in the next couple of weeks, we'll have a decision," he said. "I'm not trying to draw it out. I definitely want to have it all over with by the end of the summer, but at this point we can even shorten that down a little bit more."