| | |
| --- | --- |
| Competition tightens up at defensive end | |
---
| | |
| --- | --- |
| Thursday, March 14, 2013 12:02 PM | |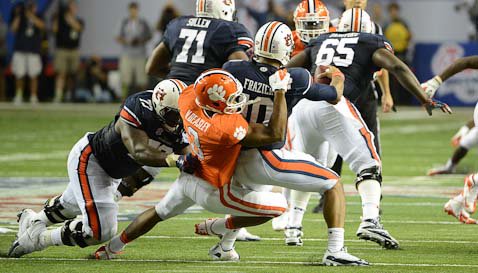 CLEMSON – Last spring, the question mark on the defensive line centered around a group of talented but inexperienced defensive tackles and would that group hold up under the pressure once the games started.
That group thrived off of the competition, and performed better than many expected, and that is something that head coach Dabo Swinney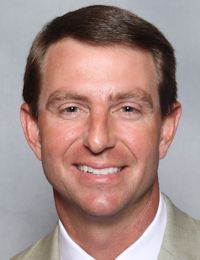 Dabo Swinney
Head Coach
View Full Profile hopes happens with the defensive ends this spring.
Swinney, talking to the media following Wednesday's practice, said the group of ends that includes Corey Crawford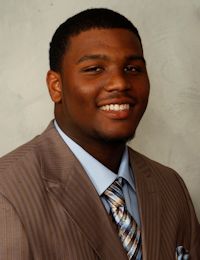 Corey Crawford
So. Defensive End
#93 6-5, 270
Columbus, GA
View Full Profile , Vic Beasley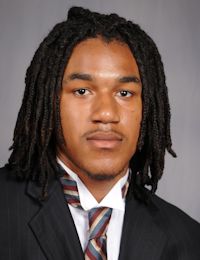 Vic Beasley
RS So. Defensive End
#3 6-3, 225
Adairsville, GA
View Full Profile , Ebenezer "Ebo" Ogundeko, Tavaris Barnes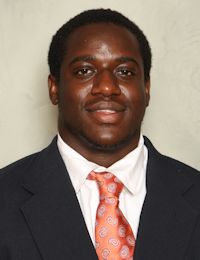 Tavaris Barnes
RS So. Defensive End
#6 6-4, 275
Jacksonville, FL
View Full Profile , Kevin Dodd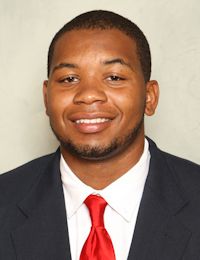 Kevin Dodd
Fr. Defensive Tackle
#98 6-5, 280
Greer, SC
View Full Profile , Martin Aiken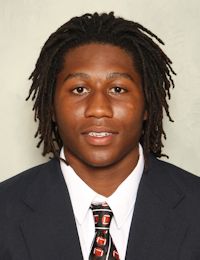 Martin Aiken
Fr. Defensive End
#53 6-2, 255
Bamberg, SC
View Full Profile and Shaq Lawson

Shaq Lawson
Defensive End
#90 6-4, 240
Central, SC
View Full Profile has opened a lot of eyes early in spring practice.
"That group has transformed. That group doesn't even look the same," Swinney said. "Bodies, from a depth standpoint, athleticism – it's a really good group. And now we've got some experience to go along with it. This time last year there was no experience.
"What we have now at end is what we had a d-tackle last year. Last year at defensive tackle, we had a lot of talented guys and with that came a ton of competition. They make each other better. We didn't really have that at end, and we do now. There's not a miss in that group. All of those guys can play. "
Headlining that group is Beasley, the athletic freak of nature who played only part-time snaps a year ago and still finished fourth in the ACC with eight sacks.
"Vic Beasley was like a science project, hoping that it would work," Swinney said. "He has a chance to be pretty doggone good. He's disruptive. He had a pick-six today, and that is the second in five days. The thing about Vic – sometimes he will act like he is a space cadet, but he has a good feel for the game. He has figured it out. He's bought in; he's all in and really sold on his opportunity. He looks good, and has some size. He has some really good football instincts and IQ."
Beasley said he currently carries 232 pounds, but hopes to get closer to 250 by the time fall camp starts. He also hopes that added weight will help him become more of a complete player, one that can stop the run as well as rush the passer.
"I want to get better at my run technique, and be better on running plays so I can take on bigger tackles," Beasley said. "I believe my body type can carry that much weight, so it won't be that much of a problem."
Beasley said he has spent the majority of his time on the weak side, but each player is getting snaps on both sides of the line.
"Coach [Brent] Venables has been rotating us left and right, but I've spent the majority of the time on the weakside," he said. "Shaq is very impressive. Ebo has a little work to do but he is coming along as well. There is a lot of competition out there, especially on my side with me and Corey and Ebo, and even on the other side with Tavaris, Dodd and Shaq. Maybe the decision will be made at the end of camp, but I bet it won't be too soon, though."
Swinney said that Barnes has been just as impressive as Beasley early in camp.
"Barnes, he has been very zeroed in and is making a move, and there is nobody on this staff that would disagree that he is probably as talented a guy as we have," Swinney said. "It's just a matter of putting it all together. He looks like he is trying to take another step and that is encouraging."