| | |
| --- | --- |
| Comedy of errors leads to another loss in a must-win game | |
---
| | |
| --- | --- |
| Sunday, December 1, 2013 1:02 AM | |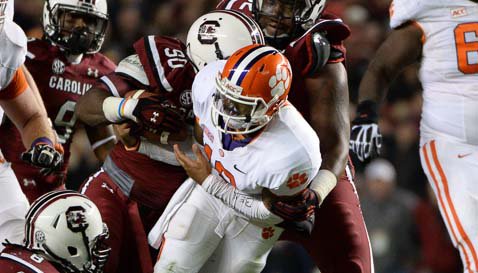 COLUMBIA – Roderick McDowell

Roderick McDowell
Gr. Running Back
#25 5-9, 195
Sumter, SC
View Full Profile 's late third quarter touchdown run tied the score of Saturday night's rivalry game against South Carolina at 17 points apiece, and it looked like old momentum might be wearing Tiger stripes.
Clemson was running the ball with ease, the offensive line was making holes I could run through, and despite two early turnovers and an inability to get off the field on third down in the first half, Clemson's defense was starting to play well.
Game on, right? Wrong.
What happened next was a comedy – a dark comedy – of errors that defined this series over the past five seasons as Clemson made mistake after mistake after mistake while South Carolina played error-free in what turned out to be a 31-17 victory.
South Carolina head coach Steve Spurrier said it better than anyone else in his postgame press conference.
"I started thinking, amazingly, when we play these guys from Clemson, the script follows the same thing," Spurrier said. "The score was 31-17, they had 57 plays and we had about 78. Somehow we made a bunch of third downs early and late and we didn't do much in between."
Following McDowell's score, Clemson's defense stiffened and the Gamecocks faced a 4th-and-1 at their own 34-yard line. The Gamecocks lined up like they were going to go for it, but called a timeout as the play clock wound down. South Carolina came back out, and everybody in the stadium surmised that South Carolina wouldn't actually try to snap the ball, but would just try and draw the Clemson defense offsides.
Inexplicably, it worked. Nine plays later, South Carolina scored the go-ahead touchdown.
Clemson's offense trotted back out onto the field, and moved the ball down to the South Carolina 34-yard line with ease, but Tajh Boyd

Tajh Boyd
RS Sr. Quarterback
#10 6-1, 225
Hampton, VA
View Full Profile committed Clemson's third turnover of the night on a rush play, ending the drive.
"I actually thought I was down," Boyd said after the game. "I was down, and then I felt like I got picked up and shimmied around, and then went back down again. For whatever reason, it wasn't called."
Clemson's defense once again forced a punt, and the way Clemson was moving the ball it didn't take much to imagine the Tigers could dent the scoreboard again. The offense never got that chance as returner Adam Humphries

Adam Humphries
Jr. Wide Receiver
#13 5-11, 190
Spartanburg, SC
View Full Profile fumbled the ball at the Clemson 31-yard line. Three plays later, it was a two-touchdown lead.
The next play? An interception thrown by Boyd. Three Clemson plays later, another Boyd interception that sent Clemson fans for the exits.
"I thought we played much better in the third quarter and kind of got the momentum back," Clemson head coach Dabo Swinney

Dabo Swinney
Head Coach
View Full Profile said. "It's 17-17 there in the fourth quarter, we had a chance to win the game, and we had crucial mistakes. We really fought hard, but we didn't play smart. We had four turnovers in the fourth quarter. On four of our turnovers, four were in plus territory and two were on punt returns. So that's the difference in the game, no question about it."
The "plus territory" turnovers Swinney spoke of? One was Boyd's fumble. The first one, however, got Clemson off on the wrong foot. The Tigers took the opening drive of the game and marched down the field, but offensive coordinator Chad Morris

Chad Morris
Offensive Coordinator / QBs
View Full Profile called for a double pass, and wide receiver Sammy Watkins

Sammy Watkins
Jr. Wide Receiver
#2 6-1, 205
Fort Myers, FL
View Full Profile floated a lob to Humphries that was intercepted at the goal line.
It was a portent of things to come.
Clemson outgained South Carolina 352 to 318, and stifled the South Carolina rushing attack except for Connor Shaw on third down. Six turnovers – three lost fumbles and three interceptions, eight critical penalties. Silly mistakes. Even against average teams, that won't win many ballgames. Against an arch-rival in their stadium? That's a recipe for disaster, a disaster that is five straight to your rival.
Long story short – credit South Carolina for not making the crucial mistake, and realize that Clemson did a pretty good job of beating Clemson.
The sad truth is that if there are two teams Clemson has to beat on their schedule each season, it's Florida St. and South Carolina. Over the last two seasons, Clemson has lost four games – two to FSU and two to South Carolina.
Overall, Clemson head coach Dabo Swinney is just 3-9 against those two programs. One of those wins was against South Carolina in 2008 when he still had the interim tag. One win came in 2009, a 40-24 win against Florida St. in the DeAndre McDaniel

DeAndre McDaniel
Wide Receiver (2007 - 2010)
#2 6-1, 180
Tallahassee, FL
View Full Profile -Christian Ponder game. At that point, he was 2-2 against those two teams.
Since the end of the 2009 season, the record is 1-7, the lone win coming in 2011 against Florida St. at home.
Clemson had four turnovers against Florida St. this season, and six more against South Carolina in the regular season finale. Overall, the Tigers are minus-12 in the turnover margin in the five losses to South Carolina, losing that battle 15-3.
Beating good teams is hard enough without beating yourself, especially in the biggest games. Beating good teams with the kind of mistakes that say you still have a long way to go is impossible, and turn 17-17 tie games into two touchdown defeats, an all-too familiar story for Clemson coaches, fans and players.