| | |
| --- | --- |
| Clemson vs Wofford Prediction | |
---
| | |
| --- | --- |
| Friday, September 4, 2015 1:01 PM | |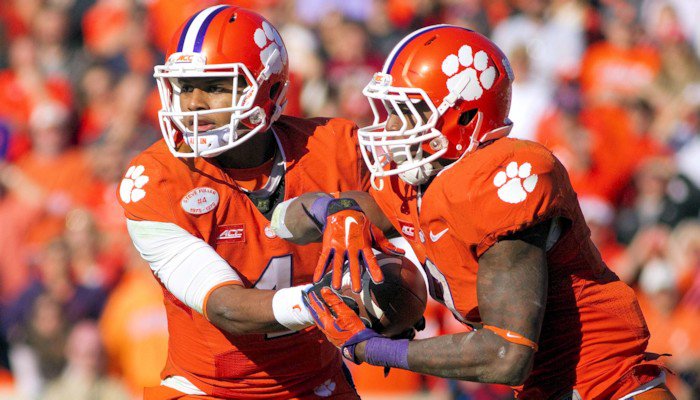 Kevin Dodd

Kevin Dodd
RS Jr. Defensive End
#98 6-5, 268
Taylors, SC
View Full Profile making his first start. The ends will have to "set the edge" and force the quarterback to make quick decisions. If the Terriers can grind out first downs and control the clock, the Tigers could be in for another dogfight.

Wofford is also very experienced and welcomes back 20 starters. On offense, the ten players include offensive linemen Anton Wahrby, T.J. Chamberlin. Bradley Way and DeQuan Miller, running backs Will Gay, Ray Smith, and Lorenzo Long, wide receiver Will Irwin, tight end Zach Muller, and possibly quarterback Evan Jacks. On defense, the eight returners are defensive linemen E.J. Speller and Steven Cornellier, safety Jaleel Green, cornerbacks Brion Anderson and Chris Armfield, plus linebackers Terrance Morris, Drake Michaelson and Dylan Young. In addition kicker David Marvin and punter Brian Sanders return. Marvin was 5-of-6 on field goals and 27-of-30 on PATs to finish second on the team with 42 points in 2015.

Clemson will also start a true freshman at left tackle in Mitch Hyatt

Mitch Hyatt
Fr. Offensive Line
#75 6-6, 285
Sugar Hill, GA
View Full Profile . If he does he will be the first true freshman to start the first game of the season at left tackle since 1944 when Phil Prince started the opener against Presbyterian. Since 1946, only one true freshman has started on the offensive line over the course of the season. That was Barry Richardson

Barry Richardson
Offensive Tackle (2004 - 2007)
#79 6-7, 330
Mt. Pleasant, SC
View Full Profile in 2004, who did not start the opener, but started seven of the 11 games that year. Can the Terriers' experienced defenders take advantage?
WHY CLEMSON MIGHT WIN
Clemson is a perfect 29-0 against Football Championship Subdivision teams. The Division was formed prior to the 1978 season. Southern Conference schools became I-AA in 1982. Clemson has outscored Football Championship Sub-Division teams by a 1146-205 margin, an average victory of 39-7. Clemson has won 28 of the 29 games by at least double digits. The only exception came when Clemson defeated Wofford 35-27 in that 2011 game, and Wofford's 27 points are the most by an FCS school against Clemson.
The Tigers also have the return of quarterback Deshaun Watson

Deshaun Watson
So. Quarterback
#4 6-2, 207
Gainesville, GA
View Full Profile . Watson played in eight games last year for the Tigers, five as a starter (4-1). The native of Gainesville, Ga. completed 93-137 passes for 1,466 yards and 14 touchdowns with just two interceptions. His 10.7 yards per attempt and 188.7 passing efficiency led the nation among players with at least 125 passes. His health will be a big concern this season but the returns during fall camp were encouraging. When Watson is on, the Tigers are hard to stop.
Also, Watson isn't a one-man show. He has talented sophomore running back Wayne Gallman

Wayne Gallman
RS So. Running Back
#9 6-1, 210
Loganville, GA
View Full Profile (769 yards last season) to help, and the running back rotation is bolstered by the return of Zac Brooks

Zac Brooks
Running Back (2012 - 2015)
#24 6-0, 200
Jonesboro, AR
View Full Profile from injury. Add in C.J. Davidson

C.J. Davidson
RS Sr. Running Back
#21 5-10, 202
Clemson, SC
View Full Profile , Tyshon Dye

Tyshon Dye
RS So. Running Back
#22 5-11, 213
Elberton, GA
View Full Profile and C.J. Fuller

C.J. Fuller
RS Fr. Running Back
#27 5-9, 211
Easley, SC
View Full Profile and the Tigers have plenty of options to run the football.
If that isn't enough, Watson has several targets in Artavis Scott

Artavis Scott
So. Wide Receiver
#3 5-10, 191
Oldsmar, FL
View Full Profile , Mike Williams

Mike Williams
Jr. Wide Receiver
#7 6-4, 213
Vance, SC
View Full Profile and Charone Peake

Charone Peake
Gr. Wide Receiver
#19 6-2, 214
Moore, SC
View Full Profile . The three starters are joined by Trevion Thompson

Trevion Thompson
RS Fr. Wide Receiver
#1 6-2, 193
Durham, NC
View Full Profile , Germone Hopper

Germone Hopper
RS Jr. Wide Receiver
#5 5-11, 175
Charlotte, NC
View Full Profile , Ray-Ray McCloud

Ray-Ray McCloud
Fr. Wide Receiver
#34 5-9, 181
Land O' Lakes, FL
View Full Profile , Hunter Renfrow

Hunter Renfrow
RS Fr. Wide Receiver
#13 5-10, 176
Myrtle Beach, SC
View Full Profile and Deon Cain

Deon Cain
Fr. Wide Receiver
#8 6-1, 197
Tampa, FL
View Full Profile . Watson will have options throughout the contest. Last year, the tight end position didn't come into play in the passing game, but Jordan Leggett

Jordan Leggett
Jr. Tight End
#16 6-5, 252
Navarre, FL
View Full Profile looks (again) like he has turned the corner, while Milan Richard

Milan Richard
RS Fr. Tight End
#80 6-2, 248
Savannah, GA
View Full Profile , Cannon Smith

Cannon Smith
RS Fr. Tight End
#84 6-4, 264
Columbia, SC
View Full Profile and Jay-Jay McCullough all looked poised to contribute. Keep an eye out for freshman Garrett Williams

Garrett Williams
Fr. Tight End
#44 6-4, 236
Orlando, FL
View Full Profile , who might play more than people think.
On defense, defensive end Shaq Lawson

Shaq Lawson
Jr. Defensive End
#90 6-3, 272
Central, SC
View Full Profile finally gets his chance to be a starter. He has been behind consensus All-American Vic Beasley

Vic Beasley
Defensive End (2010 - 2014)
#3 6-2, 236
Adairsville, GA
View Full Profile each of the last two years. Beasley was the No. 8 selection of the 2015 NFL draft by the Atlanta Falcons, and he started 12 of the games and played 557 snaps, while Lawson started just once and played 295 snaps. Despite the difference in playing time, Lawson actually had more tackles than Beasley (44-37). Lawson averaged a tackle for every 6.7 plays, while Beasley averaged one every 15.05 plays.
WHAT WILL HAPPEN
This Clemson team is a work in progress in many ways, and Saturday will be a chance for a lot of the fresh faces to work out the kinks. Don't be shocked if Wofford hangs around longer than Clemson fans would feel comfortable seeing, but the truth is that the Terriers just won't be a match for Watson and company. The Clemson defense might actually be better at defensive end versus the run, so the Terriers might have to focus on the inside run game. That will give young players like Christian Wilkins

Christian Wilkins
Fr. Defensive Tackle
#42 6-5, 299
Longmeadow, MA
View Full Profile and Scott Pagano

Scott Pagano
RS So. Defensive Tackle
#56 6-3, 290
Honolulu, HI
View Full Profile an opportunity to show the coaches they deserve to play. Through the air? Wofford will hit big plays only if the defenders get too far out of position. The Tigers will have a nice lead at the half, stomp on the accelerator in the third and cruise to the win.
FINAL SCORE: CLEMSON 41, WOFFORD 13
---
GUEST PREDICTIONS
---
Mickey Plyler
- 6AM-9AM EST on WCCP 105.5FM -
41-17 Clemson


Tony Crumpton - TigerNet's Associate Editor - 52-13 Clemson


Nikki Steele - TigerNet Writer - 42-17 Clemson


Lawton Swann - Clemson Sports Talk / TigerNet Talk - 47-13 Clemson


Pigskin Prophet - 47-13 Clemson

Tags:
Vic Beasley
,
Charone Peake
,
Zac Brooks
,
Kevin Dodd
,
Germone Hopper
,
Shaq Lawson
,
Barry Richardson
,
Mike Williams
,
Tyshon Dye
,
Wayne Gallman
,
Jordan Leggett
,
Scott Pagano
,
C.J. Davidson
,
Deshaun Watson
,
C.J. Fuller
,
Trevion Thompson
,
Cannon Smith
,
Milan Richard
,
Artavis Scott
,
Hunter Renfrow
,
Garrett Williams
,
Mitch Hyatt
,
Ray-Ray McCloud
,
Deon Cain
,
Christian Wilkins