| | |
| --- | --- |
| Clemson vs UNC prediction | |
---
| | |
| --- | --- |
| Friday, October 21, 2011 12:01 PM | |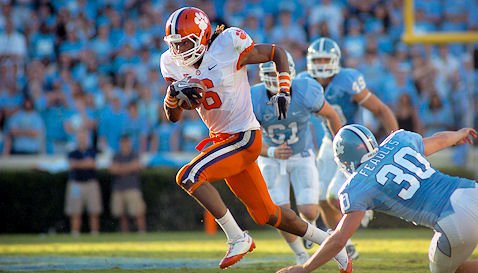 It's week eight for the Clemson Tigers, and it's the penultimate home game of the 2011 season. Yeah, the Tigers have one home game remaining after this one. This week's opponent is the North Carolina Tar Heels, a team that desperately wants a good bowl game this year due to looming NCAA sanctions, and a head coach in Everett Withers who wants the interim tag removed from his title.
Let's face it, Clemson doesn't like North Carolina, and Cobb Oxford cracked me up this week on Dan Scott's show when he said that ACC Commissioner John Swofford would show up for this game in his baby blue jacket, and he and referee Ron Cherry would show up riding on the front row of the UNC team bus.
Yes, this week is definitely a cultural cross-over type of game. It's guys in burnt orange overalls versus the guy with the baby blue sweater hanging over his neck; it's tailgating with a tent and a truck versus a picnic basket in the back of the Mercedes; it's a grill and burgers and barbecue versus wine and cheese; it's women who know football and know when to stand up and cheer and what a 4-3 defense is versus the woman who is wondering where the keys to Mercedes are so she can get back into the cheese and wine; it's Clemson versus Swofford; in a nutshell, it's on. Let's get to it.
NORTH CAROLINA (5-2, 1-2) at CLEMSON (7-0, 4-0)
WHEN NORTH CAROLINA HAS THE BALL
The Tar Heels are a lot like Boston College in that they want to come out, line up in a pro-style set and run the football. They have a good running back in freshman Giovani Bernard, who is averaging 109.6 yards per game (767 yards overall) and 5.9 yards per carry. After watching the Maryland Terrapins torch the Tigers' defense for 486 yards last week, the Tar Heels have to be salivating at the chance to see if they can run it either inside or outside against the Tigers. Inside, I don't like their chances, because that area is manned by senior defensive tackle Brandon Thompson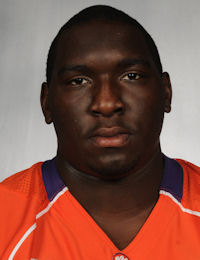 Brandon Thompson
Sr. Defensive Tackle
#98 6-2, 310
Thomasville, GA
View Full Profile , who is having an All-ACC type of season. Outside is a different story, however. The Tigers are having issues with containment, whether it's with the defensive ends or linebackers. If North Carolina can get a good mix in the running game, ball control could play a key component in this game. Once the running game is in place, they like to use quarterback Bryn Renner – who was added to Manning Award watch list recently – in play-action, and his favorite target is receiver Dwight Jones, who proclaims himself the best receiver in the ACC with his 46 catches for 687 yards and 8 touchdowns. One thing I want to see, however, is this: two weeks ago, we expected Boston College to come out in their typical pro set, and instead they came out and spread it around and tried to throw on the Tigers. I wonder if that will be the same gameplan this week? The end result is this, however – this isn't a dynamic or great offense, and so far [except for eight good quarters against Va. Tech and BC], this hasn't been a dynamic or great Clemson defense. The key for Clemson will be getting UNC away from the running game and forcing Renner to throw. If they can do that, then defensive end Andre Branch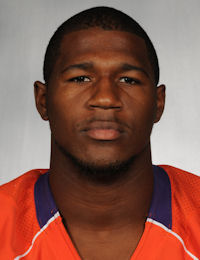 Andre Branch
RS Sr. Defensive End
#40 6-5, 260
Richmond, VA
View Full Profile [he has eight sacks while the rest of the team has just two] might have another great day.
ADVANTAGE – EVEN
WHEN CLEMSON HAS THE BALL
The UNC defense, particularly up front, is loaded with 'Sunday' talent according the Clemson head coach Dabo Swinney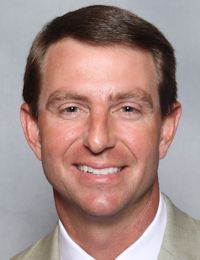 Dabo Swinney
Head Coach
View Full Profile . The Tar Heels rank 24th nationally in scoring defense with 20.14 points allowed per contest while the Tigers are scoring 38 points per game, good for 21st nationally. This one ought to be fun to watch. The Heels are led up front by 6-6, 290-pound defensive end Quinton Coples and in the back seven by linebacker Zach Brown. The Tigers, 2nd in the ACC in rushing, will obviously want to run the football, and a healthy Andre Ellington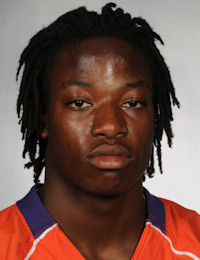 Andre Ellington
RS Jr. Running Back
#23 5-10, 190
Moncks Corner, SC
View Full Profile gives them a great chance to do that against the Heels, third in the ACC in rushing defense. The matchup of Clemson's offensive line versus the UNC front seven will be fun to watch, but the key to the whole show might just be how well Clemson can throw the ball. The Heels are ranked 10th in the conference and 92nd nationally in passing defense. Last week, quarterback Tajh Boyd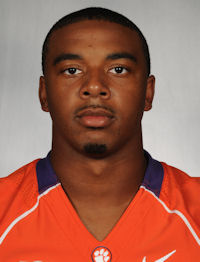 Tajh Boyd
RS So. Quarterback
#10 6-1, 225
Hampton, VA
View Full Profile came out a little slow against the Terrapins, and both he and offensive coordinator Chad Morris lamented the fact that he only threw one pass on Clemson's opening drive. This week, the plan might be to get the UNC defense on its' Heels [pardon the pun] by coming out and throwing it all over the yard early. If they do that, UNC has to pick its poison – do you double freshman phenom Sammy Watkins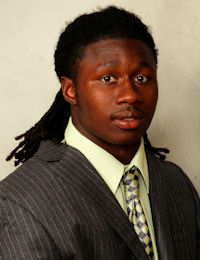 Sammy Watkins
Fr. Wide Receiver
#7 6-1, 200
Fort Myers, FL
View Full Profile and then leave Nuk Hopkins, Jaron Brown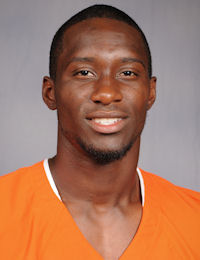 Jaron Brown
RS Jr. Wide Receiver
#18 6-2, 200
Cheraw, SC
View Full Profile , Martavis Bryant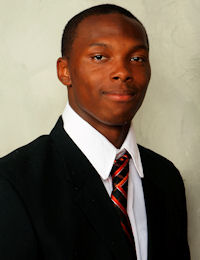 Martavis Bryant
Fr. Wide Receiver
#1 6-5, 205
Calhoun Falls, SC
View Full Profile , or Charone Peake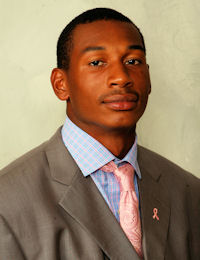 Charone Peake
Fr. Wide Receiver
#19 6-3, 205
Moore, SC
View Full Profile alone? Or leave Dwayne Allen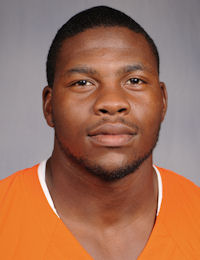 Dwayne Allen
RS Jr. Tight End
#83 6-3, 255
Fayetteville, NC
View Full Profile with just a linebacker? As for Watkins – how much fun is this kid to watch? If the Clemson offense can run with any kind of consistency, and I believe they can, it opens up the passing game that much more.
ADVANTAGE – CLEMSON
SPECIAL TEAMS
For two weeks I've been calling for a big return, and we got one last week when Watkins busted loose for an 89-yarder against the Terrapins. This week, with C.J. Spiller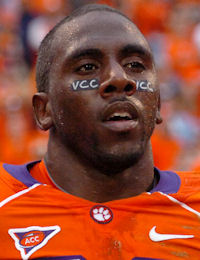 C.J. Spiller
Pro Running Back
#28 5-11, 195
Lake Butler, FL
View Full Profile in the house, Watkins will be primed to do it again, but the Heels are ranked 29th nationally in kickoff return defense. UNC kickoff returner T.J. Thorpe ranks among the top returners in the ACC with 26.27 yards per return, which is 25th in the nation, but the Tigers are 20th in the country in kickoff return defense. UNC lost kicker Casey Barth to a groin pull against Virginia in mid-September, and he is done for the season. His replacement is Thomas Moore, who has hit all 16 of his extra points and is just 1-for-2 on field goals. Clemson kicker Chandler Catanzaro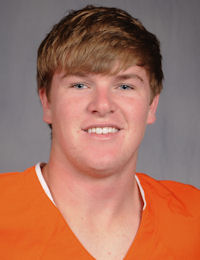 Chandler Catanzaro
RS So. Punter / Kicker
#39 6-2, 200
Greenville, SC
View Full Profile is 12-for-14 so far this season, and has turned into a consistent weapon for the Tigers. Another consistent in special teams for Clemson is punter Dawson Zimmerman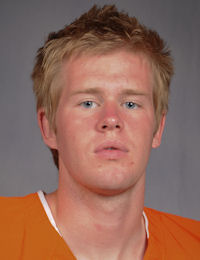 Dawson Zimmerman
Sr. Punter / Kicker
#96 6-2, 205
Lawrenceville, GA
View Full Profile , who is now punting, holding on extra points and field goals and kicking off. Punter Thomas Hibbard is averaging an unremarkable 39.3 yards per punt on 30 punts this season. If the Heels had Barth, this might be even. But no Barth means……
ADVANATGE – CLEMSON
BOTTOM LINE
The Tar Heels have a lot of pride in their defense, and their head coach is a defensive guy, so look for them to try and keep this one close early and shut down the Clemson offense while playing keep-away, using their running game to control the clock and keep Watkins and Boyd off the field. In the past, getting knocked in the mouth early would spell doom for Clemson. Not this year. This team has proven to be resilient, and offensive coordinator Chad Morris has also proven he doesn't panic, and just keeps getting the ball to his playmakers. That, my friends, is a recipe for success, and it has nothing to do with wine and cheese.
FINAL SCORE
CLEMSON 38, UNC 27
---
GUEST PREDICTIONS
---
Mickey Plyler - 6AM-9M on WCCP 104.9FM - 31-21 Clemson
Dan Scott - 9AM-12PM on WCCP 104.9FM - 37-21 Clemson
El Swann - TigerNet Talk - 41-20 Clemson
Rev O. - Fan's Corner Blog - 38-21 Clemson
Computer simulation - 37-27 Clemson (Boyd 18-28 275 yards; Ellington 22 carries for 93 yards, 2 Tds; Watkins 5 catches for 109 yards, 1 Td; Branch 6 tackles, 1 sack; Freeman 5 pancake blocks, Catman 2/2 fg)
PREDICTION TRACKER
| Game | Actual | David Hood | Mickey Plyler | Dan Scott | El Swann | Rev O. | Computer |
| --- | --- | --- | --- | --- | --- | --- | --- |
| Troy | 43-19 CU | 41-20 CU | 37-17 CU | 34-14 CU | 27-10 CU | 41-21 CU | 34-7 CU |
| Wofford | 35-27 CU | 51-13 CU | 48-17 CU | 40-14 CU | 48-13 CU | 37-13 CU | 38-0 CU |
| Auburn | 38-24 CU | 30-27 AUB | 31-30 CU | 34-31 CU | 24-22 AUB | 34-24 CU | 34-17 CU |
| FSU | 35-30 CU | 23-16 CU | 27-26 CU | 27-16 CU | 35-31 CU | 35-28 CU | 28-24 FSU |
| VT | 23-3 CU | 27-23 CU | 28-27 CU | 31-23 CU | 28-24 CU | 31-24 CU | 24-20 VT |
| BC | 36-14 CU | 40-13 CU | 37-13 CU | 42-12 CU | 47-13 CU | 45-10 CU | 34-7 CU |
| MARY | 56-45 CU | 30-16 CU | 37-24 CU | 31-17 CU | 38-17 CU | 40-10 CU | 34-20 CU |
| Points | - | 10 | 11 | 7 | 8 | 11 | 5 |
* Points: 3 pts for best prediction of the week, 1pt for picking the correct winner
One final note: My buddy Chris Hawley, who does C's picks, also wanted his prediction included this week. If you want to be included in on his weekly prediction, just shoot him an email at [email protected] He actually does a nice job looking at the games in the state and some around the country. His pick for this week is Clemson 34, UNC 20.

Tags:
Andre Branch
,
Andre Ellington
,
Brandon Thompson
,
C.J. Spiller
,
Chandler Catanzaro
,
Charone Peake
,
Dabo Swinney
,
Dawson Zimmerman
,
Dwayne Allen
,
Jaron Brown
,
Martavis Bryant
,
Sammy Watkins
,
Tajh Boyd