| | |
| --- | --- |
| Clemson vs. South Carolina prediction | |
---
| | |
| --- | --- |
| Friday, November 27, 2015 6:01 PM | |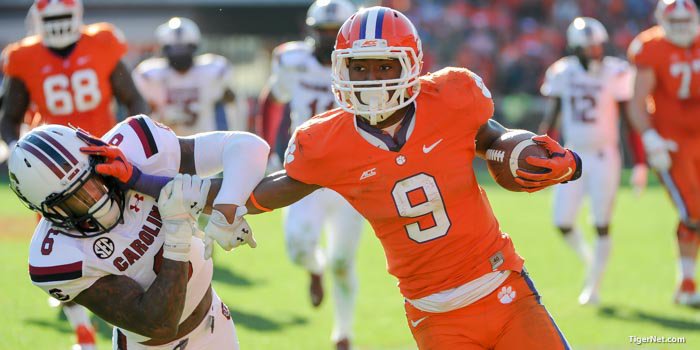 Clemson and South Carolina will take to the gridiron to face off against each other for the 113th time Saturday, and while this game doesn't feature a battle of Top 15 teams as it has in recent years, it does feature the nation's top-ranked team.
Can the undefeated Tigers roll into Columbia and leave 12-0, or will the Gamecocks make this their bowl game and upset Clemson's hopes for a spot in the College Football Playoff.
We'll find out Saturday.
NO. 1 CLEMSON (11-0) AT SOUTH CAROLINA (3-8)
WHEN: SATURDAY, NOVEMBER 28, 2015, NOON
WHERE: Williams Brice Stadium, Columbia, S.C.
TV: ESPN (Dave LaMont, Ray Bentley, Jeannine Edwards)
CLEMSON RADIO NETWORK: (Don Munson, Rodney Williams, Michael Palmer)
Satellite Radio: Sirius 91, XM 190
SERIES HISTORY
Overall Record: Clemson leads 66-42-4
at South Carolina: Clemson Leads 49-32-3
at Clemson: Clemson leads 17-10-1
First Meeting: South Carolina, 12-6, 1896
Last Meeting: Clemson 35-17, 2014
Last USC Win: 31-17 in Columbia, 2013
Last Clemson Win in Columbia: 23-21 in 2007
Streak: South Carolina won 5 of 6
NOTABLE
•This will be meeting number-113 between Clemson and South Carolina and the 107th consecutive year the two schools have met. That is the second longest active streak of consecutive years played in a rivalry in the nation. The only rivalry longer is Minnesota vs. Wisconsin at 108 games. Those two teams also play on November 28.
•Clemson has more wins (66) over South Carolina than any other school and those victories represent 9.4 percent of Clemson's all-time victory total (700). When Clemson won in 2004 it was Clemson's 600th all-time win. Clemson won its 700th game last Saturday against Wake Forest.
•Clemson has a record of 49-32-3 in Columbia over the years, including a 30-20-2 mark in Williams-Brice Stadium. But Clemson has not won in Columbia since 2007 and has not won a day game there since 1999. This year's game starts at noon.
•Clemson has 11 wins and South Carolina has three entering Saturday's game. This is the largest disparity in total victories between the two programs entering the game in the history of the series. The previous largest disparity was in 1999 when Clemson was 5-5 and South Carolina was 0-11 entering the game.
THROW OUT THE RECORD BOOKS?
We always hear the phrase, "You can throw out the record books when these two teams get together." While there have been some upsets in this series, usually the team with the better record comes away with the victory. The team entering the game with the better overall record has a 20-9-1 record in the series since 1981. That computes to 67 percent over a 34-year period. Four times during that era both teams had the same record. However, the norm has been broken in recent years. Seven of the last 10 years the team with the better overall record entering the game has lost. For the history of the series, Clemson has a 41-18-3 record when it enters the contest with the better record, a 68 winning percentage.
Clemson has had the better record in 62 of the 112 previous meetings. The teams have had the same winning percentage entering the game nine times and Clemson has a 6-3 record in those situations. Thus, Clemson is 48-21-3 (.693) against South Carolina over the years when the Tigers enter the game with at least the same record as South Carolina. Clemson has a 66-42-4 advantage in the series overall, so the Gamecocks have a 21-18-1 record in the series when they enter the game with the better record.
WHEN SOUTH CAROLINA HAS THE BALL
The Gamecocks sit outside the Top 100 in total offense….barely. South Carolina sits 101st (out of 128 teams) nationally in terms of total offense at just 358.5 yards per game. That includes rushing (92nd at 152.27 yards per game) and passing (86th at 206.3 yards per game). They also average 21.0 points per game, which is 110th nationally. If you get the feeling that they just aren't very good offensively, you're right.
However, there are playmakers and it starts with the dynamic Pharoh Cooper. Cooper lines up as a receiver on most plays and has caught 62 passes for 887 yards and seven touchdowns. However, the Gamecocks use Cooper all over the field and will likely use him at quarterback Saturday while also getting him touches in the running game. Cooper has 20 rushes for 126 yards and five more scores and is 2-of-4 through the air for 11 yards. Sure, the Gamecocks have Brandon Wilds (120 rushes for 573 yards), tight end Jerrell Adams is dangerous as a receiver (28-421) and Perry Orth is serviceable at quarterback (130-233 for 1710 yards), but Cooper is the main threat. Orth has one more touchdown (9) than interceptions (8) and doesn't scare you.
However, the Tigers can't focus on just stopping Cooper. We've heard all week that the Gamecocks will pull out all the stops in this one – they have nothing to lose – and Clemson didn't look good on the road at Syracuse two weeks ago. Start following Cooper with too many players and someone else can beat you. This is the kind of game where defensive ends Kevin Dodd and Shaq Lawson, linebacker Ben Boulware and safety Jayron Kearse have to play with gap integrity. And Mackensie Alexander? He has to shut down Cooper in what might be the most-anticipated 1-on-1 matchup of the day.
Clemson is fifth nationally in total defense, and they win this matchup.
ADVANTAGE: CLEMSON
WHEN CLEMSON HAS THE BALL
South Carolina is 91st in total defense, and that includes a porous 113th in rushing defense, giving up over five yards per carry and 215 yards per game on the ground. Enter Wayne Gallman, who sat out last week's win over Wake Forest and appears healthy and rested. He now has 1043 yards for the season. Gallman had 191 yards rushing in 27 attempts and scored a touchdown on a five-yard run in last season's Clemson win, and he will be a major factor in Clemson's success – or lack therof – Saturday.
South Carolina has been decent against the pass – they are ranked 41st nationally – and have picked off 12 passes on the season. Considering Deshaun Watson's propensity for interceptions this could be a cause for concern, but the simple truth is that South Carolina hasn't faced an offense or a passing attack like Clemson's. In fact, the only offenses they've faced that would rank inside the Top 40 are Texas A&M (39th) and UNC (19th). The Aggies threw up 544 yards on the Gamecocks, while North Carolina gained 440 yards and had turnovers doom that outcome.
This is another mismatch – as long as the Tigers protect the football.
ADVANTAGE: CLEMSON
SPECIAL TEAMS
The Gamecocks have the dangerous Cooper at punt return and Shon Carson is a decent kick returner, but they haven't had a ton of success in the return game. However, South Carolina has allowed just one return of over 30 yards this season while Clemson has allowed a whopping nine.
Elliott Fry is 19-of-26 on field goals and Sean Kelly is averaging a very decent 43.7 yards per punt. Clemson's Greg Huegel is on a hot streak on field goals (20-of-22 overall) but has missed four extra points, while Andy Teasdall hasn't punted for a high average but has been adept at dropping punts inside the opponent's 20-yard line.
ADVANTAGE: SLIGHT TO SOUTH CAROLINA
WHAT WILL HAPPEN
I'm one of those that believes South Carolina has an advantage in the intangible department – no one is expecting them to win and they truly have nothing to lose and everything to gain with a win. They can run 20 trick plays and no one will criticize the coaches, who likely won't be employed by the school in a week anyway. They can "let it all hang out" and get away with it.
It won't be enough.
This Clemson team went through a rough stretch defensively, but that humbling experience dialed in this group and they were on point for the most part against Wake Forest last week. Offensively, this group has gained over 500 yards of total offense in seven consecutive games and just continues to roll. South Carolina can hang around early, but the Tigers will pull away sooner rather than later. Don't expect a big blowout, however; Dabo Swinney isn't big on running up the score and with an ACC Championship Game date against UNC in a week, once he feels comfortable he'll pull the starters. The only question is when he'll feel comfortable.
FINAL SCORE: CLEMSON 40, SOUTH CAROLINA 17
---
GUEST PREDICTIONS
---
Mickey Plyler
- 6AM-9AM EST on WCCP 105.5FM -
63-17 Clemson
Tony Crumpton - Associate Editor - 45-17 Clemson
Nikki Hood - TigerNet Writer - 38-10 Clemson
Lawton Swann - Clemson Sports Talk / TigerNet Talk - 41-16 Clemson
Pigskin Prophet - 63-17 Clemson
| Game | Actual | David Hood | Mickey Plyler | Tony Crumpton | Nikki Steele | Lawton Swann | Pigskin Prophet |
| --- | --- | --- | --- | --- | --- | --- | --- |
| Wofford | 49-10 CU | 41-13 CU | 41-17 CU | 52-13 CU | 42-17 CU | 47-13 CU | 47-13 CU |
| App St | 41-10 CU | 37-17 CU | 42-17 CU | 41-14 CU | 45-13 CU | 45-17 CU | 42-17 CU |
| Lou | 20-17 CU | 28-20 CU | 34-24 CU | 31-20 CU | 28-17 CU | 35-20 CU | 34-21 CU |
| ND | 24-22 CU | 24-21 CU | 27-24 CU | 28-24 CU | 20-14 CU | 26-17 CU | 23-20 CU |
| GT | 43-24 CU | 30-21 CU | 35-17 CU | 31-17 CU | 38-17 CU | 31-17 CU | 33-21 CU |
| BC | 34-17 CU | 27-3 CU | 31-7 CU | 32-9 CU | 29-0 CU | 31-7 CU | 27-0 CU |
| Miami | 58-0 CU | 33-24 CU | 31-21 CU | 35-21 CU | 28-20 CU | 35-20 CU | 30-24 CU |
| NCSU | 56-41 CU | 30-13 CU | 31-17 CU | 45-17 CU | 35-10 CU | 41-13 CU | 38-17 CU |
| FSU | 23-13 CU | 41-24 CU | 34-24 CU | 38-28 CU | 35-24 CU | 35-20 CU | 37-24 CU |
| SU | 37-27 CU | 45-13 CU | 52-17 CU | 55-20 CU | 52-10 CU | 56-13 CU | 49-13 CU |
| Wake | 33-13 CU | 45-13 CU | 42-14 CU | 55-17 CU | 40-10 CU | 48-14 CU | 52-10 CU |
| Points | - | 15 | 11 | 17 | 17 | 17 | 13 |
* Points: 3 pts for best prediction of the week (tiebreaker is Clemson score), 1pt for picking the correct winner