| | |
| --- | --- |
| Clemson vs. Miami prediction | |
---
| | |
| --- | --- |
| Friday, October 23, 2015 2:18 PM | |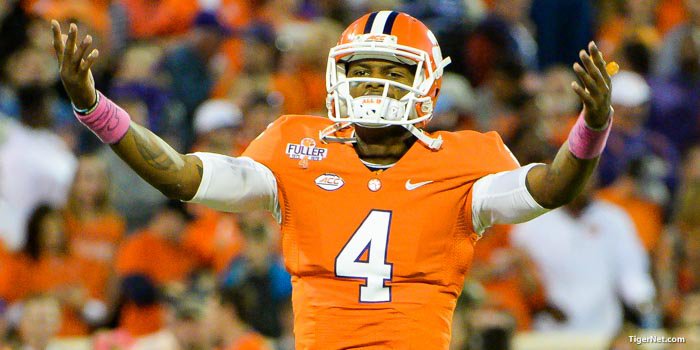 BYOE.
Clemson players were exhorted to bring their own guts (BYOG) for the game against Notre Dame a few weeks ago, and this week head coach Dabo Swinney is telling them to BYOE. Bring Your Own Energy.
Miami's Sun Life Stadium has had more names than championships, and the last time Clemson played there it was called Land Shark Stadium. That was a Clemson win in overtime in 2009, and it's interesting to note that the road team has won each of the last four games between the two teams, and all have been decided by nine points or less and three of those have been decided in overtime.
It could be another barn burner this weekend.
NO. 6 CLEMSON (6-0, 3-0 ACC) AT MIAMI (4-2, 1-1)
WHEN: SATURDAY, OCTOBER 24, 2015, Kickoff at noon
WHERE: Sun Life Stadium (75,540) Miami Gardens, FL
TV: ABC (NATIONAL) (Sean McDonough, Chris Spielman, Todd McShay)
CLEMSON RADIO NETWORK (Don Munson, Tim Bourret, Patrick Sapp)
Satellite Radio: XM 84, Sirius 84
SERIES HISTORY
Overall Record: Miami (FL) leads 6-3
at Miami (FL): Tied 3-3
at Clemson: Miami (FL) leads 2-0
at Neutral site: Miami Leads 1-0
First Meeting: 7-6 at Miami (FL) 1945
Last Meeting: Miami 30-21 at Clemson, 2010
Last Meeting at Miami: Clemson 40-37 (OT)
Streak: Road team won 4 in row, 3 in OT
Of note: When Clemson and Miami played three consecutive overtime times over the time period 2004-09, it was just the second time in FBS history that two times played three straight overtime games in a series. It had happened in the 2004-06 time period between Central Michigan and Eastern Michigan.
WHEN CLEMSON HAS THE BALL
This is the matchup with the most concerns, and it all comes down to turnovers. The Tigers have been careless with the ball through the season's first six games with eight interceptions and four lost fumbles. Overall, the Tigers sit at minus one in turnover margin to rank 82nd nationally. Who ranks first? That would be Miami – the Canes have turned it over just twice this season while taking the ball away 15 times. Miami's defense has recorded 11 interceptions on 183 pass attempts (one every 16.63 attempts), and cornerback Artie Burns is tied for the third-most interceptions in FBS with five through six games, including two last time out vs. Virginia Tech.
However, the Canes are struggling in other phases of the game and are catching the Tigers just when quarterback Deshaun Watson is getting hot. Watson shook off two early interceptions last week and had his second career 400-yard passing game in the win over Boston College. The sophomore from Gainesville, Ga. connected on 27-41 passes for 420 yards and three scores. Watson had 435 yards passing in his first career start last year against North Carolina. He also threw for a Clemson record six touchdowns in that game. Wide receiver Artavis Scott is also beginning to heat up after he had 10 catches for 162 yards and a touchdown last week. Clemson is ranked 52nd nationally in rushing offense, averaging 181.5 yards per game, and leading rusher Wayne Gallman is third in the ACC with his 97.3 yards per game. He averages 5.51 yards per carry and has five touchdowns and will face a Miami defense that is 66th nationally in run defense, giving up 167.33 yards per game on the ground.
Look for the Tigers to use the ground game to set up the pass, but Watson has to avoid the critical turnover. If he does….
ADVANTAGE: CLEMSON
WHEN MIAMI HAS THE BALL
Everything with Miami's offense begins and ends with quarterback Brad Kaaya. Kaaya remained at the top of the ACC in a number of individual categories, including passing yards (1,795), passing yards per game (299.2) and total offense (1,749). He has thrown just four interceptions in his last 421 attempts and has thrown for more than 200 yards in 14 of his 19 career games at Miami and has five career 300-yard performances. The offensive line has struggled to protect Kaaya at times, but he gets the ball out so quick he's only taken seven sacks all season. After missing the entire 2014 campaign with an injury, redshirt senior wide receiver Rashawn Scott has made a strong return to Miami's wide receiver corps and ranks second in the ACC in receiving yards per game heading into the eighth week of the season, averaging 74.3 yards. The redshirt senior has started all six games in 2015 and leads the team in receptions (33), receiving yards (446) and receiving touchdowns (5).
On the ground, Miami is led by Florida products Joe Yearby (699) and Mark Walton (390) who have combined for 1,089 all-purpose yards and 10 touchdowns through the first six games of the season. Of their 1,089 all-purpose yards, Yearby (522) and Walton (229) have combined for 751 of the team's 828 rushing yards.
They key for the Tigers is stopping the run and making the Canes one-dimensional and getting after Kaaya. Kaaya isn't mobile, but with his quick release he doesn't have to be. Can the Tigers shut down the run game and make Kaaya do something he hasn't done all season and make bad decisions? Look for defensive coordinator Brent Venables to play man on Miami's receivers at times and get creative with blitzing the safeties, linebacker Ben Boulware and even Nickel/SAM standout Travis Blanks.
ADVANTAGE: EVEN
SPECIAL TEAMS
Miami's Corn Elder is dangerous as a punt returner and has already returned one for a touchdown this season. Walton and Elder haven't exactly thrived at kickoff return. Miami punter Jason Vogel is one of the nation's best, averaging 45.46 yards per punt, which is good for 13th nationally. Sophomore kicker Michael Badgley isn't bad either – he's hit on 16-of-19 field goal attempts and all 22 of his extra points. Jon Semerene is the kickoff specialist, and he's had touchbacks on 17 of 42 attempts.
Clemson's special teams are getting better, and they got a big lift with the return of Ammon Lakip. Lakip has seven touchbacks in 17 attempts, but appeared to find his groove last week against Boston College. Kicker Greg Huegel is 8-for-10 on field goals, while punter Andy Teasdall continues to get the job done. Artavis Scott and Ray-Ray McCloud have looked close to breaking a kickoff return, but the Tigers are still struggling to get any traction at punt return.
ADVANTAGE: MIAMI
WHAT WILL HAPPEN
Clemson has a nine-game winning streak heading back to last season, and a win at Miami will give Clemson a 10-game winning streak for the first time since the 1983-84 era. Miami looked awful in a loss at Cincinnati earlier this season, looked improve in a loss at Florida St. and looked a lot better in the win over Virginia Tech last weekend. Clemson is more talented, but this one comes down to turnovers. The Tigers can't lose the turnover battle this week and expect to win, especially as well as Kaaya is playing right now. Short fields will be a disaster. Watson seems to be heating up at the right time, however, and Miami's defense has had critical breakdowns at inopportune times. The Canes blink first, but it's close.
FINAL SCORE: CLEMSON 33, MIAMI 24
---
GUEST PREDICTIONS
---
Mickey Plyler
- 6AM-9AM EST on WCCP 105.5FM -
31-21 Clemson
Tony Crumpton - Associate Editor - 35-21 Clemson
Nikki Steele - Staff writer - 28-20 Clemson
Lawton Swann - Clemson Sports Talk / TigerNet Talk - 35-20 Clemson
Pigskin Prophet - 30-24 Clemson
| Game | Actual | David Hood | Mickey Plyler | Tony Crumpton | Nikki Steele | Lawton Swann | Pigskin Prophet |
| --- | --- | --- | --- | --- | --- | --- | --- |
| Wofford | 49-10 CU | 41-13 CU | 41-17 CU | 52-13 CU | 42-17 CU | 47-13 CU | 47-13 CU |
| App St | 41-10 CU | 37-17 CU | 42-17 CU | 41-14 CU | 45-13 CU | 45-17 CU | 42-17 CU |
| Lou | 20-17 CU | 28-20 CU | 34-24 CU | 31-20 CU | 28-17 CU | 35-20 CU | 34-21 CU |
| ND | 24-22 CU | 24-21 CU | 27-24 CU | 28-24 CU | 20-14 CU | 26-17 CU | 23-20 CU |
| GT | 43-24 CU | 30-21 CU | 35-17 CU | 31-17 CU | 38-17 CU | 31-17 CU | 33-21 CU |
| BC | 34-17 CU | 27-3 CU | 31-7 CU | 32-9 CU | 29-0 CU | 31-7 CU | 27-0 CU |
| Points | - | 8 | 6 | 10 | 10 | 8 | 8 |
* Points: 3 pts for best prediction of the week (tiebreaker is Clemson score), 1pt for picking the correct winner