| | |
| --- | --- |
| Clemson players react to Swinney rant, say Coach has their back | |
---
| | |
| --- | --- |
| Monday, October 12, 2015 1:47 PM | |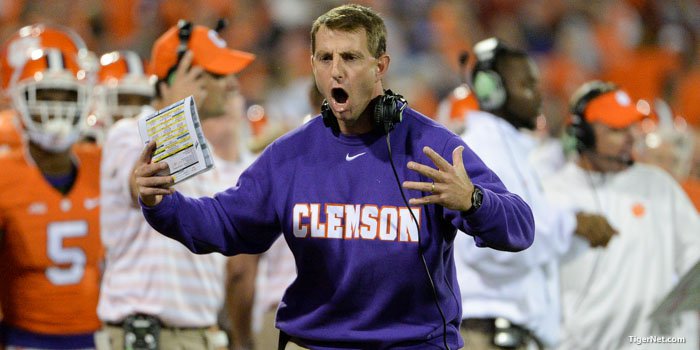 CLEMSON – National reactions to Dabo Swinney

Dabo Swinney
Head Coach
View Full Profile 's postgame rant about the word "Clemsoning" have been mixed, but his players appreciate that their head coach has their back.
A national reporter asked Swinney about the word following Saturday's win over Georgia Tech, and Swinney spent over three minutes defending the culture of his program and throwing out facts to illustrate how this Clemson doesn't lose in spectacular fashion anymore.
His players appreciated his efforts, and center Jay Guillermo

Jay Guillermo
RS Jr. Center
#57 6-3, 324
Maryville, TN
View Full Profile told the media Monday that he loves playing for a coach that fights for his players.
"It means a lot. He's the ultimate players' coach. He does everything," Guillermo said. "Even with his postgame speech after Notre Dame, he's not kidding. He fights for us. He gets us everything. The biggest thing we can do for him is win a football game. He's a guy that we enjoy playing for. He's a guy that we don't mind going to battle for because he's a great leader and a great coach. He's someone who really cares about us, and that's pretty evident."
However, Guillermo did see the humor in his coach's fiery diatribe.
"I couldn't stop laughing when I saw it because not a lot of people see that side of Coach Swinney," he said. "We'll see it every now and then on the practice field, and he'll start ranting, so it's kind of funny when we see people, and they're like, 'I didn't know he could get so angry.' It's laughable to us because we see that side of him, not all of the time, but every once in a while."
Tight end Jordan Leggett

Jordan Leggett
Jr. Tight End
#16 6-5, 252
Navarre, FL
View Full Profile said he thought the reporter's question triggered something in his head coach.
"I thought it was pretty awesome. I didn't hear about it until I got home, and I just plugged it in in my car and listened to it," Leggett said. "It was pretty sweet. I feel like that word just triggered something in his head. None of us like the word and he just heard it, and he just spazzed. Our coach has our back, and he doesn't take anything from anybody. Everybody liked it and was talking about it. We were laughing, but we also said we had never seen Coach Swinney like that before. It was pretty sweet."
Leggett said he wishes the players would have been in the room – they would have given their head coach a round of applause.
"I never understood the word because of how we've played the last couple of years. I never understood why it's around and why they used it so often," Leggett said. "I've never listened to it. It's just motivation for me, really. I wish we (the players) would have been there – we would have given him a round of applause. I feel sorry for the dude that asked him the question."
The first thing running back Zac Brooks

Zac Brooks
Running Back (2012 - 2015)
#24 6-0, 200
Jonesboro, AR
View Full Profile did was show it to his dad.
"I loved it. It was great. I had to show my dad. It was awesome because it's true what he says," Brooks said. "It's awesome because us as players, we have to remain humble and we have to remain educated and disciplined to act like men and not like a child because there's a lot of stuff that guys on this team want to say or do on social media to get the respect that we think we should have. By us not having a voice, our voice is our performance on the field and Coach Swinney. It's great to have somebody speak up for you."
Wide receiver Artavis Scott

Artavis Scott
So. Wide Receiver
#3 5-10, 191
Oldsmar, FL
View Full Profile said he's glad his coach stood up to the disrespect the Tigers receive nationally.
"I think that is the best thing he's done. People are always disrespecting us each week thinking we're this or that," Scott said. "I think that was great. I've watched it like five times already. I like the way that he went out there and told them how he felt. I don't feel like what people say about us is true. They're dwelling on the past. It's the future. We're going to take care of our business and do what we have to do. I'm glad he did it.
"I do feel disrespected from it because it's still going on the past, and plus we're here on the team. It's disrespecting to us just because they're talking about our team and thinking we can't do this or can't do that. It's whatever. We take it as motivation. It's fun. We look at it and laugh at it, but it is disrespectful."
Scott texted Swinney Sunday night to show his appreciation.
"I texted him last night. It just gets me hype the way he's just with us and has our back through everything. It's great to know that from a coaching standpoint," Scott said. "He just does what he does. Even with dancing part, you don't see coaches do that. They go in the locker room, and they're happy, but you don't see a coach go out there and dance with their team like that. It's just special. I don't think a team has it like us. People needed to hear that, and I think that him standing up for us was great just knowing that our coach has our back. It was great to watch him just go back at them."
Scott said it makes him want to play even harder, but he doesn't expect the disrespect to abate. In fact, he thinks Clemson will have to fight even harder against the perception.
"Definitely, I was hyped about it every time I watched it," he said. "But I think it's going to make them come at us even more. Like he said, it's like they want to see us lose. I don't know why. We didn't do anything. We just do things the right way, and I don't think people think like that. We're taking it one step at a time."