| | |
| --- | --- |
| Clemson head coach Dabo Swinney excited about start of spring practice | |
---
| | |
| --- | --- |
| Tuesday, March 6, 2012, 12:04 PM | |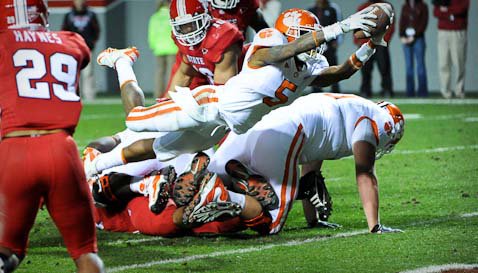 CLEMSON – Clemson head coach Dabo Swinney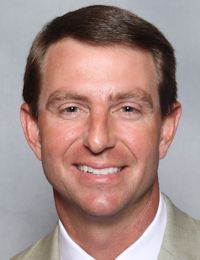 Dabo Swinney
Head Coach
View Full Profile almost sounded like a fan when talking to the media Tuesday morning about the Tigers' upcoming spring practice.
The Tigers open spring practice on Wednesday, with the spring culminating in the spring game in Death Valley at 4 p.m. on April 14th.
I'm one of those guys that loves spring ball," Swinney said to the media. "There's no pressure of having to play in a game. You go into spring with objectives, but until you get out there and work with them you don't know about how far you get them going in 15 days."
The Tigers are coming off an ACC Championship season, and Swinney said he hopes that having even more players on hand this spring will lead to even better things in 2012.
"Last year we had 31 guys that didn't participate in spring practice because we had 27 signees and waiting on some other guys that were hurt," Swinney said. "That's a lot of guys. A little over a third of the team. This year, we have 12 guys that will get here in July and two that are hurt in Rashard Hall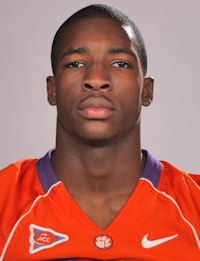 Rashard Hall
Gr. Safety
#31 6-1, 210
St. Augustine, FL
View Full Profile and Tony Steward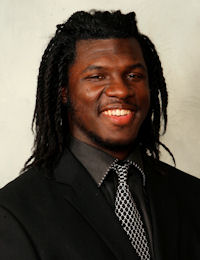 Tony Steward
Fr. Linebacker
#7 6-1, 245
Hastings, FL
View Full Profile . The great majority of our team will get to go through our offseason program. And that's good for our guys up front because we have a lot of growing up to do."
The Tigers have no dearth of talent or experience at the skill positions on offense, but do have some key spots to fill at other positions.
"I think we've got good skill - quarterback, running back, wide receivers and defensive backs," he said. "We lost only one of our defensive backs. I love our linebackers because we get all of those guys back. We've got a lot of growing up to do on the offensive and defensive lines - lot of growing up to do certainly."
The Tigers also have change to talk about on both sides of the ball – running more of the pistol on offense and the addition of new defensive coordinator Brent Venables on the defensive side.
"We are going to work on the things we did well and try to improve the things we didn't do well," Swinney said. "Everybody says we are going to the pistol because we went out to Nevada - but we were in the pistol last spring and last fall. We just wanted to learn more about it. We are studying protections - always look to improve there- like in play-action."
"On defense, the biggest thing is try to get everybody on the same page and make sure we develop our identity. We need to emphasize our fundamentals and make sure we're simple enough and everyone knows what they're doing. We have to find our best 11 and build depth. We have some question marks up front. Who is our best four? Is it moving a guy from tackle to end or from end to tackle? What's our situation? We have to really assess that. There are just a lot of unknowns. We have one senior who has a lot of experience and the rest are sophomores. That's what I'm looking for. We want to be a defense that sets the tempo."
The Tigers return just one full-time starter to the offensive line in center Dalton Freeman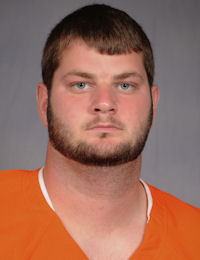 Dalton Freeman
RS Jr. Offensive Line
#55 6-5, 285
Pelion, SC
View Full Profile , but Dorman's Brandon Thomas

Brandon Thomas
RS So. Offensive Line
#63 6-3, 300
Spartanburg, SC
View Full Profile saw a lot of playing time as the season progressed and Swinney said both will be counted on to help anchor what will most likely be a young group.
"Dalton Freeman is an all-conference type of player coming back. Brandon Thomas has been an MVP for us in this offseason program," Swinney said. "It is like the light bulb has come on for him, and that is something that we needed. He's really stepped up in a role that he wasn't in last year. Brandon brings a lot flexibility to our line because he can play tackle or guard. We've got to find the best five guys. If another guard, maybe a backup center, can move into the top five, then Brandon can move to tackle. But he'll be one of them.
"I'm really excited about [Tyler] Shatley. I think it's a great move for our team. I think it's a great move for him. He looks totally different over there on that side of the ball. He goes from being an okay athlete to a great athlete. The big question mark is who are our best tackles? Giff Timothy has played there a little bit and had a really good offseason. Shaq Anthony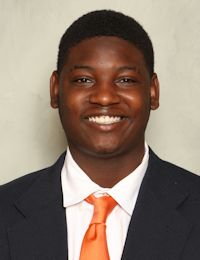 Shaq Anthony
RS Fr. Offensive Line
#76 6-4, 275
Williamston, SC
View Full Profile has done really well, and we are excited about Joe Gore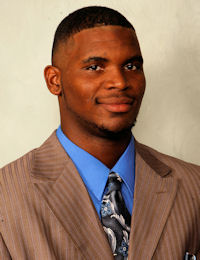 Joe Gore
RS Fr. Defensive End
#73 6-6, 260
Lake Waccamaw, NC
View Full Profile and Isaiah Battle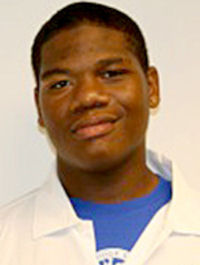 Isaiah Battle
Fr. Offensive Line
# 6-7, 265
St. George, VA
View Full Profile . Now if a Ryan Norton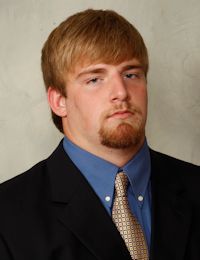 Ryan Norton
RS Fr. Offensive Line
#58 6-3, 265
Mauldin, SC
View Full Profile or someone like that steps up, we can move some guys around."
Swinney said the Tigers have another potential tight end star in senior Brandon Ford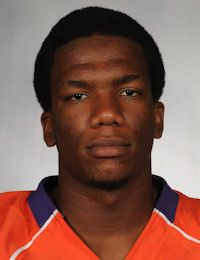 Brandon Ford
RS Jr. Tight End
#80 6-4, 235
Wando, SC
View Full Profile .
"We're really excited about Brandon," Swinney said. "He made some big plays for us this past season. Brandon was a tweener who has developed into the position. He's now a 240-pound guy. He's got great, great ball skills and has made a ton of progress in the last two years into developing into a tight end. I really think this is his year. If he does what I think he's going to do, he can be another one who will have a chance to play with Michael Palmer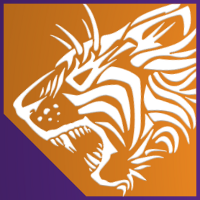 Michael Palmer
Tight End
# 6-4, 228
Lilburn, GA
View Full Profile and Dwayne Allen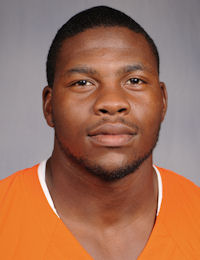 Dwayne Allen
RS Jr. Tight End
#83 6-3, 255
Fayetteville, NC
View Full Profile . I think he's got that in him if he'll just take it to another level this spring and summer. He can be a very good player."
Freshman running back Mike Bellamy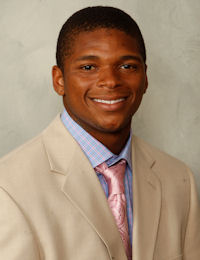 Mike Bellamy
Fr. Running Back
#5 5-10, 175
Nocatee, FL
View Full Profile 's status has been in question since he was sent home from the ACC Championship Game and wasn't allowed to participate in bowl practices, but Swinney said the Florida native is "hanging in there."
"He's been doing okay, he's hanging in there," Swinney said. "He's one of those guys you just kind of pull for. So far he's doing what we've asked him to do. He's not perfect. I don't think any of us are perfect. But he's trying to improve himself on and off the field. And I'm excited about that. That's all you can ask for. He's had a good off-season. He's picking up weight, he's getting stronger. It's really the first time ever he's been through a program. I'm excited about where he could be if he'll stay on track. Hopefully he'll come in here around 186 pounds by the time August rolls around. That'll be up from 160-something when he got here. This is a big spring for him. We've challenged him in a lot of areas. So far, so good."
Another player whose status has been in question is linebacker Tony Steward, who tore his ACL last fall. Clemson appealed to the NCAA for a medical redshirt, but that was denied.
"They denied it. That's really a shame," Swinney said. "That's just the way it is. He played in more games than were allowed, but he didn't play many snaps. That's the rule, though. They feel like he's going to possibly be released by May and be able to join the guys full speed come May. That would be really good. He didn't really get released until July last year and he was limited in camp. Hindsight is 20/20, but based on what we saw, we felt he'd be ready the second half of the season. It was just a freaky deal on punt team practice. He's got a great attitude and a tremendous work ethic. He's going to be a great, great player. We'll see where he is this summer."
Steward is expected to be a part of a linebacker group that has to play better than it did in 2011.
"We've got some talent," Swinney said. "Brent is excited about working with them. That group has gotten better and better. Tig Willard was our solid rock guy from the season last year. We felt he grew the most last year. And he's got another year. I think he'll be a definite factor. Corico [Hawkins] is a leader for us who will give you everything he's got. He can win for us, no doubt. Quandon [Christian] is the guy who needs to come on this spring. I just felt like he did not have the kind of season as a sophomore that I anticipated. He's very, very talented. It's just a matter of him putting it all together. He's a guy who can be a big factor for us. That's where it starts with us.
"After that it's all the young guys. Stephone Anthony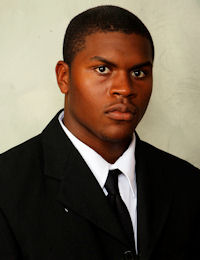 Stephone Anthony
Fr. Linebacker
#12 6-3, 235
Polkton, NC
View Full Profile is an All-American in the making. He's everything you'd want in a guy, ability, work ethic, focus and maturity. He's got all the great measurables. B.J. Goodson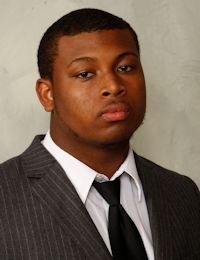 B.J. Goodson
RS Fr. Linebacker
#44 6-1, 235
Timmonsville, SC
View Full Profile is coming off a red-shirt. Justin Parker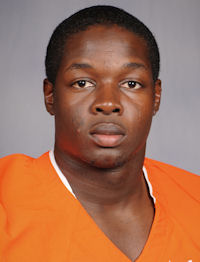 Justin Parker
So. Linebacker
#8 6-1, 225
Port Royal, SC
View Full Profile , it's time for him to show up and be who he is. Tony can't go through spring but we know what he's capable of. It's just a matter of time before he becomes a great player. That's where it starts for us. Lateek Townsend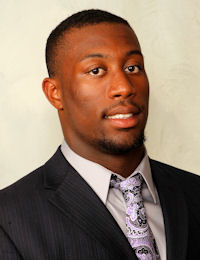 Lateek Townsend
Fr. Linebacker
#20 6-2, 215
Bennettsville, SC
View Full Profile is another guy everyone is excited about. He brings a ton of energy to the table. He got enough experience last year, just enough to be dangerous. We have a good group to work with. I'm excited about watching Brent coach them up."

Tags:
B.J. Goodson
,
Brandon Ford
,
Brandon Thomas
,
Dabo Swinney
,
Dalton Freeman
,
Dwayne Allen
,
Isaiah Battle
,
Joe Gore
,
Justin Parker
,
Lateek Townsend
,
Michael Palmer
,
Mike Bellamy
,
Rashard Hall
,
Ryan Norton
,
Shaq Anthony
,
Stephone Anthony
,
Tony Steward