| | |
| --- | --- |
| Clemson getting ready to blow up with rings? | |
---
| | |
| --- | --- |
| Tuesday, December 23, 2014 7:01 AM | |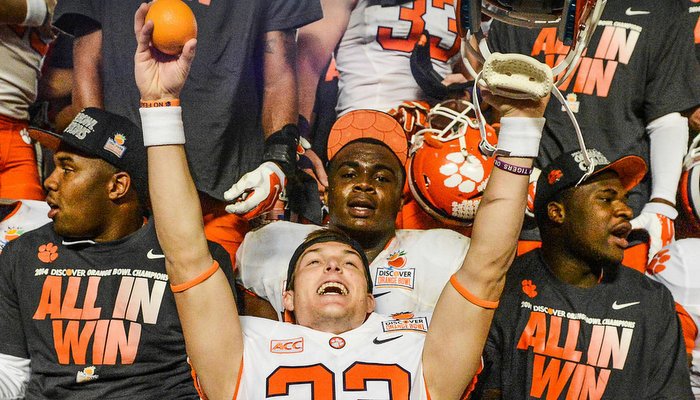 Clemson is getting ready to blow up with rings.
That message came across in a text a week ago, a message from the father of one of the members of Clemson's 2015 recruiting class. Nine words in total, but they pack a punch.
What does it mean, though?
It means there is a confidence and an excitement surrounding the program right now, and a lot of it started with the win over Ohio St. in the Orange Bowl last season. Why all the excitement, and how is what is happening now different from the past few off-seasons when the Tigers were playing in bowls with more prestige and coming off seasons with more wins?
There are several factors, and a lot of it begins with the win over South Carolina at the end of November. Clemson's 35-17 victory made all of Clemson nation feel a little better, and for the first time in five years will make for a more settled off-season. The fact that it was a complete victory – the Tigers won in all three phases and dominated physically – means no one can blame the officials or the weather or injuries. Clemson was the better team, looked better coached and it showed in the results on the field.
One of the biggest reasons for all of the optimism – and the hopes that the Tigers might indeed be playing for rings over the next few seasons – is in the form of quarterback Deshaun Watson

Deshaun Watson
Fr. Quarterback
#4 6-3, 204
Gainesville, GA
View Full Profile . It didn't take long for anyone and everyone to notice just how special Watson is – and can be – and he proved it when his mere presence on the field settled down the Tigers' offense in the win over the Gamecocks. There are several plays that stand out to me – Watson's pass to Charone Peake

Charone Peake
RS Jr. Wide Receiver
#19 6-3, 204
Moore, SC
View Full Profile in the opener at Georgia, the third down pass to Adam Humphries

Adam Humphries
Sr. Wide Receiver
#13 5-11, 193
Spartanburg, SC
View Full Profile at Florida St. when he scrambled out of the pocket and the incredible throw to Mike Williams

Mike Williams
So. Wide Receiver
#7 6-5, 208
Vance, SC
View Full Profile on the sideline against N.C. State.
But the play that will forever stick out in my mind – and most fans won't remember because it wasn't a scoring play – happened early in the game against South Carolina. The Gamecocks had just scored the first touchdown of the game and led 7-0. A two-yard run and an incomplete pass saw the Tigers facing a 3rd-and-8 at their own 22, and the crowd was already growing restless. Watson hung in the pocket, and with the rush coming from both sides fired a missile to Williams for 25 yards and a first down. For whatever reason, that one play caused the entire offense to exhale and there was confidence on the Clemson sideline. One play later, Artavis Scott

Artavis Scott
Fr. Wide Receiver
#3 5-11, 190
Oldsmar, FL
View Full Profile took a short flip pass 53 yards for the tying score and the Tigers never trailed again.
If Watson is healthy heading into next season, he will most certainly be one of the top five players in college football and he has the poise to take this offense – with playmakers all over the field – into uncharted territory. And there are indeed playmakers all over the field – Wayne Gallman

Wayne Gallman
RS Fr. Running Back
#9 6-1, 209
Loganville, GA
View Full Profile , Tyshon Dye

Tyshon Dye
RS Fr. Running Back
#23 5-11, 214
Elberton, GA
View Full Profile , Mike Williams, Charone Peake, Artavis Scott and Adam Choice

Adam Choice
Fr. Running Back
#26 5-10, 211
Thomasville, GA
View Full Profile . Those names don't take into account that Zac Brooks

Zac Brooks
Jr. Running Back
#24 6-1, 199
Jonesboro, AR
View Full Profile should be back from injury, Germone Hopper

Germone Hopper
RS So. Wide Receiver
#5 6-0, 175
Charlotte, NC
View Full Profile has another off-season to iron out his drop issues and Jordan Leggett

Jordan Leggett
So. Tight End
#16 6-5, 251
Navarre, FL
View Full Profile can take the time to figure out his place in the offense.
Add in a bevy of talented recruits and a rebuilt offensive line, and Clemson's offense has the potential to be one of the best in the country. Playmakers like Ray Ray McCloud and Deon Cain likely won't redshirt, tight end Milan Richard

Milan Richard
Fr. Tight End
#80 6-3, 243
Savannah, GA
View Full Profile has had a year to get bigger and faster and those names are just the tip of the iceberg. Add in a rebuilding offensive line and Watson should have better protection with more playmakers – scary if you're the opposing defense.
Defensively, the Tigers lose several players who are the heart and soul of the nation's top-ranked defense. But help is not only on the way, it's already here and has been playing. Ben Boulware

Ben Boulware
So. Outside Linebacker
#10 5-11, 235
Anderson, SC
View Full Profile , Kellen Jones

Kellen Jones
RS Jr. Linebacker
#52 6-1, 233
Houston, TX
View Full Profile , B.J. Goodson

B.J. Goodson
RS Jr. Linebacker
#44 6-1, 240
Lamar, SC
View Full Profile and Dorian O'Daniel all played significant snaps at linebacker this season and will ensure there isn't much of a dropoff, and Shaq Lawson

Shaq Lawson
So. Defensive End
#90 6-3, 269
Central, SC
View Full Profile has the potential to take over as a dominant defensive end. In the interior of the line, players like Scott Pagano

Scott Pagano
RS Fr. Defensive Tackle
#56 6-4, 292
Honolulu, HI
View Full Profile , D.J. Reader
D.J. Reader
Jr. Defensive Tackle
#48 6-2, 322
Greensboro, NC
View Full Profile and Carlos Watkins

Carlos Watkins
RS So. Defensive Tackle
#94 6-3, 294
Mooresboro, NC
View Full Profile are ready to make their mark. The secondary returns MacKensie Alexander

MacKensie Alexander
RS Fr. Cornerback
#2 5-11, 190
Immokalee, FL
View Full Profile , Jayron Kearse

Jayron Kearse
So. Safety
#20 6-4, 215
Fort Myers, FL
View Full Profile , Korrin Wiggins

Korrin Wiggins
So. Defensive Back
#12 5-11, 190
Durham, NC
View Full Profile and adds back Travis Blanks

Travis Blanks
Jr. Safety
#11 6-0, 210
Tallahassee, FL
View Full Profile . Talent – experienced talent – will be all over the field.
Yes, the Tigers will be loaded. There is a great recruiting class coming in and has players that will contribute next season. Deshaun Watson is the real deal. The Tigers defeated their arch-rival and looked poised to maybe make a run of their own in the series – South Carolina doesn't look like it has the talent to compete on a national level anytime soon – and the general feeling around the program is that the Tigers are getting ready to compete with Florida St. for bragging rights in the ACC.
Blow up with rings? That remains to be seen. But the future is bright, and if you're a Clemson fan there is no better time to be a Tiger.

Tags:
Adam Humphries
,
Charone Peake
,
B.J. Goodson
,
Travis Blanks
,
Zac Brooks
,
Germone Hopper
,
Carlos Watkins
,
Shaq Lawson
,
D.J. Reader
,
Kellen Jones
,
Mike Williams
,
Tyshon Dye
,
Wayne Gallman
,
Ben Boulware
,
Jordan Leggett
,
Mackensie Alexander
,
Jayron Kearse
,
Korrin Wiggins
,
Scott Pagano
,
Deshaun Watson
,
Milan Richard
,
Artavis Scott
,
Adam Choice