| | |
| --- | --- |
| Clemson family helps make Grayson's big night a special one | |
---
| | |
| --- | --- |
| Thursday, November 7, 2013 11:10 PM | |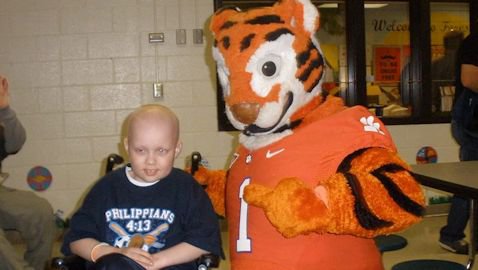 EASLEY – As the familiar strains of Tiger Rag echoed through the cafeteria of Forest Acres Elementary School Thursday evening, Stephanie Owens leaned over and placed a kiss on the cheek of her eight-year old son Grayson, a perfect moment in time for a family that hasn't had a lot of perfect moments recently.
Grayson's electric smile lit up the room more than once Thursday at a fundraiser to help the family with a portion of the cost of Grayson's medical bills as the youngster that might be Clemson's biggest fan battles brain cancer.
In case you missed Grayson's story, here is part of his story that was posted on his Facebook page: In October of 2012 he was diagnosed with a malignant brain tumor in the posterior area of his brain. Surgery was quickly scheduled to remove the tumor, and treatment began in hopes of eliminating the cancer. Due to the location of the tumor, he has battled to overcome posterior fossa syndrome. This is a postoperative syndrome which involves mutism or speech disturbances, dysphagia, decreased motor movement, and emotional lability.
Grayson has battled endless hospital visits, needles, and chemotherapy treatments. The joy of his childhood has been stripped from him over the last year...and then came the words no parent ever wants to hear. In August of this year, Grayson's cancer returned. This time the cancer is in his brain stem and in the top lining of his brain.
Grayson has endured numerous hospital stays, surgery, chemotherapy treatments, and there is much more of all of these to come. Grayson is a HUGE Clemson fan. He even served as honorary captain at one of their recent scrimmages, and everyone in the Clemson family has been so wonderful and generous to him.
Grayson was at Clemson's football practice Wednesday evening, and team "broke it down" (or ended practice with the All In cheer) over Grayson, he received a signed football from Clemson head coach Dabo Swinney

Dabo Swinney
Head Coach
View Full Profile and his family was able to eat supper with the team in the PAW, Clemson's football dining facility.
His mother said this of the experience: I just have to say... I've never been more proud to be a tiger girl! These guys and their wonderful coach have made Grayson feel so special every time they see him. They've once again touched my heart and brought the waterworks as they surrounded him and "broke it down" on Grayson! I love these guys and the fact that they take time from their busy schedules to make him smile just makes me love this team even more!! Dabo is one of the absolute nicest sincere men I have ever met. He knows for sure where all strength comes from and that's our good Lord above!
Tajh Boyd

Tajh Boyd
RS Sr. Quarterback
#10 6-1, 225
Hampton, VA
View Full Profile is one very nice guy! He made it a point to talk to our family numerous times tonight.
We had a great time and they made us feel like a true part of the Tiger family! Go Tigers!!!!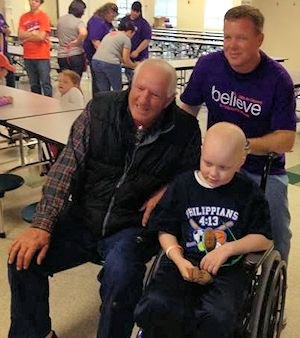 The fundraiser was used to help take some of the financial burden off of Grayson's family, and the Clemson family showed up in full force Thursday evening. Former head coach
Danny Ford

Danny Ford
Former Head Coach
View Full Profile
was one of the first visitors, and he gave Grayson a replica of Howard's Rock that he called Grayson's Rock; the Tiger showed up for pictures, Tiger cheerleaders made an appearance; and former Clemson players Tye Hill, Airese Currie and Reggie Merriweather showed up to sign autographs. Even Clemson football SID Tim Bourret showed up to help.
Grayson's situation was first brought to Clemson's attention by Clemson player Patrick DeStefano

Patrick DeStefano
RS Fr. Offensive Line
#71 6-5, 275
Spartanburg, SC
View Full Profile , who has since seen his Clemson football career end due to injury.
"I was actually hooked up with Grayson in December of last year, in between the South Carolina game and the bowl game," DeStefano told TigerNet. "Coach Jeff Davis approached me with a community service project, and it turned out that I went to see Grayson when he was in recovery from his first operation. I was just so moved by the strength and outward determination that a small child could show. It really hit me deep, and I kept going back and going back. Once the season started, I tried to branch out and help with the football team because I know how much he loves Clemson football."
Merriweather, who played football for Clemson from 2004-2006, said Grayson's situation hit home with him.
"It's always good to come back and give to a good cause and share with Grayson's family," Merriweather said. "If you know of anybody that has been ill or told they won't make it, it hits home with you. My dad was diagnosed with pancreatic cancer a few years ago, and by the Grace of God he made it out. When people unite for a good cause, good things happen. We are believing in God for a miracle with Grayson."
Tye Hill said he was more than happy to be a part of the fundraiser.
"I have a son and a daughter, and you never want to see a kid in a situation like this," Hill said. "He is fighting, and anything you can do to help, you do it."
Currie echoed those sentiments.
"Scott Kelly reached out to me, and gave me the scoop on Grayson and I knew I wanted to help," Currie said. "At the end of the day, it's about more than football. It's about relationships and being able to give back, and what better way to give back?"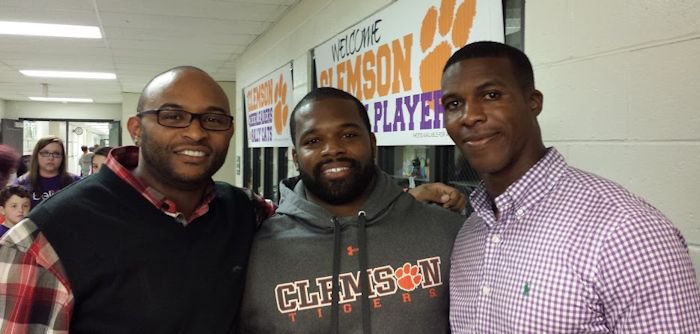 Over $15,000 was raised Thursday, but obviously that doesn't even begin to make a dent in this family's medical bills. To contribute and help the family, donations can be made to any TD Bank in the name of "Gifts for Grayson." To follow Grayson's journey on Facebook, follow this link…https://www.facebook.com/groups/graysonowenslovepage/
Video credit: Alison Grindstaff