| | |
| --- | --- |
| Chad Morris vs. Jeremy Pruitt: The Rematch | |
---
| | |
| --- | --- |
| Monday, August 25, 2014 2:29 PM | |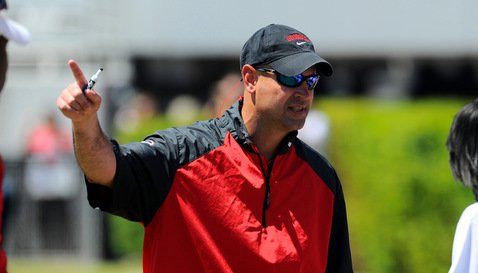 CLEMSON – When Chad Morris

Chad Morris
Offensive Coordinator / QBs
View Full Profile looks across the field at Sanford Stadium Saturday evening he will see a familiar face calling Georiga's defense, only wearing a different shade of red.
Clemson's offensive coordinator is very familiar with Georgia first year defensive coordinator Jeremy Pruitt, whose defense stymied the Tiger offense in 2013 when he was in the same position at Florida State.
Despite Morris' and Pruitt's familiarity with each other, there are always unknowns heading into the first game of any season. However, Morris told the media Monday that that he doesn't expect Pruitt to vary scheme-wise much from what he did a year ago with the Seminoles.
"That's the hardest part of the first game is that there are so many unknowns on their part and on our part," Morris said Monday morning at his pre-Georgia press conference in the WestZone. "They are asking themselves some of the same questions. They are going to be who they are and we're going to be who we are. Jeremy has shown to really like to pressure and pressured all year long last year at Florida St. I don't think they really cared who they played. They were going to do what he does. I think coming into this game, I can't see that being an issue.
"It's a huge game, but there are a lot of games ahead. As a coach there's a plan in place on how you develop and how you install your system to get it in by certain times of the year. You have a calendar for it. With him and a new quarterback - I expect him to bring pressure and press us on the outside. That's what we're expecting and it's not going to be anything that's going to be revolutionary that we haven't seen before."
Morris even took that assumption a step further, saying that he and the offense have watched film of both Florida St. and Georgia to prepare for the opener.
"We've been watching both, looking at personnel from last year," Morris said. "Knowing Coach Pruitt and where he's been to watch Florida St. You're back and forth and have been for about the last month, trying to find out who's playing where and some of their personnel groupings and some of the stuff they did. More so Florida St."
Morris said that he can't worry too much about Pruitt – he has to control the Clemson portion of the game.
"The one thing we can control are the Clemson Tigers," he said. "We have a pretty good idea of how they're going to adjust and line up, but you've got to go execute."
The Tigers don't return a lot of experience on the offensive side of the ball, but Morris said he was excited to see what his young guys can do on Saturday.
"We know what Sammy has done for us and Martavis and all of those guys and Tajh," he said. "Going back to our running back corps - I'm really excited about those guys. I'm excited about our wide receiver group - we've got some young kids. To be able to put them into some important roles and matchup and that's our job as coaches. I'm excited about them."
On Charone Peake

Charone Peake
RS Jr. Wide Receiver
#19 6-3, 204
Moore, SC
View Full Profile
"I think Charone had a good week last week. His issue is getting him back into playing shape. He hasn't had any issues at all off the knee. It's been more so just getting him in shape. Last week was hot, so we had a chance to test him pretty good. He's going to play and hopefully play quite back. We're excited. When he's out there and he's fresh, he's a pretty special."
On left guard
"Out of everyone that we had up front during fall camp, Reid Webster was probably the biggest surprise. I don't want to use the word surprise in a bad way. This is kind of what we've been waiting on. He had a really good fall camp. Reid is going to be able to play multiple positions to help us out with the guys that we've got. Eric Mac Lain will be in at left guard at times as well."
On the depth at tackle
"It's always a concern. We've got some guys that we're able to move around and cut and paste in some areas. Obviously, we're looking at Isaiah Battle

Isaiah Battle
Jr. Offensive Tackle
#79 6-7, 285
Brooklyn, NY
View Full Profile being our left tackle and Joe Gore

Joe Gore
RS Jr. Offensive Tackle
#73 6-5, 283
Lake Waccamaw, NC
View Full Profile being the right tackle. If we get into a situation that we need to do some moving around, we'll do that."
On the tight ends, Stanton Seckinger

Stanton Seckinger
RS Jr. Tight End
#81 6-4, 241
Isle of Palms, SC
View Full Profile recovery
"Jordan has had a good camp. He picked up where he left off in the spring. I thought he had a really good spring. I thought he had done everything this fall to start separating himself. We're going to need all of those guys there. Sam Cooper

Sam Cooper
RS Sr. Tight End
#86 6-6, 250
Brentwood, TN
View Full Profile had a good camp, as well. We're really hoping that Jordan will have a big year for us. He needs to.
"Stanton got back on the field last week. He looked good. We'll see how he is as the week progresses."
On the running back rotation
"Those guys are going to play. D.J. Howard had a good fall camp. Being a senior, he earned that right. You hate that we lost Zac Brooks. He was such a threat out of the backfield as well. C.J. Davidson

C.J. Davidson
RS Jr. Running Back
#32 5-10, 203
Clemson, SC
View Full Profile has had a really good camp. Wayne Gallman

Wayne Gallman
RS Fr. Running Back
#9 6-1, 209
Loganville, GA
View Full Profile has had a good camp. You're going to see those guys playing. Adam Choice

Adam Choice
Fr. Running Back
#26 5-10, 211
Thomasville, GA
View Full Profile , a young man that we're really high on. Just a freshman and he's got a great future ahead of him."
On redshirts
"It's too early to say that right now. I wouldn't want to say that right now. We've got an idea, but we also had an idea on Adam Choice. Some things, you just can't put that into, 'hey this is what we're going to do,' until you get into it. An injury may keep a guy from redshirting - similar to Adam."
On Adam Choice
"He's a humble young man. Always willing to learn. Comes to work. Doesn't say much. He's very attentive in his meetings. He's a perfectionist when it comes to that. His ability to make plays on the field. He's got a low center of gravity, really runs hard. He runs over the top of his pads. This is a kid that played quarterback for his team. Very explosive and quick. Extremely quick."
On Tyrone Crowder

Tyrone Crowder
RS Fr. Offensive Guard
#55 6-2, 322
Marston, NC
View Full Profile
"He's getting there. He was up and down in fall camp. He's really made huge strides. He's a young man that's going to wind up playing this year - at what point, I don't know. He'll be ready to go Saturday night, if we need him without a doubt. He's getting there. I'm excited about the progress of Tyrone."
On Spencer Region

Spencer Region
RS Jr. Offensive Guard
#74 6-4, 333
Cullman, AL
View Full Profile
"He's going to travel. We'll see [about his playing time]. I know what we've got right now. I know he's worked extremely hard on slimming down and getting into shape. He has gone through camp and worked extremely hard, so we'll see. At this point, it's too early to say on that."

Tags:
Sam Cooper
,
Joe Gore
,
Charone Peake
,
Stanton Seckinger
,
Spencer Region
,
Isaiah Battle
,
Wayne Gallman
,
Tyrone Crowder
,
C.J. Davidson
,
Adam Choice
,
Chad Morris