| | |
| --- | --- |
| Can a linebacker solve Clemson's kickoff woes? | |
---
| | |
| --- | --- |
| Thursday, February 4, 2016 1:22 PM | |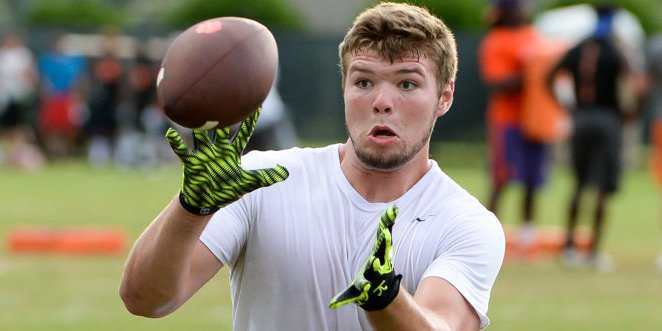 The birthday boy hopes he has an answer for Clemson's kickoff woes.
Clemson's kickoff coverage teams were, at times, abysmal this past season. A long kickoff return by Alabama helped swing momentum in the National Championship game, and Clemson was 124th out of 127 teams nationally in long kickoff return plays. The Tigers allowed 13 returns of 30 yards or more and allowed three that covered 90-plus.
In today's college football landscape having a player that can kick the ball out of the back of the end zone is important, and the Tigers have struggled to find a replacement for Bradley Pinion.
Enter Jamie Skalski. Linebacker. Clemson commit. Birthday boy. Soccer player.
Skalski's birthday was Tuesday but he didn't get to celebrate until Wednesday, the same day he faxed in his National Letter of Intent to Clemson as part of the Tigers' 2016 recruiting class. The Newnan (GA) Northgate product told TigerNet Wednesday evening that it's been an extraordinary week.
"My birthday was yesterday, but I had a workout because I'm on a plan trying to get better and I didn't have time to have a dinner on my birthday so we did it tonight," Skalski said. "Having my birthday yesterday and signing day today, it's been a really good week. It's been exciting."
During National Signing Day ceremonies Wednesday, Clemson head coach Dabo Swinney mentioned that Skalski wants to try out for the job of kickoff specialist.
"I will say this about Skalski. This kid is one of the best athletes we have coming in this class," Swinney said. "He is a great athlete. An incredibly competitive soccer player and he has been his whole life. He wants a chance to win the job as the kickoff guy. That would be like playing with 12 with your kickoff guy also a linebacker."
Skalski said Swinney was right on the money – he plays center on his high school soccer team and thinks that soccer has helped mold him into a better football player.
"It was always a question in my recruiting because everyone always said football and baseball are a normal combination or football and basketball, but I've always said it's football and soccer," Skalski said. "I've been playing soccer my whole life. It was the first sport I loved, and I still love it today. I didn't graduate early because I would like to finish my last year of high school soccer with the guys I've been playing with my whole life. Soccer has really helped me as a linebacker with quick feet and then in high school it carried over because I learned how to kick soccer style and I was able to take over the kicking job. I've been kicking for four years now for my high school, and I've gotten pretty good at it."
He can also kick field goals.
"I have made a 56-yard field goal on a walk-through on a Thursday. There was no rush or anything and I do admit that I had the wind with me," he said. "The longest I've made in a game is a 40 and in walk-throughs before games we always kicked for distance. I'd be hitting 48's and 50's here every week. They were pretty confident in my ability."
As for kickoffs, he's confident that with a little work on his technique he can consistently create touchbacks.
"I don't really train really hard to be good at kickoffs. I just have a really strong leg from working out and my technique from knowing how to kick it soccer style. I just went over there and booted the ball," Skalski said. "I will tell you that transitioning from football to soccer season that it's a different style. You have to keep your knee over the ball to keep it low when you kick the soccer ball for shooting, but in football, you extend your knee to where it's behind the ball to get more lift on it. After soccer season, I need to practice more, but when I'm in full rhythm and full swing, and I've gained some more flexibility I think I can get it into the endzone because over the season on nice fields - it's hard kicking on a crappy field - I've had guys jump offsides and I had to kick it 65 yards into the endzone, and I've done it multiple times. High school is 60 and college is 65."
Skalski credits his skills to soccer, and if basketball coach Brad Brownell needs another thumper inside Skalski has an impressive 38.5-inch vertical leap.
"Without a doubt soccer has helped me - quick feet, quickness, lateral movements, change of direction. I'm pretty proud of how fast I can move for a big guy," he said. "I heard Dabo say that I'm quietly one of the most athletic guys in the class and last night I jumped a 38.5 vertical last night using the box technology where you stand on the mat and jump, so I'm really proud of that. I remember talking to Coach Venables and he said that the average for a linebacker is a 32. I was really proud of that when it happened. Soccer has helped me tremendously."
However, Skalski was recruited and signed by Brent Venables to play linebacker, and he thinks he will play outside in Venables' scheme.
"Probably a SAM or a WILL. They are probably going to get big ol' Tre Lamar to play that MIKE position, which I think is perfect because he has that kind of body to be in the middle of it. I'm pretty good in space, so I'll probably play on the outside," he said. "I'm a really smart guy. I like to think, so they're going to get a quick learner and a guy who will study film really hard and pick up on things. I anticipate well and that correlates back to playing center in soccer because it's all about reading the field. They're getting a really physical, low player - because they say I'm short - that will do anything to get a guy on the ground."