| | |
| --- | --- |
| Camp Wrap: Question marks still abound as season nears | |
---
| | |
| --- | --- |
| Wednesday, August 19, 2015 2:33 PM | |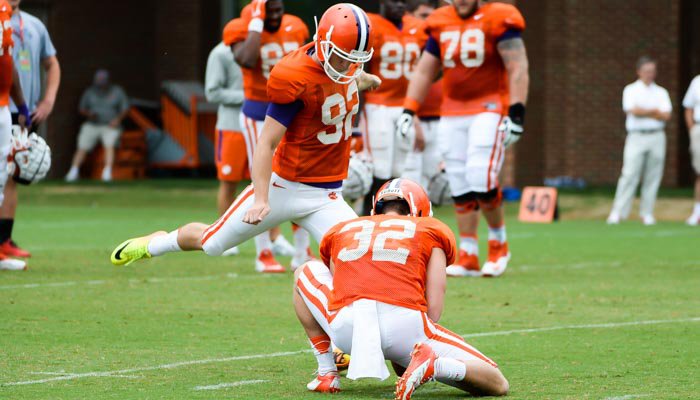 The Clemson football team will assume a little more of a normal routine now that the camp portion of preseason practice schedule is over, and that means we can take a look at what we've learned over the past couple of weeks.
The students began classes on Wednesday, the team will hold a scrimmage Thursday and then begin their Wofford preparations. That doesn't mean, however, that this team is ready to roll into its first game. There are still jobs up for grabs, questions to be answered and the Tigers need for certain players to get healthy in a hurry.
With that in mind, here are some quick observations of the team as a whole, including special teams.
Let's start with the question marks, and we will follow that up with another story with the good we've seen.
*Is this team a national championship contender? This is where I could be a homer and charge up the masses and tell you that this squad will go undefeated and play for a national title. But I hope you want me to be objective and tell you the truth, and the truth is that this team has some holes and that an undefeated season is a longshot. It's a longshot anyway, even if you're Alabama or Ohio St. or Oregon, but there are enough holes that I can't see it happening.
One of those holes is special teams, and my guess is that special teams play will cost this team a game this season. At kickoff, I'm not sure the Tigers have anyone that can consistently boot the ball through the back of the endzone. That means shorter kicks and more returns and better field position in certain situations. The loss of Bradley Pinion

Bradley Pinion
Punter (2012 - 2014)
#92 6-6, 230
Concord, NC
View Full Profile hurts here. It hurts a lot.
On field goals, I thought there were concerns even if Ammon Lakip

Ammon Lakip
RS Sr. Punter / Kicker
#36 5-11, 200
Alpharetta, GA
View Full Profile hadn't messed up and earned a suspension. Several field goals were blocked during the spring and that was with Lakip on the field. During the past few weeks, we've seen a lot of low line drives and inconsistency as Greg Huegel

Greg Huegel
Fr. Punter / Kicker
#92 5-11, 180
Blythewood, SC
View Full Profile , Alex Spence

Alex Spence
RS Fr. Kicker
#47 6-2, 190
Florence, SC
View Full Profile and Christian Groomes

Christian Groomes
RS Fr. Punter / Kicker
#39 5-9, 190
Central, SC
View Full Profile battle for the top spot. What you want to see is that one guy just take charge and be so good it makes the decision a no-brainer. No one has done that. If the Tigers need a 44-yarder to win a game at Louisville or at home two weeks later against Notre Dame, do you like your chances?
We've also watched the punters during practice, and Pinion will be missed here as well. Pinion had the ability to flip the field on any kick, and he had 28 punts inside the 20 with only two touchbacks last season. Andy Teasdall

Andy Teasdall
RS Jr. Punter
#32 5-11, 185
Winston-Salem, NC
View Full Profile will do a good job, but he doesn't have Pinion's leg and we haven't really seen anyone that has that touch to place it consistently inside the 20.
*Offensive line depth: Mitch Hyatt

Mitch Hyatt
Fr. Offensive Line
#75 6-6, 270
Sugar Hill, GA
View Full Profile is going to be really, really good. Jake Fruhmorgen

Jake Fruhmorgen
Fr. Offensive Line
#63 6-5, 285
Tampa, FL
View Full Profile is going to be really, really good. But how good can they be this season? I go back to what Brad Scott
Brad Scott
Assistant Athletic Director
View Full Profile used to tell me – it takes three years for an offensive lineman to really "get it." The Tigers don't have the luxury of time with a lot of youngsters this season.
At right tackle, Joe Gore

Joe Gore
RS Sr. Offensive Tackle
#73 6-5, 290
Lake Waccamaw, NC
View Full Profile has been the model of inconsistency. Tyrone Crowder

Tyrone Crowder
RS So. Offensive Guard
#55 6-2, 330
Marston, NC
View Full Profile has been inconsistent. Eric Mac Lain

Eric Mac Lain
RS Sr. Offensive Tackle
#78 6-4, 305
Hope Mills, NC
View Full Profile has one start in his career. This group has to be better than average because they protect Deshaun Watson

Deshaun Watson
So. Quarterback
#4 6-2, 205
Gainesville, GA
View Full Profile . Can they be better than average from the outset? They need to be.
*Linebacker depth. Clemson went into fall camp with 12 scholarship linebackers. That number includes Nickel/SAM guys Travis Blanks

Travis Blanks
Safety (2012 - 2015)
#11 6-0, 210
Tallahassee, FL
View Full Profile and Korrin Wiggins

Korrin Wiggins
Jr. Defensive Back
#12 5-11, 195
Durham, NC
View Full Profile , who are also listed as defensive backs. Wiggins was lost for the season after tearing an ACL and Korie Rogers

Korie Rogers
RS Fr. Outside Linebacker
#43 6-2, 235
Buford, GA
View Full Profile lacked the desire to play football and quit. That leaves B.J. Goodson

B.J. Goodson
RS Sr. Linebacker
#44 6-0, 240
Lamar, SC
View Full Profile (314 snaps), Ben Boulware

Ben Boulware
Jr. Outside Linebacker
#10 6-0, 235
Anderson, SC
View Full Profile (399 snaps), Dorian O'Daniel (87 snaps) and T.J. Burrell

T.J. Burrell
RS Jr. Linebacker
#41 5-11, 215
Goose Creek, SC
View Full Profile (96 snaps) as the veterans. Travis Blanks (1,038 snaps) has spent most of his time at safety but will likely start at the Nickel/SAM spot this season. Martin Aiken

Martin Aiken
RS Jr. Defensive End
#53 6-2, 255
Smoaks, SC
View Full Profile has moved from defensive end to WILL but has seen zero snaps of action at that spot. That leaves freshmen like Kendall Joseph

Kendall Joseph
RS Fr. Linebacker
#34 5-11, 225
Belton, SC
View Full Profile , Chad Smith

Chad Smith
Fr. Linebacker
#35 6-3, 215
Sterling, VA
View Full Profile , Jalen Williams

Jalen Williams
Fr. Linebacker
#30 6-0, 215
Columbia, SC
View Full Profile , J.D. Davis

J.D. Davis
Fr. Linebacker
#33 6-2, 220
Clemson, SC
View Full Profile and Judah Davis

Judah Davis
Fr. Linebacker
#36 6-2, 220
Clemson, SC
View Full Profile to add depth across the board but Joseph has been hurt a significant number of days in camp.

Tags:
Eric Mac Lain
,
Joe Gore
,
B.J. Goodson
,
Ammon Lakip
,
Travis Blanks
,
Bradley Pinion
,
T.J. Burrell
,
Martin Aiken
,
Ben Boulware
,
Tyrone Crowder
,
Korrin Wiggins
,
Andy Teasdall
,
Deshaun Watson
,
Korie Rogers
,
Kendall Joseph
,
Judah Davis
,
J.D. Davis
,
Alex Spence
,
Jalen Williams
,
Christian Groomes
,
Mitch Hyatt
,
Chad Smith
,
Jake Fruhmorgen
,
Greg Huegel
,
Brad Scott