| | |
| --- | --- |
| Camp Confidential: Day Two, Session One | |
---
| | |
| --- | --- |
| Tuesday, June 10, 2014, 11:37 AM | |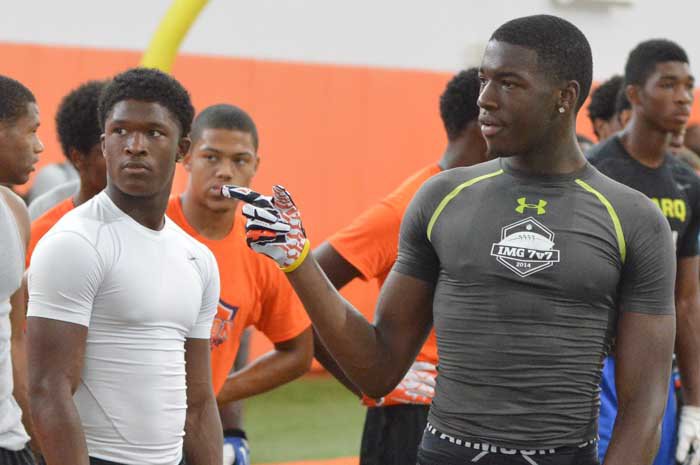 CLEMSON – The arrivals from Tampa created quite a stir when they arrived Tuesday morning.
Clemson commit Deon Cain and top target Ray Ray McCloud arrived during Tuesday's morning session, and it didn't take too long for the buzz to begin inside of the indoor practice facility. Romey Battle of Unsigned Preps of Tampa brought in Cain, McCloud and offensive line prospect Tyree St. Louis for the early session, along with McCloud's father, Ray McCloud II.
Let's start with Cain – it's the first time I've seen him in person in a year, and I was surprised at how much bigger he was up top. However, the added muscle didn't seem to slow him down as he worked with the first group of receivers with receivers coach Jeff Scott

Jeff Scott
Asst. Coach (WR) / Recruiting Coord.
View Full Profile .
Cain was quick on the pivot and did a nice job turning on the underneath routes, and showed some speed on some of the deeper stuff. He has big hands, and it was good to see him high point the ball, something it takes a lot of young receivers time to master.
As a taller receiver (6-1, 190) Cain reminds me a little of current Florida Gator and former Clemson commit Demarcus Robinson.
Now on to McCloud…….he showed up for the workout session and went immediately to Jeff Scott, and Scott spent a few moments with both Cain and McCloud before resuming the workout. McCloud is sneaky quick off the line of scrimmage, but isn't sneaky quick in the open field – he's just out and out fast.
Offensive coordinator Chad Morris

Chad Morris
Offensive Coordinator / QBs
View Full Profile was working with a group of quarterbacks close to the receivers, and when Cain and McCloud lined up to run deep routes Morris came to the middle of the field and turned his attention to the two athletes.
I only got to watch both Cain and McCloud for about 10 minutes, but neither one dropped a pass during the session I was able to watch. It's also obvious that the two are good friends, and with McCloud being one of the top prospects still on the board for the Tigers, Cain's commitment can only help.
We'll have more on those two later.
*It's always fun to listen to the coaches and see what they have to say – usually funny – to some of the younger players out on the field. Today's quip goes to former Clemson linebacker Stanley Hunter

Stanley Hunter
Linebacker
# 6-0, 205
Duncan, SC
View Full Profile , who was working on the "strip and recover" with some younger players and said, "Fumble recoveries are an emergency. Besides, for some of you, getting a fumble and returning it for a touchdown is the only way you'll ever get your name on the public address system."
*Tight end J.C. Chalk worked out with tight ends coach Danny Pearman

Danny Pearman
Assistant Head Coach / Tight Ends
View Full Profile for most of the morning session. Chalk is the grandson of former Alabama head coach Gene Stallings. Chalk told me Monday that he was 6-4, 225 pounds, and a lot of times when younger players go through growth spurts it takes a while for the agility to catch up to the height and weight. No issues with Chalk – he moves well, gets in and out of the cuts with ease and didn't mind Pearman screaming at him to move faster, faster, faster. I spent a few minutes talking to Chalk's mother, and she said that her dad and entire family hold head coach Dabo Swinney

Dabo Swinney
Head Coach
View Full Profile in the highest regard, and if her son (the J.C. stands for John Clifton) decides to choose Clemson, she is on board with it.
She did ask me about current Clemson quarterback Deshaun Watson

Deshaun Watson
Fr. Quarterback
#4 6-3, 190
Gainesville, GA
View Full Profile – she said she got to meet Watson and some of the current players and said she was extremely impressed with his maturity. They are hoping that Chalk will be here for the Louisville game on October 11th – Chalk's high school team plays a Thursday game that week and they will come in for the Saturday game.
*As always, spent more time with the offensive linemen. Current Tiger Eric Mac Lain

Eric Mac Lain
RS Jr. Offensive Line
#78 6-3, 260
Hope Mills, NC
View Full Profile was working with the some of the 2015 guys this morning, and it was evident he is building a relationship with prospect Zack Bailey, who was working out again this morning. Mac Lain and assistant Dustin Fry – who hails from Summerville like Bailey – each took time to talk to Bailey during the breaks.
Current commit Noah Green was on hand, but didn't work out. However, the more I watch current commit Jake Fruhmorgen, the more I like him. As one Clemson coach told me, Fruhmorgen is the right height for a tackle, and he has great footwork. The coach also told me that Fruhmorgen has "a great big butt that you want those tackles to have." Gotta love coaches.
Offensive lineman Mitch Hyatt will be around this afternoon, and we will have more following that session.