| | |
| --- | --- |
| Camp Confidential: Day Four, Session Two | |
---
| | |
| --- | --- |
| Friday, June 13, 2014, 10:44 PM | |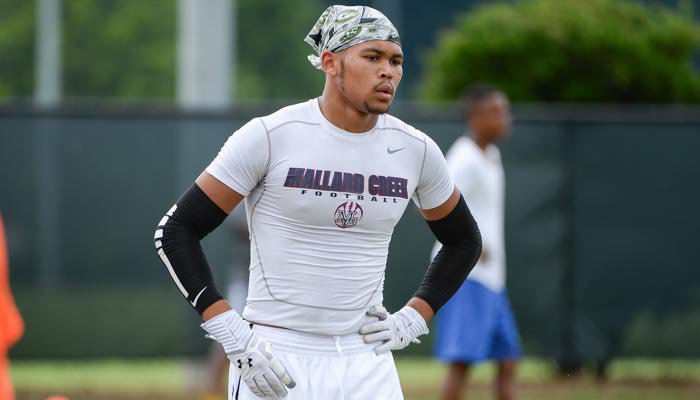 CLEMSON – The threat of rain and a few scattered rain drops didn't stop Friday's second session of Dabo Swinney

Dabo Swinney
Head Coach
View Full Profile 's high school camp from operating.
Because we have to be right back out there at nine in the morning, we will get right to it.
*I am just getting used to the fact that I have to write "2017" regarding some prospects, but one of the younger running backs working with Tony Elliott

Tony Elliott
Assistant Coach / Running Backs
View Full Profile is actually a 2019 prospect. Yep, 2019. His name is Cameron Cloud, and he is a rising 8th grader at out of Burlington, N.C. However, the fact that he is out there working with the juniors and seniors wasn't the surprising part – the fact that his father told me that Elon offered his son last year as a 12-year old is what shocked me.
For the record, he doesn't look too bad and definitely looks older than 13.
*With many of the big names not coming in until the morning, we spent some time back over with the defensive backs, and watching former Clemson standout and NFL All Pro Brian Dawkins coach. It's obvious Dawkins knows his stuff, and he sounded like a pilot as he discussed "climb" and "rotation" when helping the prospects through the drills. If he ever decides to get into coaching, he will make somebody an outstanding coach. He worked with Clemson commit Kaleb Chalmers

Kaleb Chalmers
Cornerback
5-11, 170
Greenwood, SC
ESPN:


View Full Profile , Clemson offer Robbie Robinson

Robbie Robinson
Athlete
5-10, 160
Hampton, VA
View Full Profile and his own son towards the end of the session, and they all played defensive back against Jayron Kearse, the "receiver."
It actually looks like Kearse has grown another inch or two since last season – if somebody told me he was 6-6 I might believe it – and the smaller defensive backs were having a tough time while Dawkins barked out orders.
Dawkins' son appeared smooth and knew what he was doing during the drills, but every time I walked over I came away impressed with Robinson. He's smaller than some of the guys out there, but he soaked up the coaching and criticisms, and doesn't mind trying to outwork all of the other players.
Mackensie Alexander spent time with Robinson, and the two appeared to click. A text from Robinson earlier this week mentioned that he is going to wait until after his junior season to commit, but it's obvious he is fitting in well with Reed and Clemson's current crop of defensive backs.
Alexander and Swinney then spent a good portion of the practice watching Robinson and Kaleb Chalmers.
*Thomasville (GA) Thomas County Central 4-star defensive end Austin Bryant

Austin Bryant
Defensive End
6-5, 245
Thomasville, GA
View Full Profile was back for the evening session, and he had a special host – Clemson All-American Vic Beasley. Beasley, who looks like he's gained 10 pounds in his upper body, watched defensive coordinator Brent Venables

Brent Venables
Defensive Coordinator / Linebackers
View Full Profile put the linebackers through their paces.
During one of the drills, Venables asked Beasley and Bryant to pick the best two, and Beasley's pick was Charlotte (N.C.) Mallard Creek 2016 defensive end Josh Brown (6-3, 210). Brown is eye-popping with his athleticism, and Venables took an extra interest in Brown. Brown already has an offer from Florida St., and I wouldn't be surprised if he left Swinney's camp with a Clemson offer.
For the record, Brown doesn't play the part of a diva. He was a leader in his group, and didn't mind throwing out encouragement.
*Clemson commit Tucker Israel

Tucker Israel
Quarterback
6-0, 195
Orlando, FL
ESPN:


View Full Profile had his parents and grandparents on hand for the workouts, and offensive coordinator Chad Morris

Chad Morris
Offensive Coordinator / QBs
View Full Profile spent time with the family before drills began. He brought Swinney over for a few minutes, and Swinney and Morris gushed over Israel's work from earlier in the day.
*As we told you earlier, 2015 defensive tackle commit Gage Cervenka

Gage Cervenka
Defensive Tackle
6-3, 280
Greenwood, SC
View Full Profile of Greenwood (SC) Emerald didn't work out today, but he will on Saturday. It was my first chance to see him in person, and he's a big old youngin' as Danny Ford

Danny Ford
Former Head Coach
View Full Profile would say. Some of the former Clemson players who were in attendance called him a "space eater."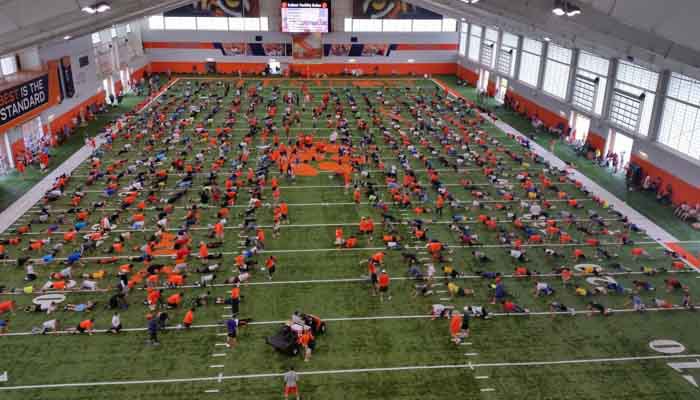 *Tony Elliott had the line of the night while coaching a talented group of running backs that included Charlotte (NC) Christian Elijah Deveaux

Elijah Deveaux
Running Back
6-1, 190
Charlotte, NC
View Full Profile and Benjamin LeMay from Charlotte (NC) Butler. Both backs have offers from other schools, but wouldn't mind leaving town with a Clemson offer. Elliott might coach his group harder than any other position coach on the field, and during one cone drill he got frustrated with one of the backs and screamed, "I failed geometry twice and I still know the shortest distance between two points is a straight line."
Once drills were over, he badgered rising senior running back D.J. Howard, who was helping coach the drills. Elliott screamed at Howard to "pick up the pace" in picking up the bags and footballs.