| | |
| --- | --- |
| Camp Confidential: Day Five, Session Two | |
---
| | |
| --- | --- |
| Saturday, June 14, 2014 5:40 PM | |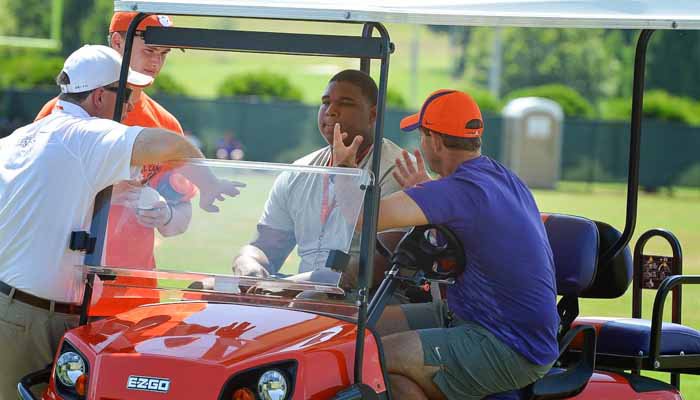 CLEMSON – Dabo Swinney

Dabo Swinney
Head Coach
View Full Profile the head coach turned into Dabo Swinney the salesman late Saturday afternoon, and he had a sales associate named Chad Smith

Chad Smith
Outside Linebacker
6-4, 215
Sterling, VA
ESPN:


View Full Profile adding his own twist.
Swinney, 5-star defensive tackle prospect Tim Settle

Tim Settle
Defensive Tackle
6-3, 305
Manassas, VA
ESPN:


View Full Profile , 2015 linebacker commit Smith and recruiting coordinator Thad Turnipseed retreated to a golf cart towards the end of Saturday's second session of Swinney's high school camp, and it was obvious that Swinney and Smith were doing their best to convince Settle to become a Tiger.
Whether it worked or not remains to be seen, but after talking to Chad Smith a few days ago about what he loves about Clemson, I'm confident Clemson had the two best men for the job talking with Settle.
*As promised, went over and spent more time with the defensive ends this afternoon, and 2015 commit LaSamuel Davis

LaSamuel Davis
Defensive End
6-4, 215
Bamberg, SC
ESPN:


View Full Profile is exactly what Bamberg head coach Butch Davis said he was – an athletic freak.
Davis is listed at 6-4, 212 pounds, which looks about right. However, you can tell that some kids will be able to add weight and there are some that won't. Davis can add weight and it looks like he will be able to retain his explosiveness. He was lights out in the bag drills, and he hits with a violence that I really liked. Another plus is that he has long arms – a huge wingspan like Malliciah Goodman – and his long stride gives him a great first step.
*Over at the running backs station, 2016 Spartanburg (SC) product Tavien Feaster

Tavien Feaster
Running Back
6-0, 180
Spartanburg, SC
View Full Profile continued to impress. Not much we can add here, except I had one source tell me Clemson is doing all it can to make Feaster a part of the 2016 class. He's as good as advertised.
Another running back that caught my eye this morning and this afternoon – and drew a lot of attention from running backs coach Tony Elliott

Tony Elliott
Assistant Coach / Running Backs
View Full Profile – was 2016 Morganton (N.C.) Freedom's B.J. Emmons. Emmons (6-0, 205) looks like the kind of back Chad Morris

Chad Morris
Offensive Coordinator / QBs
View Full Profile wants. He's big, but he's fast and moves well coming out of the backfield. Elliott coached Emmons hard – you could hear him calling Emmons' name during every drill.
*Another defensive player that caught my eye during the morning session was Allendale-Fairfax (SC) 2016 linebacker Will Ward. Defensive coordinator Brent Venables

Brent Venables
Defensive Coordinator / Linebackers
View Full Profile paid a little extra attention to Ward during the drills, and while he still has room to grow and fill out, he's got all of the athleticism in the world.
*I watched Elberton (GA) Elbert County 2016 cornerback Mecole Hardman work out with the defense during the morning session, then watched him work out with receivers coach Jeff Scott

Jeff Scott
Asst. Coach (WR) / Recruiting Coord.
View Full Profile during the afternoon session. I spoke with Hardman's coach, who hopes that Hardman earns a Clemson offer while on campus. They are headed to Athens next.
Hardman, who spent time with Elliott and Chad Morris during the day, projects as a corner. However, the coach said that Clemson coaches said they might take just one corner during the 2016 recruiting cycle, and they wanted to see what he could do with the receivers. Corner, receiver, it didn't matter. The kid is just a really good athlete.
*Morris continues to coach 2015 quarterback Tucker Israel

Tucker Israel
Quarterback
6-0, 195
Orlando, FL
ESPN:


View Full Profile hard. Morris is a stickler for tempo, and he has pushed Israel during every drill I've watched. My guess is that even though Israel is in good shape, Morris has given him an idea of what kind of shape he has to be in before arriving on campus.
*Another interesting prospect from this morning's session was Hialeah (FL) Champagnat Catholic 2016 offensive tackle Chidi Valentine-Okeke (6-6, 305). He worked out with the offensive linemen this morning, and his athleticism was obvious even if he did look a little raw.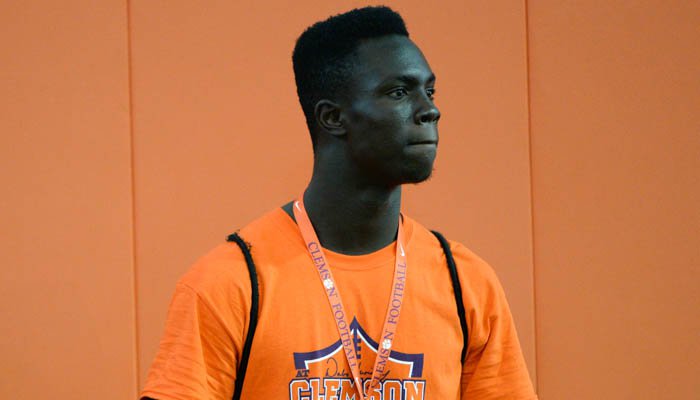 However, I found out that he has never really played organized football, and got to Champagnat too late last year to be a part of their state championship team after moving from Nigeria last August. He came to the United States to play football and go to school after watching football on TV back home.
Despite growing up playing soccer and having only spring drills under his belt, he has 13 offers including Alabama, Auburn and Florida St. Expect a Clemson offer to follow.
His teammate is 2016 WR Darnell Salomon worked out with Scott during the morning session, and he was impressive with his ball skills. Both bear watching.
*We are going to have a story early next week on some general thoughts about Clemson recruiting, but it's obvious in talking with the various coaches that have come through this week that the coaching staff has taken it to another level recently. One coach told me Saturday that Clemson now has one of the top four facilities in the nation, and with the plans in place to add even more sparkle, that should just get better.