| | |
| --- | --- |
| Cain and McCloud talk Clemson commitments, late push by South Florida | |
---
| | |
| --- | --- |
| Saturday, February 7, 2015 4:34 PM | |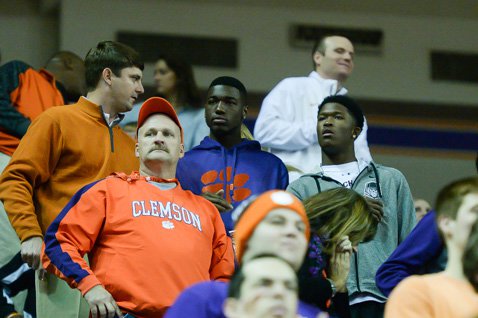 The minds of the Clemson coaches and fans alike were set at ease fairly early Wednesday morning when all 26 members of the 2015 recruiting class had faxed in their national letters of intent by 9:30, avoiding the drama that typically surrounds National Signing Day.
Included in those LOI's were the signatures of Ray-Ray McCloud

Ray-Ray McCloud
Wide Receiver
5-10, 180
Tampa, FL
ESPN:


View Full Profile and Deon Cain

Deon Cain
Wide Receiver
6-2, 200
Tampa, FL
ESPN:


View Full Profile , 5-star playmakers out of the Tampa area who are two of the biggest signs in this class. Both players told the media on NSD that they were "All In" with Clemson from the beginning, but McCloud did say that the University of South Florida used the proximity of the campus to his home and his friends who already play for the Bulls to make a late but futile push.
However, McCloud told the Bright House Sports Network in an interview that despite USF head coach Willie Taggart's final pitch, he never wavered in his commitment to Clemson.
"I felt like I was always 100-percent committed to Clemson," McCloud said during the television interview last Wednesday. "Coach Taggart and the staff really came to me and talked to me about the stuff that I like about them and they came to me with other players and other stuff. It was a big deal for me to stay home and stay close to my family, but Clemson was always my home."
The Tigers were McCloud's first major offer and that along with family atmosphere that Clemson program offers really resonated with the five-star signee.
"My first big - Power 5 - offer was Clemson, so I thought that was big for me that they gave me my first opportunity for college," McCloud said. "From there it just got harder and harder with schools coming in - Alabama, Auburn, Florida State, and Florida. It just got harder with all of these great schools and opportunities in front of me. With Clemson, it felt like every time I was on campus, the practice field, the game field, it just felt like home for me. The comfort of the people there just really pulled me in and it just felt like family."
McCloud's friend and fellow Clemson signee Cain said the family atmosphere and the chance to play with one of his best friends were reasons that he also chose Clemson.
"The atmosphere there - when you visit, you're just going to love it there," Cain said in the same television interview. "The people there are nice and the coaching staff that is there. Family is important. Going into that type of atmosphere and being around those coaches and those players, as soon as we got in there they greeted us and treated us like we were already family. When you're coming from a different environment and you step into a family atmosphere that weighs a lot on you. That's the main reason we made the decision to go to Clemson. We both know that our future is going to be bright there."
Cain played quarterback for Tampa Bay Tech, but will transition to wide receiver once he gets to Clemson – a position that he said he's already comfortable playing.
"I do feel comfortable. Playing in the U.S. Army All American Game made me feel more comfortable playing the position," Cain said. "I just know moving from quarterback that it will be different speeds and getting the timing down. Playing receiver coming from quarterback is easy because I already know what receivers are supposed to do. 7-on-7 was just way too easy because I just knew everything that was going on."
Despite not having much experience at wide receiver, Cain has a simple message for Florida State and the rest of the ACC.
"Try to stick with me," he said.