| | |
| --- | --- |
| Bug Howard gets offer during Clemson visit | |
---
| | |
| --- | --- |
| Tuesday, April 10, 2012 2:53 PM | |
Rochelle (GA) Wilcox County head coach Mark Ledford knew that if he got junior wide receiver prospect Jonathan "Bug" Howard out on some official visits, the offers would follow, and that proved true Monday afternoon as Howard received an offer from Clemson head coach Dabo Swinney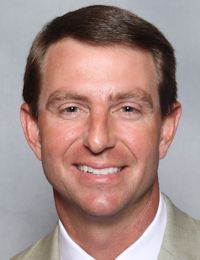 Dabo Swinney
Head Coach
View Full Profile .
Howard is a 6-5, 193-pounder (who reminds me of Martavis Bryant at the same age, something the Clemson coaches also mentioned to Ledford) who made the trip up to Clemson Monday afternoon with Ledford, quarterback-defensive back prospect Makail Grace

Makail Grace
Defensive Back
6-2, 180
Rochelle, GA
View Full Profile and defensive tackle Johnny White.
It was Howard – nicknamed Bug by his grandmother because he was always bugging her when he was younger – who received the offer.
"The head coach, Coach Swinney, called me into his office and gave me the offer up front," Howard told TigerNet. "That was a great feeling. He told me he was going to offer me a scholarship because he saw a bunch of talent in me and that I fit the offense really well."
He also talked to offensive coordinator Chad Morris.
"Coach Morris told me he would like for me to come in and fit in with their receivers," he said. "He said he likes the fact that I can run, I am tall and athletic."
Clemson, N.C. State, North Alabama, Southern Miss and Louisville have offered, while UNC is showing interest, according to Ledford. Howard caught 28 passes for 837 yard and eight touchdowns, and returned two kickoffs for touchdowns.
"He is just a natural athlete," Ledford said. "He plays basketball and is getting some interest from some bigger programs, and this year I am coaching track and he is running the 200 and the 400 for me. He has never run track before, and he just goes out there and wins."
Howard said the visit was all he expected it to be.
"I saw all of the buildings and the nice academic rooms and the tutoring rooms," he said. "It was amazing. And I loved watching the offense during the scrimmage. It was just like my high school – they put the ball in the air and make their receivers go get it. That is my style of football. And Sammy [Watkins] is one of best receivers I have ever seen play college football. I knew he was fast, but I didn't know he was that fast until I got up on him and saw him in person."
Howard said he thinks his style would fit in perfect in Clemson's offensive scheme.
"I am a good downfield receiver, a go-getter," he said. "I love the deep ball and love to get behind the defensive backs and then go over the shorter corners and use my height."
Howard said the Tigers definitely sit high on his list, but he wants to make a few more visits before he commits.
"Clemson has been number one on my list for a long time," he said. "I have always wanted to come to Clemson. I am going to visit some other schools, but I am pretty sure I want to commit to Clemson. Hands down, this is where my heart is."
Ledford said the Tigers would be getting a good athlete and an even better person.
"One thing about Jonathan is that he has been a leader on the field from day one, even as a freshman," he said. "When he was a kid, he was my ball boy, so he has been with us a long time. He is a very pleasant kid, and he is focused. He knows what he wants to accomplish as a student-athlete. He has a 3.2 grade point average, so he is a good student and is excelling there. And on the field, he is everything you want as a coach. He is a student of the game, and if I don't have him in the game he is going to be in my ear telling me what we need to run."