| | |
| --- | --- |
| Brent Venables: No players are standing out, but recipe for success hasn't changed | |
---
| | |
| --- | --- |
| Tuesday, August 6, 2019 8:39 PM | |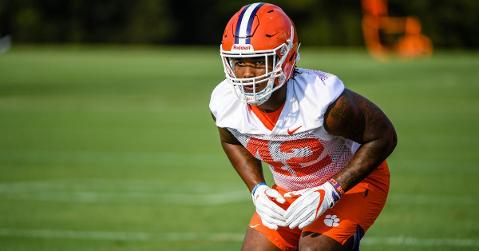 CLEMSON – Brent Venables isn't big on praise during the early part of any camp, especially with so many young players trying to find their way after the departure of several key players.
Tuesday was no exception.
Clemson's defensive coordinator met with the media following Tuesday's practice, and he said that while the faces change, the recipe for success doesn't change.
"Always the same. You have to work, and you have to grind and handle the good days and the bad days and the bad moments and the good moments," Venables said. "You have to know what to do and play with effort and toughness. Every year you have to start over, but you have more work to do when you have new faces in regards to your cohesion and chemistry."
How as practice gone so far
"It's good. We had good retention from the spring. The new guys came in and they've been working, and the older guys have been helping out the younger guys here throughout the summer with knowing what to do."
How have younger guys progressed
"They have made improvement and gotten a lot better, which is what you hoped for. Many of them just got here. There has been a lot of improvement. Guys that are going into that second year made a big jump, too. Physically, mentally, and knowledge is at another level. Guys have played with good energy and confidence and things are just a lot cleaner."
Good to have Nyles Pinckney and Jordan Williams back
"Yep. Veteran guys that know what to do and have experience and don't get knocked around. They look good."
Has anyone stood out?
"No. Nobody has stood out. But we are pleased with it. I think guys are right where we want them to be."
Who are the leaders
"The guys that we thought would be good leaders have continued to do so. In the secondary, K'von (Wallace) and Tanner (Muse) and AJ Terrell and Denzel Johnson and Nolan Turner. And Isaiah (Simmons) and Jamie (Skalski) and Chad (Smith) have all done a good job leading. And then Jordan (Williams) and Nyles (Pinckney) have all done a good job leading, as has Logan Rudolph."
Are any freshmen standing out?
"Nobody. On our whole defense, nobody is standing out to me. But I think those guys are doing good. I have been proud of them. They have come in here and they are fearless and they run around and they have good instincts and are willing to be led and show some maturity. All of those guys are getting baptized and it's fun. We are developing chemistry and cohesion and those kinds of things right now during camp."
What is he looking for out of the freshmen
"I want to see how much they will run and hit early. See how much they will retain and try to evaluate what their instincts are and ability to find the football."
Sheridan Jones and Andrew Booth
"Sheridan had already established himself in the spring. He is a guy that looks to be about his business. He is very focused. He goes from 160 to 183 and benching 225 once to thirteen times. He is putting in the work and it shows. Andrew is a very talented player. He has jumped right in and shown physicality and instincts and ball skills. He's a tough guy."
"Mario has really improved his focus and his body and his knowledge. He has done a nice job and made some plays on the ball."
"He knows what to do more (than he did in the spring). He knows the verbiage and language. AJ and some of those guys have done a good job of helping him learn. He's practiced well and asking more questions now. His maturation is coming along well."