---
| | |
| --- | --- |
| Saturday, November 23, 2013 8:46 PM | |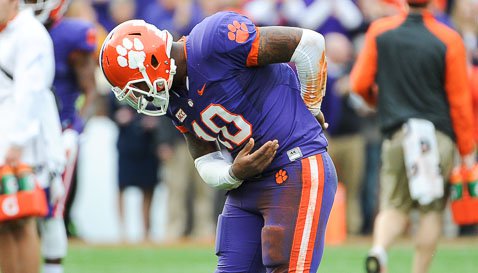 CLEMSON – Tajh Boyd

Tajh Boyd
RS Sr. Quarterback
#10 6-1, 225
Hampton, VA
View Full Profile walked out onto the field late in the third quarter in Death Valley Saturday afternoon, and the crowd began a low murmur as many wondered if Clemson's senior quarterback was back out to take more snaps with the Tigers comfortably ahead.
Clemson led 45-3, and with 1:39 remaining in the quarter, Boyd trotted out to the huddle, only to see Clemson head coach Dabo Swinney

Dabo Swinney
Head Coach
View Full Profile call a timeout, allowing his senior signal caller to drink in the cheers and applause of the sellout crowd.
Boyd rambled to near midfield, saluted the North stands, and then gave a theatric bow to the South stands before exiting the Memorial Stadium field for the last time in his Clemson career.
On the day, Boyd hit 21-of-28 passes for 288 yards and five touchdowns, giving him 102 scoring tosses during his career. Second place? That belongs to Charlie Whitehurst

Charlie Whitehurst
Quarterback
#6 6-4, 225
Duluth, GA
View Full Profile , who has a distant 48.
Boyd said after that it was all the culmination of an emotional day.
"I think it will hit me when the season is actually over, but right now it is just all about getting the win. It was a very emotional day for some of the guys," he said.
He said the salute and bow were impromptu.
"It was spur of the moment. It was one of those moments where I was coming off and I was like, 'I might as well.' I am very appreciative of the fans," Boyd said. "They have been extremely supportive during my time here. I just enjoyed being around them and it feels good to be appreciated as well. It was a special day for us."
Boyd started the third quarter when many felt like he should have been out of the game, and a third quarter pop from a Bulldog linebacker made many in the crowd cringe with nervousness.
As it turned out, he was ignoring orders from offensive coordinator Chad Morris

Chad Morris
Offensive Coordinator / QBs
View Full Profile .
"I should have slid on that one," Boyd said with a smile. "He told me to not get hit. He said if they start coming, to just throw the ball out of the back of the endzone. And then I saw them coming, and I just took off."
The Tigers eventually hit a field goal, setting up Boyd's last appearance a drive later.
"I figured I was going to come out somewhere around that point. I didn't know how much I was going to play in the second half," he said. "I was just trying to make the most of the opportunities I had while I was out there. Coach told me, 'We are going to get you out there and then we are going to call a timeout and get you a walk-off.' It was a special day. I couldn't be more proud of this program."
Boyd has a plethora of accomplishments in his career, and he has rewritten the Clemson record book. What he doesn't have, however, is a win over South Carolina.
"Obviously, this is the one we've been waiting on. I am sure they feel the same way over there," Boyd said. "We just have to go and prepare. We have to go out and execute and compete. Is the biggest game I've ever played? Debatable. It's big for us as a program because it is the last game of the season. One of the things we always talk about is finishing. So, what is your legacy? It will probably be remembered by this one right here."
He said all he and his teammates have to do is focus on what happens next Saturday, not the last four seasons.
"It would be sweet," he said of getting a win. "We have done some really good things in this program, but at the end of the day the one thing nobody has done around here is beat those guys. For us, we just haven't been playing our best ball when we play them. Nothing matters when we step out on that field Saturday, not even the last few years. That is all that matters. This game is bigger than just one person. It is bigger than me versus him or anybody else. "