| | |
| --- | --- |
| Bowden Makes a Change at Quarterback | |
---
| | |
| --- | --- |
| Friday, October 10, 2008 2:41 PM | |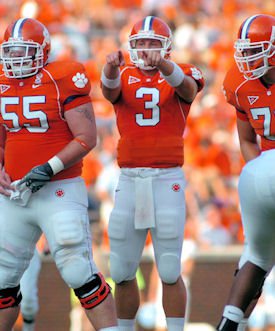 CLEMSON -- Clemson fans have been clamoring for weeks for one of three things to happen – fire head coach Tommy Bowden, fire offensive coordinator Rob Spence, or replace starter Cullen Harper at quarterback with redshirt freshman and local favorite Willy Korn.
One of those wishes has been granted, but perhaps not the one thing most fans were asking for after last night's embarrassing loss in Winston-Salem to Wake Forest.
At a press conference Friday afternoon, head coach Tommy Bowden announced that Korn, a graduate of Byrnes High School, will start week's home game against Georgia Tech, benching pre-season ACC Player of the Year Harper, who has struggled in six games this season.
Many fans were hoping the press conference would announce the firing of one or both of the two coaches mentioned above, but the big news was that the much-heralded Korn finally gets his chance.
"We feel like we have struggled a little bit (offensively), and we need to find a spark," Bowden said to the media. "We have some injuries, and we need to evaluate our plan of attack. A mobile quarterback gives you a different look and more options.
"He runs better, so if the protection breaks down, you still have a chance to make a positive play. We have to find that spark."
The downward spiral of the Clemson football team continued Thursday night in a nationally-televised loss to Wake Forest. The Demon Deacons used a late touchdown to defeat the Tigers 12-7, dropping Clemson to 3-3 overall, but just 1-2 in the ACC Atlantic.
That loss almost surely means the Tigers have no shot at winning an ACC title this season, despite the expectations of the fans and media and a No. 9 national ranking to begin the season, and gives Korn the ability to get his feet wet without the inflated expectations of trying to lead a nationally-ranked team to an ACC title game.
The numbers for the offense in the Wake Forest game were staggering in their paltriness, with quarterback Cullen Harper completing just 15-of-35 passes for 177 yards and a touchdown, plus an interception that led to a Wake Forest field goal in the third quarter.
Running back James Davis rushed 12 times for 25 yards, while running mate C.J. logged 10 yards on just two carriers until leaving with a second quarter leg injury. Overall, the Tigers managed just 198 yards of total offense, had just 10 first downs, ran 58 offensive plays compared to 82 for the Deacons, and were just 2-of-14 on third down.
Bowden said that Harper has not been told of the switch, but coaches have been trying to reach him to break the news. In the past, Spence has been reluctant to get the second string quarterback involved in game preparations or receive meaningful snaps against a BCS team, and Bowden said that he sat down with Spence to discuss making the move, while also saying he has not lost confidence in Spence.
"I sat down with Rob, and voiced my opinions, and I think he is in agreement," Bowden said. "You are disappointed in the productivity, but he (Spence) has a three-year track record here that is fairly impressive. He did not forget how to coordinate an offense in six weeks."
Bowden said that Korn will more than likely play all of the snaps against the Yellow Jackets, even if he makes mistakes, saying, "You can't ask a redshirt freshman to go in there and not make a mistake or two."
In two games this season, Korn is 14-for-18 for 157 yards and a touchdown, and has also rushed for 18 yards.