| | |
| --- | --- |
| Blanks returns to his "home" on the football field | |
---
| | |
| --- | --- |
| Thursday, December 13, 2012 11:21 AM | |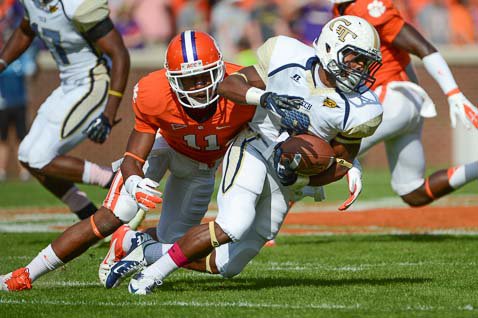 CLEMSON- Beginning with the Chick-fil-A Bowl, Mr. Everything will return to his home on the football field.
As a freshman, Travis Blanks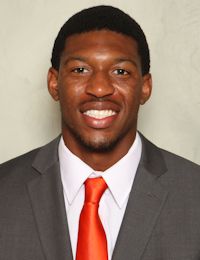 Travis Blanks
Fr. Defensive Back
#11 6-1, 190
Tallahassee, FL
View Full Profile has been asked to play a myriad of positions- SAM linebacker, nickleback, and safety- but with a year of experience he will return to his natural position at safety full time.
After Clemson's first bowl practice, Blanks told TigerNet that is excited at the opportunity to finally have a position to call home.
"I'm real comfortable at safety," Blanks said after practice Saturday. "I- as well as my coaches- think that's my natural position. It will feel good to finally have a home. This year, I was just kind of all over the place helping out the team and filling in wherever I could. Going into next season, it will be good just to dial in and focus on that spot. If areas come up where I can help out the team then so be it, but it will be good just to have that home."
Blanks was recently named Second-Team Freshman All-American, and he said that while the accolades are nice, his main goal was simply to do his best.
"The thing I wanted to do when I came here was just to do the best that I could do and if that resulted in first or second team All-American, then so be it," he said. "My main goal was just to come and reach my full potential and do the best I could do. "
Blanks knows that the safety position is the last line of defense between the opposing offense and the endzone and he said playing with his eyes and finishing his assignments are crucial.
"The most important thing is eyes. You have to know where to look to," he said. "Just playing backup safety this year, in practice the biggest thing I had to learn was at the college level, how important the eyes are. You have to read your keys. Alignment, assignment, and technique- those are the biggest things at safety. It's a crucial position because if we make a mistake, there's no defense after that. We are the last line. It's very important that you have your eyes right, that you read your keys, that you have the right alignment and that you finish your assignment."
The Tigers have lacked a heavy hitter at the safety position since DeAndre McDaniel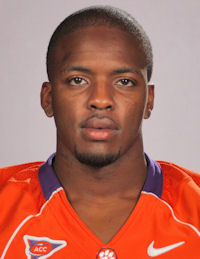 DeAndre McDaniel
Wide Receiver
#2 6-1, 180
Tallahassee, FL
View Full Profile , but Blanks said that as his body continues to develop he feels as though he can restore that physical mentality to the Tiger secondary.
"Absolutely. I feel like as I continue to develop in the strength and conditioning program and I continue to develop my body, I very well do think that I can be that hitter and that cover guy," he said. "The sky is the limit."
Interceptions are great if the game is on the line, but Blanks said he would much rather lay a hard hit on the opposing player.
"It depends on the situation in the game," he said. "If the momentum is high and we have the lead, I would much rather have that hit, but if the game is on the line I would much rather get that turnover for the team."
Blanks will see his first extensive action at safety against LSU- a team that employs offensive sets of two wide receivers and a single back- and he said that he will be working hard in practice to prepare to play with veterans in the Tigers' secondary.
"LSU runs a lot of 21 personnel because they like to pound the football, so I'll probably be playing a lot of safety and working with Rashard Hall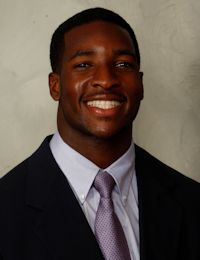 Rashard Hall
Gr. Safety
#31 6-2, 210
St. Augustine, FL
View Full Profile ," he said. "Who knows? I may get a lot of playing time or I may not. I'll be getting a lot of practice time this week at safety."