| | |
| --- | --- |
| Bills' GM a big fan of Watkins, who grew up a fan of the Bills | |
---
| | |
| --- | --- |
| Thursday, May 8, 2014 10:50 PM | |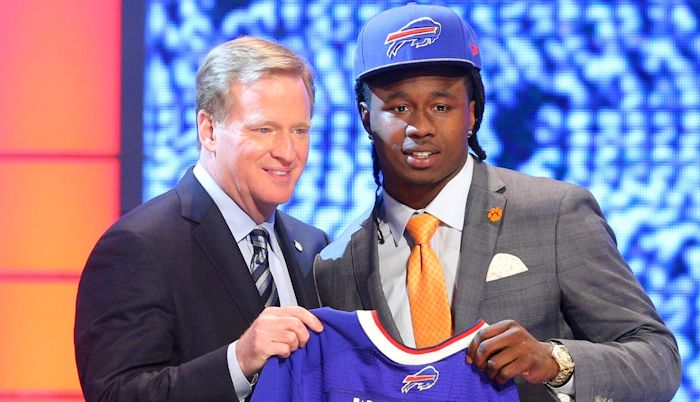 Sammy Watkins

Sammy Watkins
Wide Receiver (2011 - 2013)
#2 6-1, 205
Fort Myers, FL
View Full Profile long before the Bills selected Watkins with the fourth overall pick in the first round ofThursday's NFL Draft.

Whaley, in an interview with buffalobills.com last month, said that he is a big fan of the phrase "big wins" and that he thinks Watkins fits that profile.

"At the wide receiver position 'big wins' means a guy that plays big," Whaley said. "He may be six foot, but if he continues to catch the ball away from his body and has long arms, then he'll play like a 6-4 or 6-5 guy. Now you can also have a guy that's 6-5, but catches the ball into his body. He doesn't play big. So it's not only just the physical measurements of being big, but being able to play big on the field."

The Bills originally had the ninth overall pick, but traded first rounds picks this year and next and a fourth round pick to the Cleveland Browns in order to get Watkins.

Whaley said he thinks Watkins can do anything that needs to be done on the football field, and that is what set Watkins apart from the other elite wideouts in the draft.

"He's probably the most explosive playmaker of the crop, but that doesn't diminish the play of Mike Evans from Texas A&M, Benjamin from Florida State and Marqise Lee from USC," Whaley said. "So there are some guys that are nipping at his heels, but right now I'd have to say he's the cream of the crop."

Watkins joins former Clemson standout C.J. Spiller

C.J. Spiller
Pro Running Back
#28 5-11, 195
Lake Butler, FL
View Full Profile with the Bills, who also have former Tigers Chris Hairston

Chris Hairston
Offensive Line (2006 - 2010)
#61 6-7, 325
Winston-Salem, NC
View Full Profile , Jonathan Meeks

Jonathan Meeks
Safety (2009 - 2012)
#5 6-1, 210
Rock Hill, SC
View Full Profile and Antoine McClain

Antoine McClain
Offensive Guard (2008 - 2011)
#74 6-6, 335
Anniston, AL
View Full Profile .
Following the draft, Whaley said he thinks the Bills drafted the best playmaker available.
"Dynamic playmaker. That's what this game is all about, making plays," he said. "This game is about making plays and surrounding our quarterback with playmakers. He's automatically going to make our quarterback better and us better as a team. I do want to start this by saying this all goes back to Russ Brandon. He allowed us to make this move and he okayed it and was willing to give up the resources and future picks to go up and get a guy that we think will help us get to where we need to be"
He then said that the Bills looked at Watkins" entire "body of work" before making the pick.
"The total body of work, not just one game. If you look at his resume it is pretty impressive," he said. "We believe he's got great ball skills. He's explosive; he can get in and out of cuts. He'll be able to separate with his quickness and burst, but he also attacks the ball. He plays much bigger than his size and that is an added benefit for him, we like to say being open when he is covered. That elongates the target for (quarterback) EJ (Manuel) to have.
Watkins told TigerNet back in January that he grew up a fan of the Bills.
"I did, but they are kind of down right now. The Buffalo Bills were definitely my favorite before C.J. ever went there," Watkins said. "I just love playing the game and I just love the Buffalo Bills."
Waktins, who arrived on Clemson's campus in 2011, then said it would a "dream" to play on the same team with Spiller, who graduated in 2009.
"It would definitely be a childhood dream to go up there and play with C.J. Spiller," he said. "They've got some great wide receivers and a great quarterback. It would definitely be a pleasure."
Clemson head coach Dabo Swinney

Dabo Swinney
Head Coach
View Full Profile thinks the pair will make a modern-day dynamic duo.
"I could not be happier for Sammy and his family. This is just unbelievable," Swinney said. "Two of the greatest players in Clemson history are now teammates. C.J. has been blowing up my phone since the announcement was made. This could not be a better situation for Sammy. There are now five former Clemson Tigers on the Bills roster. The first thing I said to Sammy's mother is that he could not have a better mentor than C.J. Spiller. He'll show Sammy the ropes."